Howl? Nay, Express His Lighter Purpose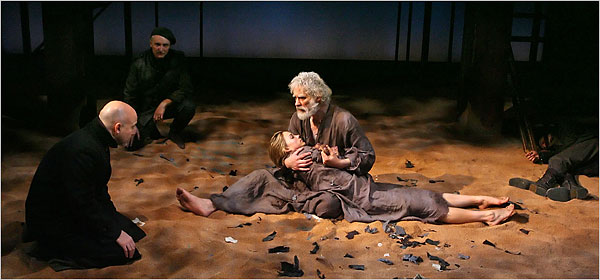 Sara Krulwich/The New York Times
Michael Cerveris, left, as the Earl of Kent and Kevin Kline as Lear, holding Kristen Bush as Cordelia, in "King Lear" at the Public Theater.
By BEN BRANTLEY
Published: March 8, 2007

So you were expecting maybe a majestic, troubling, tragic "King Lear?" Oh please, that is so last century. With the world on a fast track to hell, you surely don't want to endure three hours of cosmic misery as entertainment. Instead, chill out and embrace the new "Lear Lite," brought to you by the Public Theater, which features New Age music, eye-soothing color-coordinated costumes and the charming Kevin Kline in the title role.

I have sat through worse productions of Shakespeare's most devastating tragedy than the one that opened last night, directed by James Lapine. But I have never seen one that left me so utterly unmoved or that seemed so perversely out of touch with the play's soul-wrenching depths as this whimsical storybook interpretation.

This is, to say the least, disappointing, since Mr. Kline and Mr. Lapine are theater artists of style and intelligence who have done Shakespeare proud in the past. Mr. Kline delivered a complex and understated Falstaff in the Lincoln Center production of the "Henry IV" plays in 2003, while Mr. Lapine's "Winter's Tale" for the Public in 1989 is still remembered as an elegant paradigm for presenting the late Shakespearean romances.

It would seem that both men have tried to apply the light-fingered techniques from these earlier successes to the rocky back of a work that demands a stronger touch. Mr. Lapine, with the assistance of the designers Heidi Ettinger (sets) and Jess Goldstein (costumes), approaches "Lear" as if it were a contemporary fairy tale, decorated with the Jungian dream motifs that are this director's signature.

Mr. Kline, who was acclaimed for toning down Falstaff's obvious bluster and braggadocio, brings a similar restraint to Lear. Instead of the usual fiery-tempered tyrant, fighting off the tug of senility and railing against life's betrayals, Mr. Kline's Lear is a temperate, witty and reflective fellow at the far end of middle age, who at worst can be accused of occasional crankiness.

With his well-groomed snowy beard and attire that suggests the king has his clothes custom-made by Paul Smith, the Lear of the play's first half is like a trimmed-down, corporate-world Santa Claus whose many months on the Slim-Fast diet have set his nerves just a tad on edge. In the later scenes, when the enviably buff Mr. Kline wears only a loincloth and a fetching head wreath, he brings to mind some nimble sylvan god, relocated to a war zone where he sprinkles droplets of wisdom.

When the play's other characters lament or scorn Lear's infirmity or dotage or stark raving madness, you don't know what they're talking about. Mr. Kline's Lear is the sanest person onstage. Of course, given most of the other performances, that's not a hard contest to win.

With a few exceptions, notably the excellent Michael Cerveris as the steadfast Earl of Kent and Larry Bryggman as the fatuous Earl of Gloucester, everyone else in this production appears to be racing toward a full nervous breakdown. As the conniving Edmund, the television heartthrob Logan Marshall-Green sustains such a high pitch of hysteria that the character's cool, appraising cynicism is almost undetectable.

As his virtuous brother, Edgar, Brian Avers is a jittery, bespectacled cartoon nerd of the Rick Moranis school of acting, while Lear's Fool is portrayed by Philip Goodwin as a dyspeptic Jimmy Durante type. Lear's elder daughters, Goneril and Regan (Angela Pierce and Laura Odeh), are, perhaps inevitably, straight out of "Desperate Housewives," oversexed neurotics with serious Daddy problems.

But these heavy-breathing harridans are preferable to Lear's youngest, Cordelia, rendered by Kristen Bush as a smirky, spoiled, uh, princess. (I kept thinking of Ali MacGraw in "Goodbye, Columbus.") When she refuses to flatter Lear with flowery tributes of love, this Cordelia is so smug that you can't blame Lear for disinheriting her. All of the girls are pills, for sure, but Cordelia is the hardest to swallow.

In fairness, you can sense that these supporting performers, perhaps following Mr. Kline's cue, have worked hard at rethinking the psychology of well-worn roles. But many of these thoughts should have been buried in rehearsal. As it is, the clash of interpretations becomes a Freudian free-for-all that neither tallies with the script nor sticks together on its own terms.

Mr. Cerveris, the astonishing Sweeney Todd in the recent Broadway revival, brings a grounding philosophical disgust, both angry and sad, to his robust performance as Kent. (If you want to have some inkling of what "King Lear" is really about, look to Mr. Cerveris.)
And since Mr. Kline can certainly speak the speech of Shakespeare, there is pleasure to be had in listening to his carefully tailored line readings. It goes without saying that he is an actor of a high order, and some finely wrought moments glitter like multifaceted gems, as when Lear comes out of unconsciousness and recognizes the long-absent Cordelia.

But it is rare that someone makes an affecting connection with anyone else, which means the production is riddled with holes where feelings should be. Mr. Lapine tries to paper over this absence with astral, chime-punctuated music (by Stephen Sondheim, no less, and Michael Starobin) that conveys a sense of wondrous, harmonious revelation more appropriate to fantasies like "The Winter's Tale" or "The Tempest."

The sense of an enchanted dreamscape is also evident in Mr. Lapine's introduction of three lovely little girls (Paris Rose Yates, Nicole Bocchi and Talicia Martins) to play the reproachful ghosts of Lear's daughters as children. (Presumably this suggests that they were once a happy family, but I'm not buying that.) Ms. Ettinger's tiered high-concept set combines industrial chic with a feeling of elemental magic.

Most attention-worthy, though, at least for readers of GQ, are Mr. Goldstein's costumes for the men. It's not that they help define character, but they have an unobtrusive stylishness that incorporates current key trends (pegged pants, slim jackets, earth tones) without sacrificing wearability.
Ah, you can see the desperation I'm driven to, trying to find something nice to say. But there you have it: "King Lear, the Catalog." Place your orders now.

KING LEAR
By William Shakespeare; directed by James Lapine; sets by Heidi Ettinger; costumes by Jess Goldstein; lighting by David Lander; music by Stephen Sondheim and Michael Starobin; sound by Dan Moses Schreier and Phillip Scott Peglow; music director, Henry Aronson; production stage manager, James Latus; general manager, Nicki Genovese; associate artistic director, John Dias; associate producers, Peter DuBois and Mandy Hackett; director of production, Ruth E. Sternberg. Presented by the Public Theater, Oskar Eustis, artistic director; Mara Manus, executive director. At the Public Theater, 425 Lafayette Street, at Astor Place, East Village; (212) 967-7555. Through March 25. Running time: 3 hours.

WITH: Brian Avers (Edgar), Nicole Bocchi (Young Regan), Larry Bryggman (Earl of Gloucester), Kristen Bush (Cordelia), Michael Cerveris (Earl of Kent), Philip Goodwin (Fool/Old Man), Kevin Kline (Lear), Piter Marek (King of France/Ensemble), Logan Marshall-Green (Edmund), Talicia Martins (Young Cordelia), Ryan McCarthy (Ensemble), Laura Odeh (Regan), Daniel Pearce (Duke of Cornwall), Angela Pierce (Goneril), Michael Rudko (Duke of Albany), Timothy D. Stickney (Oswald), Joaquín Torres (Duke of Burgundy/Curan/Ensemble) and Paris Rose Yates (Young Goneril).