Michael Cerveris returns to Broadway
Amazing Journey
April 8th 2004
By Michelle Zeman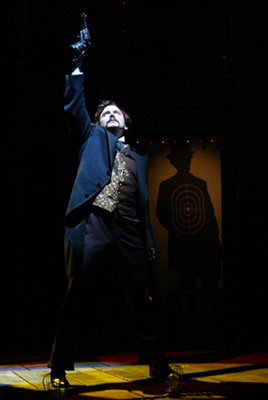 Michael Cerveris is back on Broadway in Stephen Sondheim's musical Assassins. The show which first ran off-Broadway 13 years ago has gained attention over time due to the original cast CD, a London and various regional productions. In an incredible cast, Michael's portrayal of John Wilkes Booth stands out.

In many ways Booth is similar to the character of Thomas Andrews in Titanic. He acts as the heart and allows the audience to feel compassion for the character. The sympathy that we feel for Booth carries over to the other assassins, who although funny might sometimes appear too crazy to take seriously.

His Booth is charismatic and accessible, conveying both sanity and great passion. His motives are understandable even if his actions are not. In his first major song -- "The Ballad of Booth" -- his powerful voice trembles equally with emotion and conviction.

His intense realistic performance grounds the musical and adds dimension -- allowing Sondheim's more serious themes to come through. When the cast sings "Another National Anthem" -- we are ready for it. With understanding of the characters we are able to ask ourselves if perhaps we have a greater responsibility to our fellow Americans - those who are abandoned or abused by the system.

We spoke to Michael about the musical which is currently in previews at the Roundabout Theater at Studio 54.


You've appeared in a number of Sondheim musicals recently - Passion, A Little Night Music and you will appear in Sunday in the Park With George this fall. How does Assassins compare to other Sondheim musicals?

The remarkable thing about working on Sondheim is that each show poses new challenges and different difficulties. For example, in Assassins, I find myself having to start the show by performing a song which would be the big 11 o'clock number in any other show. But there is an intelligence, a depth and a darkness laced with great wit that is common to a lot of his shows, I think.

Is there more pressure because the show is on Broadway?

The greatest pressure comes from hoping to play to the standard of the rest of our amazing cast.

Were you familiar with the show or the cast CD before?

I'd never seen the show or heard the CD. It somehow escaped my Sondheim radar.

Has Sondheim seen the show and what does he think? Did he have any advice?

He and John Weidman have been involved from casting onwards and attended rehearsals and continue to come to the theater during previews. They give most of their notes to Joe Mantello, our director, or Paul Gemignani, our musical director, who then pass them on to us. Sometimes they'll give us specific comments themselves. But in general they seem to be very pleased with how things have been developing. I guess the fact that we're all still here and very little in the show has changed is a good sign...

How have audiences been responding to the previews?

For the most part, very enthusiastically. We have our share of walk outs--which I think proves we're doing our job--but it seems that even when people want to get upset at the themes presented, they are so compelled by the production that they feel compelled to keep watching to the end. Some lively conversations on the way home, it seems. And that's a really important thing...

Your first major scene -- the Ballad of Booth is very intense. Is it difficult to be that emotional so early in the show?

It's one of the biggest challenges of the show for me, having to hit the ground running at full speed with little or nothing to build on.

You have to spend a long period of time sitting in the background doing nothing. Is that tiring?

Not so far--I love watching the rest of the company work every night. I do have to make sure my legs don't go to sleep, though...ask me again in a few months...

Booth is the only assassin who appears sane and has more a lucid motive as compared to Hinkley and the others. Does that make it more difficult?

I don't know if that's entirely true--I think each assassins thinks their own motive makes sense at the time. I certainly don't think my task is tougher than anyone else's. In some ways, mine's easier to sympathize with in these times of state sanctioned preemptive violence.

The other Assassins are portrayed broadly with a lot of comedy. Was there originally that much humor in the show or was it added due to the talents of the cast members (ex. Mario Cantone)? Did you feel any pressure to be funny as well?

Everything funny originates in John's book and Stephen's lyrics. The cast have mined it fully and brought their own humor to it, too. I don't personally feel a need to be funny--though I enjoy Booth's wit when it does manage to surface.

Mark Chapman stated in his confession after he shot John Lennon, that he "couldn't handle being a nobody anymore." Booth uses promises of fame to convince Oswald in the final act. Some people have said that the musical contributes to the problem of "glorifying" the killers. Do agree with that criticism?

I can see why people might think that, but I think that's an easy thing to say and doesn't do justice to something deeper that I think is being said. The fact of the existence of these assassins and their appeal to us is something that asks uncomfortable questions about us as individuals and a society. I think many people would rather just dismiss the question by pointing to the show's "glorification" of the characters instead of asking whether a country built on the idea of a person's primary right being personal happiness is perhaps flawed at a deep level.

The kids who shot their fellow students at Columbine were found to be "outsiders" and victims of bullying. Since then there have been a number of programs instituted to try and prevent bullying and reach those kids who are victimized, isolated before they resort to acts of violence against others or themselves. Do you think that there is a parallel to Sondheim's "Another American Anthem?" That we should pay greater attention to those people who are falling through the cracks?

Absolutely. assassins, suicide bombers, teenage murderers--none of these things happen by accident or in a vacuum or because they are simply 'evil'

It has been 40 years since Kennedy was assassinated so the final scene may not have the impact on audiences that it once had. Was there any talk of trying to incorporate something more recent?

No, in fact I think the slight distance from it is what makes it possible for people to process it. More recent tragedies are too near to us for audiences to be able to consider them in perspective. Much of a Broadway audience is over 40 and I think the Kennedy assassination still resonates for them.

Given the events of the last few years -- do you think that the musical is more or less relevant?

Given our current political climate, I don't think it could possibly be more relevant.

Now that your debut CD has been released will you be able to find time between Assassins shows for your own gigs?

Yes, I have one scheduled for 2 May at Tonic and am hoping to do several more in the months ahead. Not sure what to do about the mustache, though.....