Audiences were treated to Michael's kick-ass version of the Sex Pistols' punk classic "Anarchy in the UK" ...
Real Video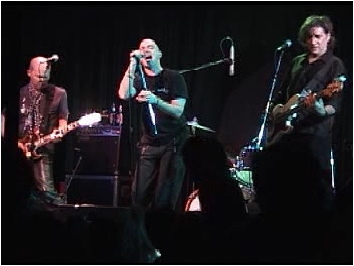 THE BEAT GOES On ... Vol. 16
YEAR ZERO PUNK -- NEW YORK/LONDON
Featuring John Wesley Harding, Annie Golden, Tuff Darts, Jim OÕRourke, Howie Statland (NYC Smoke), George Usher, Edward Rogers, Art Lamonica, Joe Hurley, Lisa Burns, Michael Cerveris, Don Fleming, Ricky Byrd, Joshua Tyler, Tish and Snooky, Christine Ohlman, Marni Rice, Amanda Thorpe.

Producers: Edward Rogers & Jeanne Stahlman
Hosted by: Annie Golden




Also performing:
MARSHALL CRENSHAW
ANNIE GOLDEN
DON FLEMING
SYD STRAW
JOHN S HALL
JAYNE COUNTY
MICHAEL CERVERIS
TOM CLARK
LISA BURNS
ERIC AMBEL AND MARY LEE KORTES
THE KENNEDYS
JOE HURLEY
JAMES MADDOCK (WOOD)
TISH AND SNOOKY
GEORGE USHER
KRIS WOOLSEY
CHRISTINE OHLMAN
JOSH TYLER
ED ROGERS AND AMANDA THORPE

and an all star band featuring
JAMES MASTRO
TONY SHANAHAN
PAT IRWIN
DANIEL REY
DENNIS DIKEN
hosted by
KEN DASHOW (Q104)
Anarchy In The U.K.

Right ! NOW ! ha ha ha ha ha

I am an antichrist
I am an anarchist
Don't know what I want but
I know how to get it
I wanna destroy the passer by cos I

I wanna BE anarchy !
No dogs body

Anarchy for the U.K it's coming sometime and maybe
I give a wrong time stop a trafic line
your future dream is a shopping scheme cos I

I wanna BE anarchy !
In the city

How Many ways to get what you want
I use the best I use the rest
I use the enemy I use anarchy cos I

I wanna BE anarchy !
THE ONLY WAY TO BE !

Is this the M.P.L.A
Or is this the U.D.A
Or is this the I.R.A
I thought it was the U.K or just
another country
another council tenancy

I wanna be an anarchist
Oh what a name
Get PISSED DESTROY !