Easter Bonnet 1999

April 19 & 20th
New Amsterdam Theater
Presented by Broadway Cares/ Equity Fights AIDS

Fundraising Coordinator: Anthony Zelig
Bonnet Designed by Fabio Toblini
Bonnet Created by The Cast & Crew of Hedwig
Stage Managed by Joe Witt
Musical Direction by Joe Pecorino
Wigs by Michael Potter

Performed by Michael Cerveris, Jeremy Chatzky, Travis Griesler, Joe Pecorino, Miriam Shor, Cory Waletzko, Jon Webber and Chris Weilding

Special thanks to: the West Side Theater, Brent Peek Productions

---
***HEDWIG AND THE ANGRY BONNET****
by Michael Cerveris


Announcer:

Our next presentation comes from downtown. Way downtown. Hedwig and the Angry Inch is the story of a painfully botched sex-change operation and a meditation on the redemptive power of love and glitter. Unfortunately, the cast can not be here tonight due to an unfortunate incident involving a Virginia Slims cigarette and a can of Aquanet. In their place, singing a song from the show is the Boys Choir of Bratislava…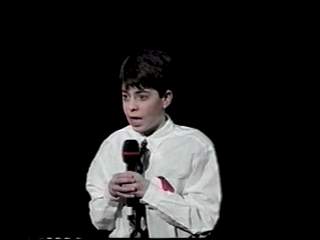 Boy enters and sings a line of Angry Inch in high falsetto, accompanied by band.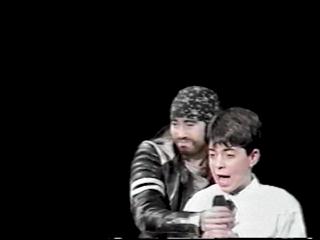 Seconds later, Yitsak enters, grabs the child's microphone, and kicks the child offstage. The child runs off crying.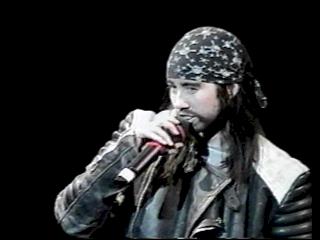 Yitsak:
Ladies and Gentlemen, whether you like it or not…………HEDWIG!!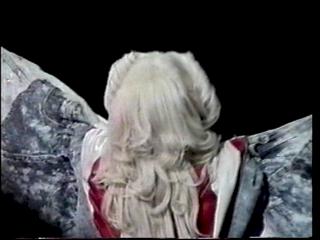 Hedwig enters to Oh Beautiful…(on mini boom box or Casio)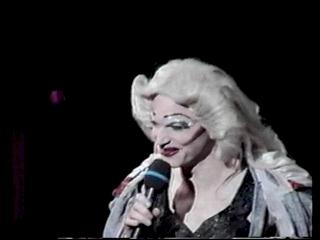 Hedwig:
Thank you Broadway. You really DO care.

Thank you.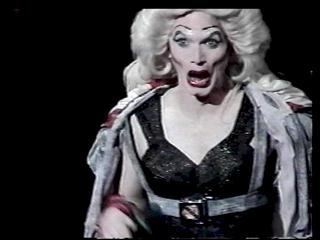 I do love a warm hand on my entrance.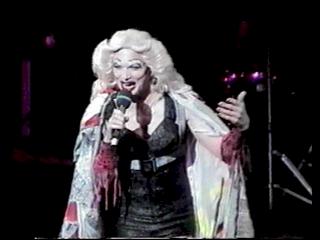 I can not tell you how thrilled I am to be here in the home of the Lyin' Queens.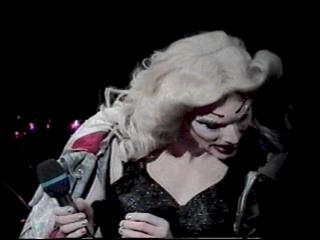 Yitsak whispers in her ear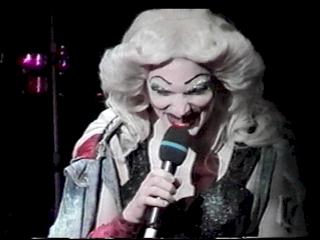 What? Oh, the Lion King.


Whatever, honey, that pussy's got nothing on me!


I tell you, I understand what it takes to work for a company like Disney.

After all, back home I grew up under Fascism.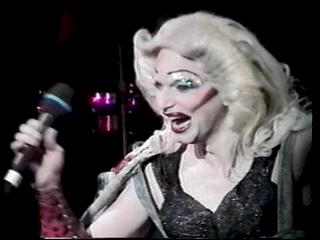 Oh, to stand here before all you beautiful people…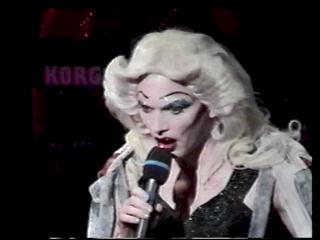 Oh my God, is that?…Are you?….


Look! It's Bernadette Peterless!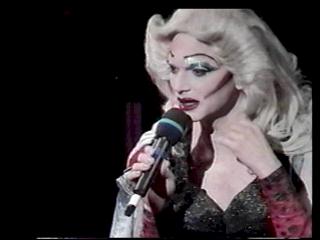 Baby, I love your work


Sings "Anyone one you can do I can do better…"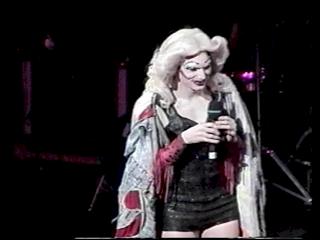 Sister, you bring that Duke boy downtown, we show him a good time, OK?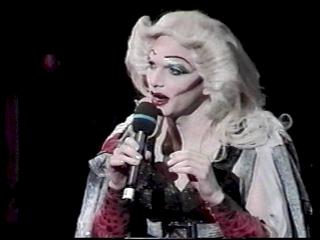 Now, my agent Phyllis…does anyone else have my agent?

Phyllis Stein?

Yeah a few of you. The ones nobody's ever heard of.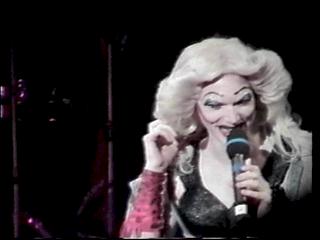 Phyllis would like me to take this opportunity to offer my audition for any of your wonderful Broadway shows…On The Rag Time,

Miserable Lay,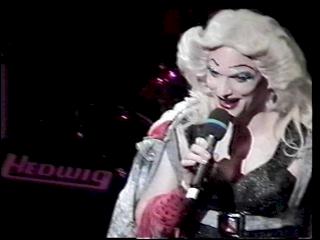 Death of A Mary Kay Salesman,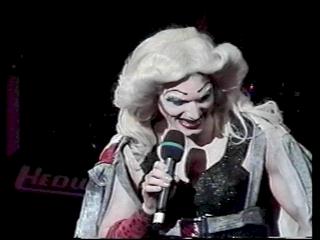 The Iceman Cometh…Finally,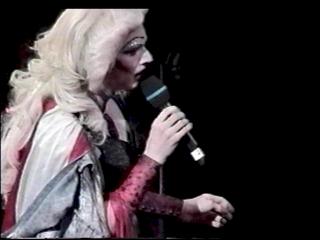 or that wonderful musical Titanic

Yitsak whispers again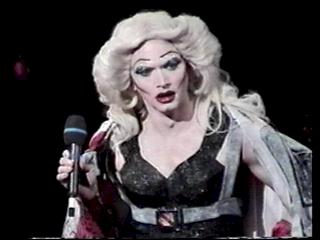 Closed already? That's such a shame!

I would have been so perfect.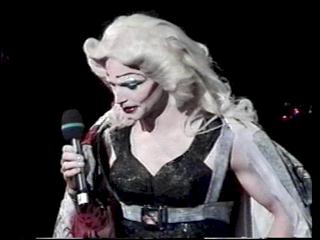 Going down eight times a week…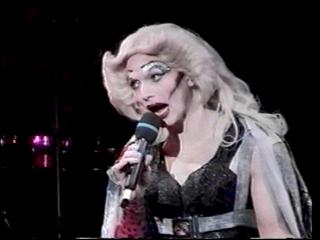 Well, anyway, here's a few numbers from my repertoire


Yitsak:
Up Tempo

Hedwig:
(sings to the tune of Happiness Is from You're a Good Man Charlie Brown)
Half-penis is…what I am left with… not what I wanted…rather a drag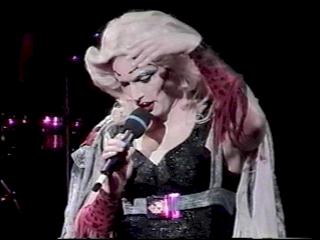 Yitsak:
Ballad

Hedwig:
(sings to the tune Edelweiss from Sound of Music)


Anal vise, anal vise, every morning you beat me….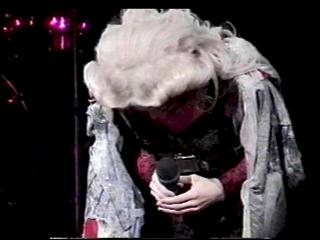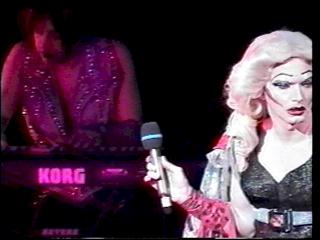 And now a from a Rock Musical…

Yitsak:
sings from Rent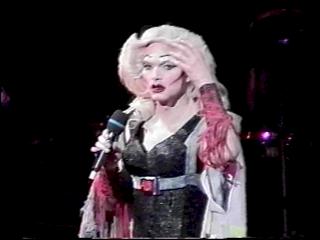 Hedwig:
Yitsak was machts du dar, verdammt noch mal?


I said a ROCK Musical…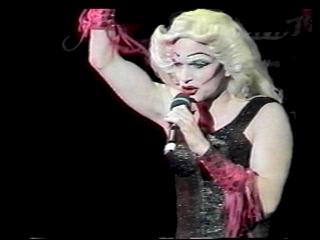 Like this……
(sings to the tune of Pinball Wizard from Tommy)

Ever since I was a young boy, I liked to play with dolls

From Skipper down to Barbie, I dressed them like Rupaul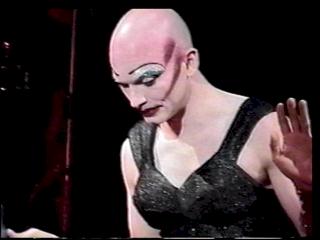 I'll tell you now a secret I've never told at all

This deaf, dumb and blind kid

Sure plays a mean queen bald


And now one final song to all you people out there in the dark…
the ones who raise the money and organize and perform and above all,
those of you who give to help people you may not even know…

this song is dedicated to you


She sings You Light Up My Life…
in German…
as the boy returns to the stage wearing The Bonnet and a child's sized fur coat, accompanied by another Hedwig and another Yitsak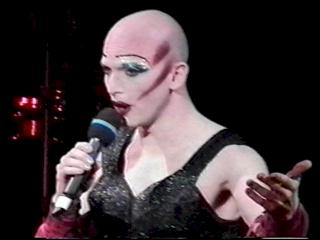 Und du erleuchtest mein leben

Du gibst mir hoffnung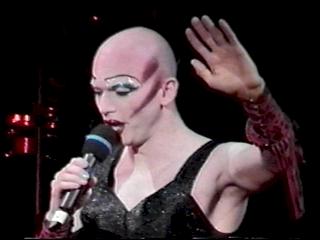 Dam mit ich weitter geh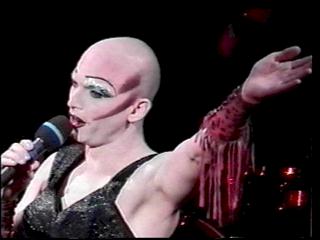 Erleuchtend meine tage

Und volfüllst meine nächten mit Lied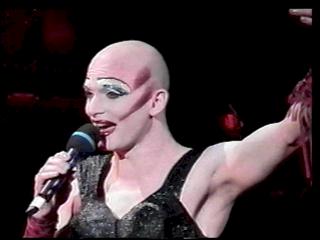 It can't be wrong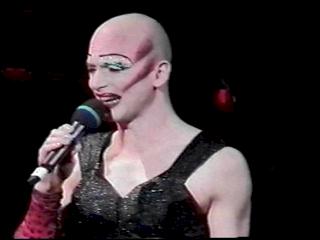 If it feels so right

Weil du erleuchtest mein Leben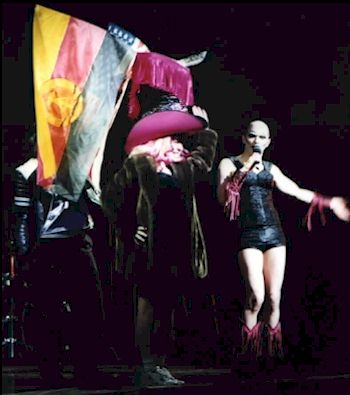 end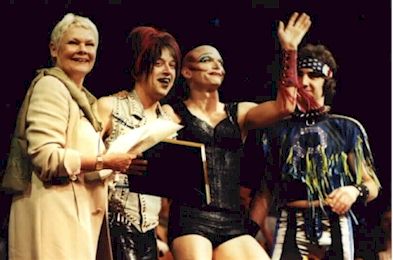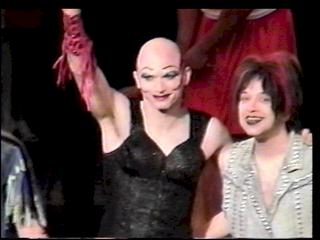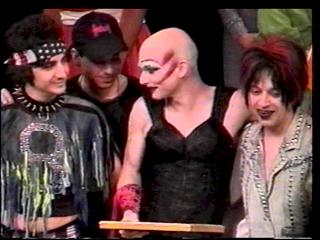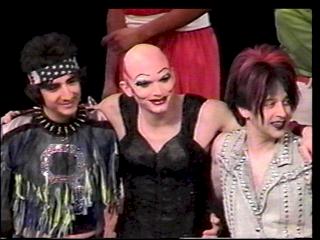 The cast was presented with a special award for raising a grand total of
$30, 664.87 for BC/EFA the MOST raised by an Off Broadway show!
---
Amazing Journey - Official Web Archive for Michael Cerveris
Please send any comments about this page and contributions
to email - webmaster@michaelcerveris.com
copyright @1997-00