First Act : So Long Hedwig; Hello, Hollywood

InTheater Magazine, July
Issue 93
By Dan Bacalzo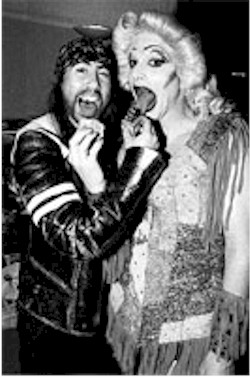 photo right Miriam Shor and Michael Cerveris eating cake
They're called "Hedwigians" or "Hed Heads." Fans of the off-Broadway musical Hedwig and the Angry Inch have become a permanent fixture at the run-down Jane Street Theatre. And the Goths, glitter girls, and preps were out in full force on June 4 to see their beloved Yitzak, Miriam Shor, take her final curtain call. Some fans traveled over three hours to witness the performance.
"It's great to be appreciated," says Shor, who has logged in 500 performances, dating back to playwright John Cameron Mitchell's 1997 workshop. "Even when you think something is great, there is always the fear that it could slip through the cracks." Her departure comes after securing a role in the ABC sitcom Then Came You, to air Thursdays at 8:30 p.m.
Although Shor may have left the Jane Street Theatre, she has not left Yitzak completely: A few days later, she flew to the Sundance film lab to take part in a workshop with Mitchell, who has been adapting Hedwig for the big screen. Lisa Datz, Shor's understudy, has taken over as Yitzak to Michael Cerveris' Hedwig.

---
Amazing Journey - Official Web Archive for Michael Cerveris
Please send any comments about this page and contributions
to email - webmaster@michaelcerveris.com
copyright @1997-00