Sail On, Hedwig

In Theater, 7/10/98

by Melissa Rose Bernardo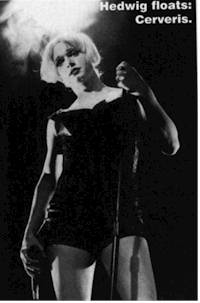 Though he's spent the last year and then some crossing the Atlantic in Titanic, Michael Cerveris is now taking on a transatlantic transsexual. He's sailing into the role of Hedwig in Hedwig and the Angry Inch for a vacationing John Cameron Mitchell.

"John just called me and said, 'I want to take a four-week vacation and I can't think of anybody but you that I want to do it.'" Cerveris recalls. "I pretended to take a day or so to consider it, but I knew from the second he called that it was something I wanted to do. As an actor, what more can you ask for than something that is incredibly entertaining, really moving and loud?"

For Cerveris, Hedwig offers a chance to combine his "dual passions": theater and rock music. "It's pretty clearly the truest, best rock score written specifically for the theater," he says of Stephen Trask's score. "This is genuine rock music." He'll follow his Hedwig stint by touring the US and Europe with alternative icon Bob Mould's "honest-to-God rock band." Plus, he still plays guitar and sings with the local band Lame. As for legit stage appearances, Cerveris has rocked as Broadway's original Tommy and as the "rock-and-roll creature" Crow in Tooth of Crime. "I was wearing thigh-high platform boots and this enormous, incredible wig. It had an eight-inch Mohawk down the center and these six longs tails."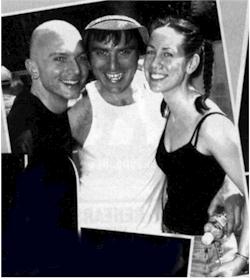 After playing Tommy in Germany, Cerveris wasn't fazed by Hedwig's Marlene Dietrich-like drawl; her bewigged, bedazzling look, on the other hand, took some getting used to. "It was so eerie," Cerveris says of his first moments as Hedwig. "When I opened my mouth, she opened her mouth. When I lifted my arms, she lifted her arms. In some ways, it feels like a mask that gives you license to do anything. It's also what the character is about. She creates this identity to give herself strength and security."

Michael Cerveris, Stephen Trask & Miriam Shor
at Gay Pride Parade in Manhattan - July, 1998
photo by Bruce Glikas


Above all, it was Hedwig's humanity that made the transformation easy. "The show addresses this whole issue of identity and everybody's search for another half," he says. "In spite of how outrageous the character sounds, there's absolutely a Hedwig in everybody."

---
Amazing Journey - Official Web Archive for Michael Cerveris
Please send any comments about this page and contributions
to email - webmaster@michaelcerveris.com
copyright @1997-00