Latest Hedwig Makes It Every Inch Electrifying

Newsday
02-23-1999, pp B13
By Jan Stuart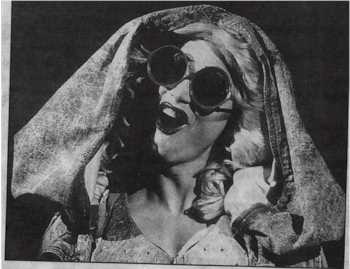 Hedwig and the Angry Inch. Now starring Michael Cerveris. Jane Street
Theatre, 113 Jane St., Manhattan. Seen Friday 2/19/99.

If someone asked me a year ago whether I thought it possible that a gritty musical psychodrama on the theme of self-integration featuring a transsexual, Gummy-Bear-loving, glam-rock performer from East Germany could be a hit, I would have, er, looked at them strangely. This is why some of us are chosen to produce shows and others to review them.

Barely a year after its first performance, "Hedwig and the Angry Inch" is still packing them in at the resplendently funky Jane Street Theatre. What is even more surprising to report is that it not
only has survived the departure of its commanding author and star, John Cameron Mitchell, but that it feels even more electric than ever.

Part of that pleasure, certainly, is the frisson that comes from reconnecting with songs and lines one had admired on multiple occasions in the past. The big news, in this instance, is Michael
Cerveris, who delivers a performance of galvanizing intensity in the title role.

"Hedwig and the Angry Inch" is not a musical in the old-fashioned sense, if such a thing exists anymore. It's autobiography as rock concert, with the fictional Berlin waif-turned-would-be-pop-music-sensation Hedwig relating in song and patter her battering journey from Europe to America, from retiring boy to take-charge woman, from fragmented identity to whole.

Cerveris is a larger, manlier presence than the lithe Mitchell, more Mick Jagger than Boy George. In his hands, the character is more brooding and perhaps a wee bit more intimidating: When Hedwig asks us if we are growing to like her, we want to say, yes, as long as you keep your sunny side up. As directed by Peter Askin in a deliberately loose, anti-script manner that the late German auteur Rainer Werner Fassbinder would have loved, the show flows with a seat-of-the-pants spontaneity that Cerveris accentuates with melancholy, introspective pauses that push the edges of our comfort level.

After a muddily articulated opening monologue that suggested a Teutonic Judy Garland in her narcoticized later years, Cerveris grabs hold of the role with supreme confidence. A veteran of Broadway's "Tommy," he invests Stephen Trask's pounding tunes with a muscular rock athleticism and, when called for, a wounding tenderness. The latter quality shines in Trask's gorgeous "Wicked Little Town," a standout in a score that runs an authentic gamut of rock styles from hard to hillbilly.

Upon returning, we were impressed anew by the infectiousness of Trask's score (a few more songs for the movie version, please) and the androgynous wizardry of Angry Inch band member Miriam Shor. And what other theater in town allows you to gaze upon a very attractive audience
as they queue up for the bathrooms at stage right?


---
Amazing Journey - Official Web Archive for Michael Cerveris
Please send any comments about this page and contributions
to email - webmaster@michaelcerveris.com
copyright @1997-00