New York Times Magazine

June 27, 1999
Footnotes

Text by Bob Morris
Photographs by Tony Cenicola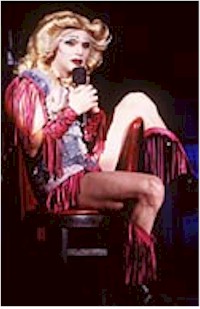 It's a little bit swell at the Shady Dell, at the junction
of Highway 80 and Douglas Road, outside the historic mining
town of Bisbee, Ariz. Alongside a teeny R.V. lot, you can
stay for the night or week in one of eight vintage aluminum
trailers and pretend the 60's never happened. From chenille
bedspreads on Hollywood beds to kitschy cocktail glasses,
steel toasters and 50's TV's (hooked up to VCR's for viewing
classics likeThe Long, Long Trailer"), each trailer is an
object lesson in compact-luxe. Some even have their own
bathrooms, and all overlook the town cemetery so that you
never have to tell the neighbors to shut up. Nightly rates,
$25-$70. (520) 432-3567. (Bring your own Spaghetti-O's and
Twinkies.)

Ed Smith, who owns the Shady Dell, is a vintage obsessive.
He has been known to wear vintage clothing even when hauling
trash. But Ed is also an artist who sees the Shady Dell as
his conceptual sculpture. These days, of course, you can get
new stuff that looks old -- this Philco will soon be
reproduced by Retro Classic Televisions (www.antiquetvs.com)
-- but Ed isn't amused unless it's used. For the real deal,
he and his wife, Rita, recommend: the Rose Bowl Flea Market
in Pasadena and Laney's in Oakland; Renninger's in Kutztown,
Pa., and for chenille bedspreads and other vintage fabrics,
the Ebay auction on line.

We all know that fashion designers get their ideas wherever
they can find them. Here's a cotton dress that Hussein
Chalayan designed for TSE that looks just like the formica
counter at Dot's Diner at the Shady Dell.

The Airstream trailer was invented by Wally Byam, who
started his company in 1931 because his wife refused to go
camping with him unless she had a kitchen. In 1936, Byam
introduced the first aluminum Clipper, built along aircraft
principles. By the 1950's, he was leading caravans through
Central America, Europe and Africa. Today, the Wally Byam
Caravan Club International has about 10,000 members. Other
trailer associations for the outwardly mobile include the
Escapee Club, the Good Sam Club and Loners on Wheels, for
singles only.

The trailer in literature: "Naked," by David Sedaris,
features the author's account of his visit to a nudist
trailer park. "Celebration," by Harry Crews, is a novel
about the effects of a voluptuous teen-age girl in a trailer
park of senior citizens. "Galloping Bungalows" chronicles
the history of the trailer, and in his classic paperback
humor treatise, Jeff Foxworthy suggests, "You might be a
redneck if ... your richest relative buys a new house and
you have to take the wheels off it."

More trailer culture: In "Lost in America," Albert Brooks,
playing an L.A. yuppie, drops out of society and hits the
road (to the tune of "Easy Rider") in the biggest mobile
home money can buy. "What's Eating Gilbert Grape" finds
poetry in trailer living. "Killer Joe," a new play about a
murder plot hatched in a Texas trailer park, features guns,
beer bellies and tuna casseroles. "Hedwig and the Angry
Inch," a downtown cult favorite, is about an East German
transsexual in a Kansas trailer park.

Pop stars aren't the only artists inspired by mobile style.
In 1996, Andrea Zittel, a conceptual artist from California,
created her Escape Vehicle series of customized
mini-trailers.

Would Demi Moore, who grew up in a trailer in New Mexico,
have ever imagined a trendy nail polish called Trailer
Trash? Well, Hard Candy sells it for $12. It sells Jail Bait
too, but that's a whole other fashion story, isn't it?

---
Amazing Journey - Official Web Archive for Michael Cerveris
Please send any comments about this page and contributions
to email - webmaster@michaelcerveris.com
copyright @1997-00