'Hedwig and the Angry Inch': The Same Self-Discovery

New York Times, July 24, 1998
By Peter Marks
On the return trip to a show you've admired, high hopes are mingled with grave misgivings. You can't help but wonder if a first impression was off the mark, if a second viewing will reveal that the shattering speech on the heath was merely an act of extreme indulgence, or the transporting production number was actually a rather faithful imitation of something executed years before in a dinner theater outside Pittsburgh.

More often than not, however, your reaction is one of self-congratulation; you were, after all, justified in that satisfying sensation of discovery. On rarer occasions, the ones that constitute the best of all possible revisits, the sense of discovery happens all over again. Such is the case with a second helping of "Hedwig and the Angry Inch," the sensational pop-rock musical that is evolving, as seemed likely when it opened at the Jane Street Theater on Valentine's Day, into a downtown phenomenon.

As written and performed by the amazing John Cameron Mitchell, "Hedwig," a satirical portrait of a transsexual would-be rock diva from formerly communist East Berlin, consists of a series of autobiographical rock numbers built on a foundation of surprises. Those surprises include the melodic range and power of Stephen Trask's score, a kind of homage to 40 years of rock history, and the depth of a story that takes Hedwig on a journey from self-parody to self-realization.

Mitchell is taking a breather from the show this month, which provides an opportunity to find out how heavily the success of "Hedwig" depends on the actor's star turn. Well, Mitchell can rest easy (or not, if he's the insecure sort) because his four-week replacement, Michael Cerveris, is a captivating Exhibit A in the case for this 95-minute musical, superbly directed by Peter Askin, as a potential franchise operation. Cerveris, who recently completed a long run as the ship designer Thomas Andrews in the Broadway musical "Titanic," embodies the shape and spirit of Hedwig Schmidt as convincingly as the role's originator. The danger here always was that in his laughable Farrah Fawcett wig and black techno hot pants, Hedwig would mutate into another campy drag act.

Cerveris, who plays Hedwig through next weekend, never allows this. Reveling in Hedwig's snide self-deprecation, the actor -- who received a Tony nomination for his performance in the title role in "The Who's Tommy" -- delivers the kind of multilayered interpretation that lets an audience in on the elaborate joke without turning the character into one.

In fact, Cerveris' comfort level is such that on a recent evening, when a section of the stage lighting broke away and missed striking members of the onstage band, Cheater, by inches, the actor seamlessly turned what could have been a disastrous moment to Hedwig's advantage. The mishap occurred just after Hedwig explained that the Hotel Riverview, home to the Jane Street Theater, was actually used in 1912 to shelter survivors of the Titanic. "We could be sinking," Cerveris remarked in an ad-lib as apropos of Hedwig's predicament as it was of
the Titanic connection in his own resume.

The musical is set on the opening night of Hedwig's open-ended New York run in the third-rate dive where he has washed up. Mitchell's tabloid-trashy, pun-filled script is a spoof on tear-stained backstage biographical movies like "The Rose." (The "Angry Inch" here refers to the name of Hedwig's backup band and to the appendage with which Hedwig was left after a botched sex-change operation.)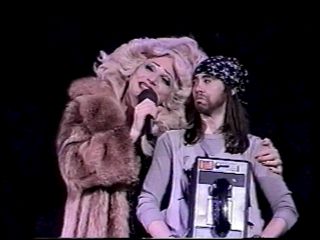 The twist is that it is through his grotesque stage persona -- he really is one lousy drag queen -- that Hedwig finds himself after a lifelong search for what he believes is his other half, a quest established in a terrific ballad, "The Origin of Love." As Hedwig explains, he has known only rejection by the men in his life, first by an absent father, then by a halfhearted husband and finally by a boy who under Hedwig's tutelage becomes the teen-age rock phenom Tommy Gnosis. In revenge, he makes a kind of onstage slave of another drag performer of indeterminate gender, played as a sneering second banana by the terrific Miriam Shor.

(photo - Michael Cerveris and Miriam Shor)

Trask's music and lyrics integrate the evening's theme of an identity in crisis; influenced by everything from the Beatles to punk to Gordon Lightfoot, the score is a true rock pastiche. Hedwig tries on various rock personae -- the acknowledgments range from Mick Jagger to Courtney Love -- but floundering impersonations are all they are. His own identity -- is he the real Tommy Gnosis? -- emerges only when he discovers that there is value in the sound of his own voice.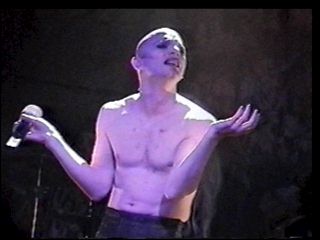 At the instant of enlightenment, Cerveris is spectral and enthralling. Shed of Hedwig's hair and clothes and bathed in a smoky spotlight, he looks eerily like one of the aliens who greets Richard Dreyfuss in "Close Encounters of the Third Kind." It's a mesmerizing metamorphosis, beautiful and spooky.



(photo - Michael Cerveris - "Wicked Town" reprise)

There has been one change for the worse in the production, however: a raised decibel level. The opening number, "Tear Me Down," is so loud that Trask's unerringly smart lyrics are completely swallowed. Perhaps the thought was that the show required some revving up. That is not the case. The jolts all exist in the performances. "Hedwig" and Hedwig demand a full hearing.

---
Amazing Journey - Official Web Archive for Michael Cerveris
Please send any comments about this page and contributions
to email - webmaster@michaelcerveris.com
copyright @1997-00