Idiot's Delight

February 7th, 1999 at 10pm on WNEW

Hosted by Vin Scelsa
Starring:
Michael Cerveris, Miriam Shor, Stephen Trask and John Cameron Mitchell.


photos by Vin Scelsa



VIN SCELSA INTERVIEW WITH JOHN CAMERON MITCHELL, STEPHEN TRASK, MICHAEL CERVERIS AND MIRIAM SHOR
Transcribed by Fredda Tone
"Tear Me Down" (JCM:-CD Version)
Vin Scelsa:
Now I use that word, "queen" because Hedwig is certainly the queen of Off-Broadway musical rock and roll theatre these days and that is the opening track from uh, the long-awaited cast album, "Hedwig and the Angry Inch" and I have uh, I have the privilege, actually, of having two Hedwigs in the room (laughs). I have two Hedwigs here tonight. I have John Cameron Mitchell, who I welcome back to Idiot's Delight, who is the creator of Hedwig.
John Cameron
Mitchell
Thank you, Vin.
VS:
And I have Michael Cerveris, who is currently starring as as Hedwig, Miriam Shor is with me as well and we heard her voice at the very beginning there, introducing hedwig as she does, when the show actually begins, Miriam plays, Yitzak, a man.
Miriam Shor
Croatian ex-drag queen
VS:
Yes, yes (laughs) And , I must say to you guys, being a big fan, you guys know, you know, what a fan I am of, of this show, right, how nervous I was when I got the album a couple of days ago. I was real scared, I mean, I mean, you John, we talked about this about how you were gonna translate the energy-the rock and roll spirit of the show, that is, so real and vital in performance, how you were gonna translate it to the recording. In the hands of the wrong people pushing the wrong buttons, things could have gone wrong so I was like, literally, I had it in my hands and I was like, just a little bit of a tremor, you know. I put it in the machine and I waited a few seconds. I said well this is either gonna be great or it's gonna be really disappointing (laughs) and as soon as I heard that "ladies and gentlemen" (all laugh) and then the band kicked in.. I just went 'okay all right', sigh, (laughs) ya did it right, ya did it right!
JCM:
Oh, good.
VS:
Now tell me about that John, I mean tell me about the recording process, it's a different way of dealing with the songs, isn't it, than performing every night?
JCM:
Yeah, I had done a little recording, but more in that "Broadway show" style, which is like two days. You record it live with an orchestra in front of you so it's almost like a live recording. Um, and I had done some voice-overs for a while. I was the Australian kangaroo- animated kangaroo- for "Dunkaroos Cookies" and it cracked us up! (laughs)
Michael
Cerveris
This is something I don't know about you.
JCM:
For a number of years...
MC
Really?
VS:
You heard it here first!
MC
Did we ever see these commercials here?
JCM:
A lot of kids- that's the work they know of my....that's...
MC
What kind of cookies?
JCM:
Dunkaroos
MC
Dunk..Dunkaroos
JCM:
They're like, "How do you do your Dunkaroos?" (funny accent)
ALL
(hysterical laughing)
JCM:
Oh, it's coming back- "You dunk it in a....."
MC
You might be able to get residuals.
JCM:
"....frosting". I lived on it for two years.
VS:
Yeah, did you get like, lots of free cases of Dunkaroos?
JCM:
Actually, no. But what I was going to say so when we finally got into the recording studio we were all exhausted. We had been doing the show for eight months. We were warmed up (laughs) definitely! But- kind of broken, and I came in and that was the first I think I had to do. I was just like havin' a terrible day. I was just too tired and the thought of doing three songs a day cause that's pretty fast for recording an rock album.
VS:
That was the decision you made - that's how you were gonna record it?
JCM:
Well, that's the amount of time we had (laughs). That's the amount of time we had, and uh..
MC
For vocals...
JCM:
Yeah, and for that song. I remember, I, I turned to Stephen and Brad and I was like, crying. I was like, "I can't do this" I...
VS:
Really?




JCM:
Yeah, I was just too tired, and- we decided that song might be the one to just slot me out of it- I just remember I kind of bursting into tears after the first take of that song and...
VS:
Out of frustration or out of relief?
JCM:
Out of exhaustion and relief and just release you know, and I realized that once we had done that song that I could do it. But there was a weird block right at the beginning.
VS:
So are you telling me that the band performed live while you were recording?
JCM:
No, no, I was just saying I was used to that live stuff but when it suddenly came to this new way of recording of the tracks we laid down....
VS:
Oh, the tracks were laid down.
JCM:
I would just do vocals yeah, I didn't think I had it in me anymore. I was just too, too tired from doing the show, um, but Brad Wood created a really nice environment.
MS:
Yeah, he's great.
JCM:
In order
VS:
Brad was the producer.
JCM:
Yeah, I mean one of the songs, the "Angry Inch" which is the most kind of free-wheeling punk song, um, I couldn't really do it with a stationary mike and Brad suggested a hand-held mike so I could jump around (laugh) but I put up screens so no one could see me.
All
Laugh
VS:
Yeah, that's a that's a rare thing in a recording studio- to have mobility..
JCM:
Yeah, it was a pretty big place.
VS:
That was for "Angry Inch"?
JCM:
Yeah
VS:
Well, let's listen...
"ANGRY INCH" IS PLAYED
VS:
From the cast album of "Hedwig and the Angry Inch" which we are premiering tonight on the radio here on WNEW-FM. John Cameron Mitchell as Hedwig really throwin' a fit there at the end. Too man you scared me, really upset about this botched operation. Uh, I guess we talked about this a little bit- oh, and Stephen is here.
JCM:
Stephen Trask is here.
VS:
Who is the composer of this musical- the co-creator of this musical. Welcome Stephen, welcome back to Idiot's Delight. Wait a minute, let me get a microphone on there for you.


Stephen
Trask
Hello radio land.
All
Laugh
VS:
There you go. When you guys were here back in May, we talked a little bit about the actual physicality of this botched operation of Hedwig's.
JCM:
You seem to be focusing on that a lot.
VS:
I was - refresh my memory - is it actually possible? This botched operation? Is it actually possible to walk around with this sort of neutered nothing there like that? or ?.
MS:
Yeah!
JCM:
It is! Stephen!
ST
Yes, it is very very possible - , except where would you pee from?
JCM:
Yeah, that's what...
ST
And so you'd have to pee out a- you have to. You'd have to make a little hole.
MC
But I bet if it got cut off - you'd still have a urethra.
ST
Yeah, yeah, but you'd need some sort of..
MS:
Urethra? I don't even know it..
ST
It's like - how do you get - how do you get pineapple juice out of a can?
All
Laugh
ST
You know....
VS:
All right, let's move on to another subject now.


4
JCM:
But there was that guy - there was that guy who...
ST
And two holes makes it go better.
JCM:
There was that guy that had that-
ST
Well, because then you've neutralized the air, otherwise you get like that blip, blip, blip...
JCM:
Yeah, right, exactly.
??
[It's just the baby showers talking]
JCM:
No, but there was that guy that uh, had there was the...
MS:
Oh, John Bobbitt.
All
Laugh
JCM:
No, I don't know who holy that ritual was.
ST
Panamanian briss.
JCM:
But there was I think it was actually twins. One of them was like - it was a slip of the moehl, and it was gone. Ad there was a decision to be made uh, and they made the decision that this boy would be brought up as a girl.
VS:
Uh-huh.
JCM:
And he always felt awkward about- but he didn't know he, he was told that he was a girl.
VS:
Well now, the song that we just heard, "Angry Inch" pretty much explains the situation for, for Hedwig, Hedwig is a boy growing up in East Berlin um, who, in order to un, come to America. A U.S. soldier falls in love with him and wants to marry him - basically and bring him to America. But in order to do that he has to uh, become a woman. And because he's in East Berlin, I guess the medical attention just is not that good there... and so..
JCM:
It was like a back alley sex-change operation.
VS:
Really. And so, uh, so the angry inch, and then of course, when he finally winds up here in America..He winds up in a trailer camp somewhere in the mid-west and life becomes a bit difficult for him. But life has not been difficult for you guys - since about a year ago? Right, wasn't it on Valentine's Day? Wasn't it the fourteenth that the show actually opened?
JCM:
Yeah.


5
VS:
And it has just been growing and growing. The phenomenon of Hedwig has just gotten bigger and bigger.
JCM:
Inch after inch after....
??
Yes, it's growing by inches.
VS:
Who is responsible for the wonderful? Stephen, that appeared of you and John that appeared in Time Out New York a week or so ago?
MS:
The John and Yoko..
VS:
The John and Yoko photograph who's idea was that? That wonderful curled up fetal-
JCM:
How'd that come about?
ST
Um, that had been suggested to me by a number of... actually. But I don't know who suggested that- the one-I don't know who actually made the suggestion that resulted in this cover, but for about a month that had been bandied about and I think I had even mentioned it to somebody, um, and it was very exciting for me and for me very nerve-racking because I had to be naked and uh, and um, and um...
JCM:
Stephen Danelian was the photographer. Who was the original photographer for the John and Yoko - it was Annie Liebowitz, wasn't it?
All
Yeah, yeah.
VS:
But it's a wonderful reproduction of the picture and just..
JCM:
They actually didn't have the photograph there when we were recording it, they were like, "Oh, let's do this" and there was...they didn't have the photograph.
ST
We had a fax of a photocopy and you could barely see it.
JCM:
It looked like an ultrasound.
All
Laugh
VS:
I have the original, unfortunately I didn't bring it in. I should have brought it in today. Somebody sent me the original Rolling Stone that that was in.
MS:
Wow
VS:
Um, and it's like crumbling, falling apart and everything. I should have brought it in today so everyone else could see it.
JCM:
Was it the purple carpet they were on?
6
VS:
I don't remember, yeah, I don't remember.
STS
But that's- I was very nervous about being naked and I, and , and..
JCM:
He's usually not that way (laugh).
ST
And and....
MC
[??]
All
Laugh
ST
And I ran into a fellow um label-mate from Atlantic in a gym in Los Angeles, who's very obsessed with how he looks in photographs and he's just had all sorts of treatments.
JCM:
Fluffing techniques?
ST
And drugs, too- no, not fluffing things, to , to, um, to get me to expel liquids from my body.
JCM:
Oh, god.
ST
Aqua Ban.
JCM:
Yeah
ST
And cold water.
JCM:
More than I need to know, I think.
ST
To look the absolute best...
MS:
Pineapple juice.
ST
Uh, Scott.
VS:
You can say label-mate now.
ST
Yeah
VS:
Isn't that exciting?
ST
It was Scott from Stone Temple Pilots.
??
Oh, yeah, okay.
ST
And he suggested Aqua Ban.
7
MC
Knows a lot about expelling liquids.
All
Laugh
VS:
Now, we have
JCM:
Now, Michael!
VS:
We have four people in the studio here um, only two of them are actually involved in performing right now. Miriam, you're still in the show.
MS:
Still there, yes.
VS:
Still playing Yitzak, you've played Yitzak pretty much throughout, did you go out for a while and come back?
MS:
I left, yeah, I did a film and then I got sick. So I had an understudy, who's great, she went on. She actually looks more like a guy than I do, even in the costume.
VS:
Yeah?
MS:
Yeah, not out of costume, she looks like a woman, but- Lisa Datz, yeah, she's my understudy.
MC
She's really a cute guy, too.
MS:
Yeah, she's a really cute guy.
JCM:
Miriam is cute, Miriam gets a lot of , you know, gay male friends.
MS:
I was told just this evening, "you make a great looking guy".
JCM:
Who's that hot back-up singer?
VS:
I talk to more people who fall for it, who truly believe that this is a guy. And uh, and when you come back at the end, in a different guise, um, people are astounded, they find it quite remarkable.
MS:
Take it as a compliment because I have to.
VS:
I guess that's part of the magic of theatre, I guess you know that if you present an illusion, uh, people will believe it.
MS:
That they'll accept it...suspension of disbelief.
VS:
I mean they can open the playbill and they can see your name, you know, Miriam Shor, and they can see that you're clearly a female, but we go along with the magic of it.


8
MS:
Yeah
MC
Do you know how text documents...
MS:
Oh, in my bio in the program, I now have "p.s. Miriam Shor has never had, nor will she ever have, a penis".
VS:
Ah, I see.
MS:
Just to clarify, in case anyone's confused.
VS:
And the other member of the cast right now is Michael Cerveris, who is playing, um, Hedwig. Now Michael, you played the part back in the summer, I guess when John took a vacation from
MC
For a month in July.
VS:
How did you get involved in the show? Now you're a, a, an experienced Broadway actor, most recently in "Titanic?"
MC
Uh-huh
VS:
Um, you were in "Tommy" the last time we did radio together was back when you were, when you were in "Tommy". How did you- and you are a rock musician as well, are you not?
MC
Yeah, yeah, I just got back from a tour with Bob Mould.
VS:
With Bob Mould, playing in his band?
MC
Uh, huh
VS:
Playing guitar?
MC
Yeah
VS:
Like the second guitar to him?
MC
Yeah, yeah, ...
VS:
How did you get involved with "Hedwig?"
MC
Um- John! We had known each other for a long time, just kind of crossing paths at auditions and stuff. And you know, talking about- I would have bands that I would be inviting him to come see, or he would be telling me about Hedwig things and you know, but we never really spent much time together until we were doing this workshop of this musical that they wanted to do for Broadway, about the band Queen, and John and I were playing the rhythm section in that, and



basically just kind of sitting and misbehaving and making fun of the kind of squareness of the proceedings.
VS:
You mean like a "Beatlemania" for Queen?
MC
Actually, they really wanted it to be a narrative-book-musical and there were a lot of really talented people, you know, connected with it.
JCM:
But they really wanted it to be very Broadway, so it was, like, the musical director didn't even know the songs, so we were doin' "she's a kil-ler queen, dy-na-mite with a la-ser beam, da-da " (laughs) and Michael and I were like- is that - the rhythm is actually "dynamite" not "dyn-da-da-da-da"
MC
(Laughs) Yeah, we were havin' a hell of a time singing it the way they wanted us to, because we grew up on it, and and knew the way it was supposed to be.
JCM:
I was the drummer, he was the bass player.
MC
Yeah, yeah, and the band's manager was, was in every rehearsal, I mean it wasn't like, you know, this wasn't the way they wanted it to be, it was what they wanted. So, um..
VS:
But it never came to fruition.
MC
No
JCM:
I think they're still-
VS:
Are they still working on it?
JCM:
Yeah, they want it to be more rock and roll now.
MS:
Laughs
VS:
So, John, when you were getting ready to turn the part over to somebody else, um, was that a difficult thing for you, I mean because Hedwig was so much, so much you- you know, as the creator of this character. Was it hard for you to turn it over to somebody else?
JCM:
It's not like I'm doing, uh, one of those one-man shows where it's like, "and then I did this, and then I.....no one wanted to hire me as an actor, so I did this, and now I'm this". So it never felt like it was my life. It felt like, like there was my emotional concerns, but- I really wrote it- the very beginning when I was thinking about writing it for someone else, and as Stephen and I were developing it....it's easier just to cast yourself in something you're writing, 'cause you know where the cast is, they're always available, (laugh) and the rock and roll thing was the exciting part. But it was not hard at all to sit in the audience and watch Michael do it, as I did, uh, this summer, and get such pleasure out of another person's consciousness interpreting the words. It was so exciting, and then I saw it again the last, the Friday night, and was so thrilled by his performance, and by the audience's reaction sitting next to me.
VS:
Hmm, now, unfortunately, Michael, I haven't seen your performance yet, but, uh, I will get down there, don't worry.
ST
It's stunning.
VS:
Um, from your end, stepping into a role that has been created by somebody else, is this something that you have done before?
MC
No, in fact I don't think I've ever replaced anybody in anything, and uh, and certainly never, I'd never done, you know, something where I was pretty much the driving force for ninety minutes of, you know, speaking and singing. I mean it's not a one-man show, because there's this great band on stage, and Miriam's there, but, you know, but you have a lot of the burden, you know, yourself, too, and um, and my, when I first saw it, in February, I guess, a year ago, or March, maybe, it never occurred to me that anybody but John would ever play this part, because it just seemed so, you know, totally tied up in, in who he is, and who he was presenting. And when he called and asked me if I wanted to do it, I immediately knew that I wanted to, but also knew that I was terrified of it at the same time. And the rehearsal process was partly a process of me learning the role, but also a process of me telling myself that I could actually do this, and I, and the best thing that happened was Peter Askin, the director, sort of sat me down and said "All right, we're not gonna have you do John. We're gonna take this text, because it is a written text, and you know, we'll work on it like that" and suddenly I was on ground that I knew. You know, I know how to sit down with a text and work on something, and so I had my, you know, my toe in the door that way, and without ever trying to. You know, to either imitate John or decide to do something differently, it just became something different because of who I am in what I bring to it.
So but I think the main thing was that first connection I had when I first saw the piece. I felt like, if I was gonna write something, this is exactly what I would've wanted to write and I was so thrilled to see finally rock and roll and the theatre really come together in a way that wasn't doing a disservice to either one. You know, Stephen's music was just, immediately got to me, and John's writing immediately spoke to things that mattered to me too, so stepping into it was like stepping in. It was like getting a coat from the thrift store that obviously was bought and owned by somebody else, and you put it on and it fits you for the first time. You know, and it's like it was always...
VS:
And it's your coat.
MC
Yeah, but you still have the presence of the other person there too which is great.
VS:
And there are other Hedwigs around the world at this point are there not? How many?


JCM:
Living not yet in trailers! There's a lot of future Hedwigs.
MS:
Oh, Kevin.
VS:
There's an understudy here in New York, right?
MS:
Yeah, and he also does it on Wednesdays he perforMS:.
VS:
I thought there had been a production someplace else at this point.
MC
There will be at some point but it's hard- it's been a little difficult getting it off the ground.
JCM:
Um, it's a great we want to, you know, make it in the right venues. It's not an easily transferred show, you know, the Berlin show...you know.
VS:
There's talk of doing it in Berlin?
JCM:
Yeah, I mean, there's a lot of interest in Germany and I think it should be a German production, you know.
VS:
In German!
JCM:
Yeah, with German jokes, because there's too many...one thing about Hedwig, in the writing that I'll always be happy to see, is, like an opera cadenza where you get to do whatever note you want. You should be able to throw in jokes anytime you want.
VS:
Uh-huh
ST
But you have to sing all the notes that I wrote!
All
Laugh
VS:
The composer speaks!
ST
Um, last night I was performing the show up through last night and um...
VS:
Stephen, last night was your last night.
ST
Well, I never really have a last night. I actually officially left a week ago tonight, but, now I've begun subbing for my replacement. (laughs)
VS:
Ah, how interesting
ST
And did five shows this week so, you tell me if I left so, um, there was one line at the end that I'd always heard one way...and then..I mean, this is a line that I was in the room when John wrote it, so I mean I was there from the moment it was thought of, and up through last night, it had one meaning for me, and then last night, I heard Michael say it and the meaning changed.
VS:
Really, yeah.
JCM:
What was that line?
All
Laugh
ST
The line was, remember cadenza! Um, um, the line "not so lonely here, out of the spotlight" and I'd always, I'd always heard it and whatever, I don't know what the intent is on either of your part, but I'd always heard it as, as, um, "not so lonely here out of the spotlight" describing how it feels to be out of the spotlight. And then last night I heard "not so lonely" referring to how "lonely" the rest of Hedwig's life is...and and it just switched, so instead of, instead of being "oh, I've never been out of the spotlight, I guess it's not so bad" it was, it was "god the rest of my life really sucks! (laugh) and maybe I should try this" kind of thing, it just, it's a subtle difference but it just changed for me, even after three hundred, a thousand performances.
All
Laugh
VS:
Stephen, there's a, there's a new song, on the album.
ST
Yeah
VS:
Um, that was not in the show when I saw the show, is it in the show now, this new song?
ST
It's not in the show, we did it once.
MS:
It was great, I had a great time.
JCM:
For my last show, I surprised, we wanted to surprise people who had seen it, including the director (laughs).
MS:
Yeah, right?
JCM:
And we put Miriam's song in that Stephen wrote for her, for the album, because she's so present on stage, in a strong way, but audially, uh, aurally, a-u, uh, o-u,
MS:
(laughs), hearing-wise!
VS:
Yeah, we know what you mean.
JCM:
She's not as present on the album, so..I felt like if, if Miriam didn't have a song, that, um, that was really sort of tough, and aggressive, and had a sneer to it, and had maybe some sort of hint of a generational conflict, um, then, then her voice would just be the voice of a really good backup singer, and..


MS:
You wouldn't have the character.
JCM:
You wouldn't have the character, so to have the person who sings those kind of soul-shouting parts in "Tear Me Down" or um, you know, the kind of um, new wave punk stuff, in, um, "Angry Inch" um, singing that, singing this sort of Courtney Love kind of Fugazi sort of song, establishes that character early on.
VS:
So this is the character, this is Yitzak.
JCM:
That is, that is, that's what you see Yitzak doing on, on stage the whole time, and and um..
MS:
I get to release that anger that's all- bottled up.
JCM:
You know, I got a little writing-blocked while writing it and and um, so, when you all, however many millions of you are listening, go and buy the record on Tuesday, at your Tower Records and your Sam Goodys, you'll notice that the music is credited to Cheater.
VS:
Being your band!
JCM:
Yeah, being my band and and who, some of them are listening and some of them are not, uh, 'cause they're out of town, but it was a song that, that after a year of like well it wasn't quite a year at that time of playing the same song every night we kind of, we kind of let ourselves go in putting this together and really just sort of rocking out and uh, you know I had some riffs and some ideas and brought it in, and it was amazing, the way it just congealed in the way you can't write without a band it just pffffft, fit into place.
VS:
So this is a nice, extra added attraction for Hedwig's fans, and wonderful for, for Miriam.
MS:
Oh, it was so great, when I heard that song, I was, I kept asking you, do you remember every five minutes, I'd be like, "Okay, I really get to sing, I really get to do this. You're not gonna give it away at the last minute? I get to do it?"
JCM:
Laughs
VS:
Well, would you like to hear it on the radio, now?
MS:
Sure
VS:
The song is called "Random Number Generation."
"Random Number Generation"
VS:
Yitzak, what do you say there? What is that all about?
MS:
Oh, I'm just destroyed at the end. Just hate it all so much, I just passed out.
VS:
Yeah, for, people who have seen Hedwig and wonder what that song is all about if you're just tuning in, that's a sort of an extra added attraction. Lagniappe, they call it down in New Orleans, that little something extra special on the cast album of "Hedwig and the Angry Inch" which will be released this coming Tuesday. And we are premiering it tonight here on Idiot's Delight, with the creators, John Cameron Mitchell and Stephen Trask, and the current Hedwig, Michael Cerveris and Miriam Shor, who plays Yitzak, and has played Yitzak pretty much for the entire run, since last February and who is now shoving what are you shoving into your face, sinful and delicious?
MS:
Chocolate cake.
VS:
Yes, it's a wonderful chocolate cake, courtesy of Stephen?
ST
Yes, it's from a baby shower that I was just involved in throwing, downtown. It's from Bruno's Bakery. Can I say that on the air?
VS:
You can say it, sure!
ST
Bruno's Bakery, it's that chocolate-
MS:
Oh I'm not eating it, I'm having a rice cake.
All
Laugh
VS:
You just threw a baby shower?
ST
Yeah, it was some friends.
VS:
Okay, cool...what kind of baby?
ST
You know, our friends are very old fashioned and they don't want to know.
VS:
Oh, the baby hasn't been born yet...
ST
The baby hasn't been born, it's a pre-birth thing, and uh, it was funny 'cause um, my uh, my parents were there, it's very, very dear friends of the family who are kind of like, uh, kind of like siblings, so my parents were there, and it was my father's first baby shower because he comes from a generation when men didn't go to, um, to baby showers, and he usually plays golf on Sundays, even at this time of year, and he had to miss golf today and he had to explain to his golf partners that he was going to a baby shower, which um, which, um, and I guess they kind of made fun of him because, uh, three weeks ago, he missed golf because he went to the ballet..
JCM:
Oh, really....
ST
He's been turning into a sort of nineties kind of guy...
VS:
How does dad feel about his son, the uh, you know, the Off-Broadway composer, and the uh, the recording star, and all that kind of thing?
ST
Well, it's better than, than their son with his utilities turned off in Brooklyn!
All
Laugh
ST
Playing gigs in the middle of the night and doesn't know where his next job is going to come from, so..
VS:
The electricity is back on, then.
ST
All the utilities are working.
VS:
Okay, somebody, set up "The Origin of Love." Who wants to talk about this song?
ST
I think, John-
JCM:
Stephen does-
ST
Oh, I'll set up "The Origin of Love"
VS:
Yeah, please.
ST
Um, this is the first song that I wrote for "Hedwig" and um, and John came to me, well John and I had been hanging out for, for a while. We had been reunited through a mutual friend, and uh, and John said that he wanted to, that he wanted to write a play, um, and the main thing we knew that was going to be in it was that it, that the main character was going to search for his other half, and that, that the central song in it was going to be "The Origin of Love" based on, based on, um, a story in Plato's Symposium told by Aristophanes. And John bought me a copy of Plato's Symposium, and I went home and read it, and I had never, ever dreamed of tackling this sort of adaptation of a classic work of Greek literature into a popular song.
VS:
You were not immediately turned off to this idea, you didn't look at him and say, "Are you crazy- Plato?"
ST
No, I had been, I had been, you know, I guess the reason that John thought of, of working with me was because my songs outside of "Hedwig" are dramatic and very lyrically precise and I think I've always thought of the last verse as being the last act, and-
JCM:
He speaks from different points of view from different characters.
ST
Different characters and I had been searching after sort of one, you know, song-writing challenge to another, and this was just the most, the most extraordinary challenge, to take this, to take this piece of literature and to turn it into an actual, believable pop song, so that if you didn't know that this was a piece of literature, you would think that someone got an idea and sat down and started writing it, and developing the melody and developing the story and that it just existed as a song unto itself like ["Pancho and Lefty"] or something, and um, and I, it irked me for, I, I, it took me months to write this thing, because-
JCM:
There's a lot of words.
ST
There's a lot of words, and there's also just the wait- the thinking through it, and the waiting for an actual inspiration, of , um, how to start this thing so that it sounds like I started right- you don't want to force it so that it sounds like it was forced, you want it to come through and inspiration, and I remember walking down the street one day, and I was dancing in a children's dance company, I had just started dancing, and become fascinated with children's literature, and um, and I thought, the only- it hit me like a flash that the only way to tell this story was to tell it like a Dr. Seuss story. Um, that, those Dr. Seuss stories, in those far away lands, with bizarre creatures to which bizarre things happened, um, was the way to approach this, and immediately, the words just started to coming to me, uh, "when the earth was still flat, and clouds made of fire, and mountains stretched up to the sky, sometimes higher." Uh, you know, it, it's a Dr.-
MS:
When you say it like that, it sounds like Dr. Seuss.
ST
And that's how I originally said it, you know "folks roamed the earth, like big rolling kegs, they had two sets of arMS:, they had two sets of legs!" You know it's just, it just unfolded in my head like a Dr. Seuss story like that, with the melody intact, and um, and um, and then I went home and started inventing on the piano, the accompaniment for it, um, and I remember Chris Weilding, we were living together, he plays guitar in Cheater, he's the other song writer in Cheater, and played, um, uh, Krzyzhtoff in, in "Hedwig" until recently, um, so I was coming up with the, with, you'll hear, the picking guitar part, but coming up with it on the piano, and he said, "God that really sucks!" (laughs) And I said, "no but you have to hear it on the guitar." And then, um, and then, after that, the whole thing just sort of mapped out in my head and it was just a matter of lyrically unfolding it the way I wanted to, and and um, really listening, intently listening on what it was that actually had unfolded in my head, so I wouldn't miss anything.
VS:
So- Plato meets Dr. Seuss, yes, as "Hedwig and the Angry Inch" premiering this song, called "The Origin of Love" tonight on the radio on WNEW-FM.
"Origin of Love"
VS:
"The Origin of Love" from the cast album of "Hedwig and the Angry Inch" here on Idiot's Delight, on this Sunday night in February. We are premiering the album, um, on the radio, here in New York , and I would guess pretty much everywhere, at this point, I doubt if it's been heard on the radio.
MS:
Oh, it's, my dad tried, in Detroit.
JCM:
I know, my brothers tried in San Francisco, [?]
VS:
But the album comes out this Tuesday, and you guys must be absolutely thrilled, this is the next step in "Hedwig" and I suppose the step after this now will be, the film version which John. You are working on now. This is one of the reasons why you've left the performing to work on...
JCM:
Stephen and I are gonna start thinking about the structure of the film, we, we signed the deal...did we actually do that? (laughs)
ST
We didn't actually sign....
JCM:
After nine months....
ST
The laughter of my lawyer...
JCM:
The last time we were here, we were still negotiating..but we sign it on Friday...and we, we
ST
We said we would sign it on Friday.
JCM:
I actually signed it.
ST
You actually signed it?
JCM:
Yeah..
ST
Oooh....did I sign it?
All
Laugh
ST
Oh yeah, that's my signature.
JCM:
Power of attorney.
VS:
Who- are you at liberty to say who will direct, at this point?
JCM:
Well, I actually have the option to direct.
VS:
You do!
JCM:
I do.
VS:
Ahhh,
JCM:
I'd like to co-direct.
VS:
With a film director.
JCM:
Yes. With someone who's - you know - made a film.
All
Laugh
VS:
Someone who actually knows something about this music.
MC
You know, Barry Levinson said that he wants to direct a musical.
JCM:
You know how much the budget would have to be?
VS:
Barry Levinson directing "Hedwig"
JCM:
I know, it's like..
VS:
Hmmmmm
JCM:
The perfect director I had in mind is dead. It would have been Hal Ashby.
VS:
Oh, Hal Ashby!
JCM:
Yeah, can you see it?
VS:
Uh-huh, uh-huh.
JCM:
Yeah, he'd be perfect..except that-
MS:
Let's do something about it.
VS:
Yeah, except for he's dead.
ST
Robert Altman would be good. He did a musical that would have been good if hadn't been for the songs.
VS:
Which, "Popeye?"
ST
"Popeye"
MS:
Francis Ford Coppola did "Finian's Rainbow"
JCM:
That's right, but wasn't that his first studio? His first studio film? Yeah.
VS:
So, but have you guys decided yet, exactly how you will open it up, out of the performance space, for people who haven't seen "Hedwig. "Hedwig" takes place in real time, it's a performance! It's Hedwig's opening night at a sort of a seedy club, in New York and during the course of performing these songs she tells her life story. I would assume, in a film version, you will open this up, and you will show some of this life story, have you made a decision about that yet?
JCM:
I've the kind of feeling that seeMS: to sit well and we've been thinking about it for a while, so it seeMS: natural is a kind of a tour structure of Hedwig kind of shadowing Tommy on tour. So if he's at the Pittsburgh Palladium or whatever she's at the Pittsburgh Bowling Alley.
VS:
Tommy being..
JCM:
Tommy Gnosis being her, her former lover, protégé, who's gone on to become a huge rock star, and stolen her songs and kind of ignored her. And she wants her recognition and she's desperate to get it. So, kind of on tour, leading up to the big New York opening, uh,where he's at the Garden and she's at the TGI Fridays next door. (laugh) So, when she's offstage, um, having more Hedwig in the real world, Hedwig's relationship with Yitzak, which I want to be a real sub-plot, um, you know, and just Hedwig in a mall, and the Angry Inch in a laundromat, you don't have to have any words (laugh).
VS:
Yeah, yeah, just conjuring up that image.
ST
If you sort of, when, when you come see the show, if you haven't seen it, towards the beginning, Hedwig starts talking to the audience, or a fictional audience, you can't really tell which it is, about a scandal that, that we're all, that the entire audience is expected to know about, um a scandal that involves Tommy Gnosis and Hedwig in an accident in which some children were killed, and some drugs were taken, and um, and then-
VS:
A tragic story!
ST
And then, and refers to Tommy and his concert, and talks about herself as if she has some tabloid celebrity, so if you rewind just a few days, to imagine what would create that sort of setup so that she could have an audience at her New York show, while Tommy is...
VS:
Who would be interested in this...
ST
Who'd be interested in this, you know, you can just sort of imagine it, that this is very doable.
JCM:
If Hedwig could exist, for all the strange convolution of time and events, someone like Hedwig, wearing that wig and living that life is possible, so it's, she may be opening a mall with Gennifer Flowers at some point, or Monica, if she'll have her (laughs).
VS:
Because Hedwig exists in the contemporary world of the cult of personality Hedwig becomes a celebrity and thus becomes famous for being Hedwig, doesn't she?
MC
I'd like to see a video tape of Hedwig's deposition in the case involving the accident...
MS:
And then they decide not to use it and she's pissed off.
JCM:
But then when she's onstage in an airport lounge or wherever she's on tour. That's when she tells her back story and that's when flashbacks can happen and other narrative fun. Like in a Bob Fosse movie where you're onstage and anything can happen.
ST
The play already has like a film structure to it, there's a sort of epilogue, two acts and a prologue, or, but not in that order (laugh) the prologue comes before, first, and the epilogue's at the end..
JCM:
We call it three acts in the film business, I just came back from Sundance-
All
Laugh
ST
So, um, and the second act, the, the first act of the play is the one which Hedwig unfolds the part of her life that's obsessed with looking for the other half, and sort of "how did I get to this point of being a fabulous performer? Well, I was looking for my other half, and I met this guy and had a sex change operation and I got divorced, and here I am" kind of thing. And the second half is a little bit more desperate, a little bit more sad, um, it's the story of not how Hedwig became this fabulous performer before you, um, but how Hedwig became sort of, just so desperate and alone, and how she poured her soul into Tommy Gnosis, who then went on to be...
VS:
Who ran off with it!
ST
famous, and basically ran off with her soul!
MS:
Took the good stuff and ran...
ST
And and um, you know, I'm not sure if we've talked about this, or if, sort of, I think we were thinking maybe the second act sort of thing, where she's talking about Tommy Gnosis, could actually be the New York show, and the other things could be before, did we talk about this?
JCM:
Yeah, at some point in her narrative of her life we get to New York and someone actually suggested this defining accident, that's made her infamous might come right before the New York show right at the end of the movie. So, you actually have her touring in obscurity, more obscurity-
ST
Oh, wonderful....
VS:
Look at these guys - they're writing the movie!
JCM:
It's happening right now!
VS:
This is the writers' session.
JCM:
So you get to know who Tommy is and then she's in the meat packing district looking for some spare change. A limo pulls up. It's Tommy and we see her in the real world meeting him. [?] And then the New York show after some tragedy.
ST
It's her last chance and she's also probably, yeah, that would give that last show a different feel, be great if you could all the press would be there. People, press, and get to see maybe some snippets of the similar numbers and routines done in the New York show but now with a different feeling to them than they had in the airport lounge in Ohio.
VS:
We're talking tonight to the creators of "Hedwig and the Angry Inch" John Cameron Mitchell and Stephen Trask, Michael Cerveris, who is starring in the playright now, downtown, at the theatre who's name I always forget, what's the name of the theatre?
MS:
Jane Street.
VS:
Jane Street Theatre, it's at the end of Jane Street, in the Riverview Hotel, right at the very end of the street, all the way over on the west side and uh, Miriam Shor, who is also appearing in the play as well, we'll be right back, don't anybody go away, we just have to take care of a little bit of commercial business here at WNEW-FM.
Commercials
VS:
And we're back here on Idiot's Delight. I'm Vin Scelsa, it's WNEW-FM, in New York uh, cast and creators, uh, various assorted, that's a-s-s-o-r-t-e-d characters of uh, from "Hedwig and the Angry Inch" are with me tonight, celebrating the release of the long-awaited cast album. Michael Cerveris, who is currently starring as Hedwig, um, has had some experience in a quote "rock musical" prior to this um, cause you were in "Tommy" a couple of years back,. This is so totally different - isn't it? Even though the rock and roll is authentic in both shows, obviously, "Tommy" being, you know, the Who's music and performed in a relatively authentic way on Broadway. How has this experience differed for you though? From that "Tommy" experience?
MC
Um, well I don't remember "Tommy" involving as much glitter, or the dress. Those were - remember the "Acid Queen?" That was a lot of glitter.
MS:
Yeah but that was a wig.
MC
There was a wig. I wore a wig in both of them. That's the thing that was most similar.
VS:
Well "Tommy" is a different time period.
MC
Yeah, it's a different time period. The attempt was to make a more conventional narrative out of that story. The audience was different too. I mean it was a big commercial Broadway musical and so that determined a lot of choices that were made along the way. And they were choices that Pete Townsend made and was a hundred per cent behind. But everything from the volume to the importance of the lyrics being intelligible and the story being told the way that he wanted it to be told now.
It didn't have the kind of looseness and raw, rock and roll kind of energy in perfomance that Hedwig does. Because it's a different thing. It was destined for a different audience. I mean the hope was that it would bring a lot of people to Broadway who ordinarily would not have come to Broadway and I think it did that. I think although it doesn't get credit for it, it made musicals like "Rent" and a lot of other things whether it's proud of having done that, it's made them possible.
VS:
Kind of opened the door for..
MC
Yeah. And it was partly responsible for "Hedwig" existing because..Didn't you say someplace that you hated it so much that that was what like set you off to to?....
JCM:
No, I didn't hate...
MC
Oh, John says a lot of things.
JCM:
I just thought that end, that tacked-on ending that pissed me off.
MC
Yeah
JCM:
Seemed like such a-
MS:
Everyone hugging?
VS:
Yeah, it was the Broadway ending.
JCM:
Yeah but Stephen and I just I mean I actually liked rock musicals when I was a kid. But then I just saw...
VS:
Like what?
JCM:
I liked "Hair" and I liked, uh-
VS:
"Rocky Horror Picture Show?"
MS:
"Jesus Christ Superstar"...
JCM:
Yeah, "Jesus Christ Superstar"
VS:
You liked "Jesus Christ Superstar"
JCM:
Well- I never saw it but I liked the album.
VS:
Okay. All right.
MC
That was what got me actually into musicals because I was a big Deep Purple fan so that original concept album with Ian Gillan ( sp?), you know, who was the lead singer of Deep Purple and he was playing Jesus and that was why I bought that record and that was what actually got me interested in musical theater, you know.
VS:
That album existed prior to the actual production-
MC
Yeah, that was the first time somebody did all-start concept album first.
JCM:
And I think what's the one night in Bangkok, Chess?
MS:
Chess
MC
Oh, Chess, yeah.
JCM:
Who wrote the music for that?
MS:
ABBA!
JCM:
Did they?
MC
Yeah
MS:
Oh, I know them so well....what are their names, the two guys from ABBA?
MC
Bjorn, and..
JCM:
I think that was the only- if I remember correctly- top- only, show, like Broadway or Off-Broadway theatre event, that had a top ten single.
VS:
Chess!
JCM:
Like "Godspell" they had [??] people cover them, "Hair" and they covered them, they had hits, but I don't think the original cast-but I can't think, I don't think, original cast albuMS: that had a top ten hit-
ST
Yeah, um, "Don't Cry For Me Argentina"
MS:
That wasn't a top ten single.
JCM:
Maybe in Britain.
MC
Well, "Send in the Clowns" I mean there were, there were things.
ST
But that wasn't from the original cast, right?
JCM:
Judy Collins recorded it, yeah.
ST
Judy Collins.
VS:
Michael, can you set up "Sugar Daddy" can you set up "Sugar Daddy" for us? Cause "Sugar Daddy" of course is uh, it's the song in which there's a sort of an interactive thing that that goes on, there's a sort of an audience participation thing. I assume that Hedwig still comes out into the audience, looking for uh, looking for her sugar daddy.
MC
Looking for love.
VS:
Can you set this up?
MC
Yeah, it comes at the point in the show where, um, where Hedwig is explaining how she's come to be where she is and how she met the man who is eventually going to bring her to America. And uh, she's just finished a long description of their initial meeting, which kind of began as an offer of candy, from Luther, the army corporal corporal? Captain, corporal, um who uh I haven't promoted him (laugh).
VS:
There's a big difference between corporal and captain! I thought he was a sergeant!! Actually, it's corporal corporal Luther.
MC
Yeah, so he offers her some gummy bears, and that begins..he, initially thinks that Hedwig is a woman, I mean, he sees her, sunbathing, he sees her from behind, and discovers that Hedwig is, in fact "Hansel"and um..
VS:
Doesn't seem to bother him.
MC
Loves her anyway. And over gummy bears they initiate their relationship. So this song follows that in the show and gives Hedwig a chance to get kind of up close and personal with the audience by dancing on their heads.
VS:
Yeah, she actually comes out and uh, a little lap dance.
MC
I had no degrees with separation with Kevin Bacon the other night.
VS:
Oh really!! Uh, I brought Joey Ramone to the show, months back.
JCM:
I remember trying to sit on his face, he's so tall, Joey's so big-
MC
Couldn't get up there!
JCM:
I was standing on the arMS: of the chair, and I had to go into releve, I had to go higher, to squat on to-
VS:
And the visual image, of course was of your, uh the fringe on your skirt, kind of intertwining with the bangs with Joey's bangs so it was just like this...
JCM:
It was a car wash. Punk rock dream. (laughs)
VS:
Joey is such a sweet guy that afterwards he leaned over to me and went "Did you know that was gonna happen?" And I said, "Well, sometimes yeah you know." And he goes, "I'm so embarrassed!"
All
Laugh
VS:
"Sugar Daddy" from "Hedwig and the Angry Inch"
"Sugar Daddy"
VS:
"Hedwig and the Angry Inch" "Sugar Daddy" the title of that song, John Cameron Mitchell and Cheater. Most of the band Stephen, most of Cheater is out of the show at this point?
ST
All of Cheater is out of the show, in fact.
VS:
How have they been replaced?
ST
Um, two replacements come from the band Vaporhead, Werner F., who is taking over for Chris, as the guitar player, Krzyzhtoff, and um, no vowels in it, not a one. And um, and Jon Weber, drummer, has taken over for Dave McKinley, and Dave McKinley, actually, is currently acting in Peter, in a movie being directed by Peter Askin, who directed Hedwig. Dave is playing a drummer in Peter's movie, um,
VS:
What's it called?
MS:
"The Company Man"
JCM:
"The Company Man"
ST
And um there's a band in the movie and they hired actors to play all the members of the band Except when they tried to get the person hired to play the drummer to actually "drum-sinq" along with the the trac, it just didn't wor, and through doing "Hedwig" I think Peter's become a sort of a rock connoisseur and couldn't abide by it.
JCM:
Wasn't it John Turturro playing the drummer?
MS:
No, he's playing a different drummer.
ST
He's playing it so Dave has left Off-Broadway and is now acting is now appearing in a movie with John Turturro and Woody Allen and Sigourney Weaver, and uh, so..
VS:
Cause I know you were a little worried about replacing the band. Because Cheater is a band that existed before coming into "Hedwig" and so had a band dynamic working for it, the idea of hiring four separate musicians to come in, while they can certainly do it, you know, if you hand them a score, they can play it, would be a different kind of band.
ST
Right, and we've all- and it is slightly different but also very
MS:
Joe Pecorino and Jeremy, I mean, they're...
ST
Joe Pecorino, who's taking over for me, played John Lennon in "Beatlemania" in The original "Beatlemania." Um, and um, I thought someday I would play John Lennon in "Beatlemania" but instead John Lennon from "Beatlemania" is playing me! our friend, Jeremy Chatsky plays with Julia Greenberg, who, you should hear Julia's stuff and play it on the air, it's wonderful.Also has played with Bruce Springsteen and tours with Ronnie Spector has taken over and Jeremy actually used to sometimes sub in Cheater, at various times. But it's also kind of interesting because it's not that Cheater is a band that existed before. But Cheater has actually been part of the performing troupe since "Hedwig" began and Cheater has always been The Angry Inch even before the band was called The Angry Inch. Cheater was Hedwig's band and so there's a certain, there's a certain we worked this act up from a club near Holland Tunnel at two in the morning and then four years later, we're, we're..
JCM:
A couple blocks north of there.
ST
A couple blocks north! (laugh) in what purports to be a theatre! But, but it, there's, you know, it's more than just a real band came to this show, it's really we've been an ensemble for five years.
VS:
Yeah, very much part of the creative, the entire creative process.
JCM:
And the people who are replacing it actually have become very much a part of it. Werner was our uh, was actually the very first guitarist, he was the house guitarist at Squeezebox, where we started the show.
VS:
Squeezebox being, uh, a drag club? Is that what Squeezebox is?
ST
Squeezebox is, is, it's a night club,
JCM:
It's a party. It's a Friday night party, they have bands, they have a house band um, that perforMS: with various performers, mostly who are drag queens, and uh, it's just a really good rock venue, um, that's been going for years now. And has kind of a Max's Kansas City thing, but much rougher, and kind of, you know.
VS:
Now, did you tell me the story, or did I read it somewhere, that some of the drag queens were a little apprehensive about you coming in, John, as Hedwig, when you were first starting to work this out, that they, they thought you weren't like a legitimate drag queen, so....
JCM:
I think, I wasn't gonna really be allowed to do a full..the owner of the place, Michael Schmidt, was very behind it, but there were some other powers that were-is that powers that be?
MC
Powers that have been, powers that would have been..
VS:
The past participle of the powers, yeah...
JCM:
And you know, you know, a lot of these queens down there have been doing this for years, and it's a guarded venue, you know, it's like okay, you've gotta prove you're, you gotta pay your dues, and I just was perceived by a couple of, as not being a real drag queen, so why should I get a whole set, and we had been working on it for months, you know, Stephen writing this new song, we did all these television covers, and Fleetwood Mac cover, and Bowie cover...
ST
We'd been, you know, we'd been talking about the script, for-
JCM:
Yeah, it became a mini-play, and suddenly we were being told we could do one song..
ST
On a night with baby drag acts, they said "Well John's a baby drag act, and so there'll be three other acts, and you'll come in and do a song."
JCM:
A new -born drag act.
VS:
Baby drag act! Y eah.
JCM:
But Stephen said "I'll quit, unless we get to do this, how dare you treat John, a respected-" (laugh) "All my yeahs of eastern- block stock, I have nevah been treated-" Um, but then, and Michael Schmidt really supported it, and when we finally did it, uh, we got to do the whole half hour set, which is longer than we were supposed to, and it was great, because it was the scariest thing I had ever done, first time in drag, and first time with a band and I totally lost my voice, and there was a scout there from "Woodstock '94" uh, who ran up to me after the show and said, "(sing-song voice) I'm from Woodstock, I'm from wahhhh-stock, we want you to perform." I was like, what? What stock? Wigstock? Fine, great! I love it! And then, after, outside, it's like, "No, Woodstock, we want you to perform at Woodstock."
VS:
Not Wigstock, Woodstock.
JCM:
Yeah, our first gig. (laugh) It never worked out, because, probably because of other, drag probleMS:.
ST
And then we brought, um, and then we, in addition to the half hour set, that was stretching it, we also sort of forced an encore, and brought Cheater up to perform "The Origin of Love" as an encore that night.
JCM:
It was a magical night.
ST
And Cheater with John, it was really, it was really nice.
VS:
I see, in the, uh, the opening liner note here, for the album, that um, you have a big fan in a dear old friend of mine, Danny Fields!
JCM:
Yeah.........!
VS:
Danny and I worked together, over, over thirty years ago, actually, well, just about thirty years ago, at uh,
JCM:
Was that with the Ramones, with the manager-
VS:
Before Ramones, when he worked at Electra Records, and uh, I was working at WFMU, this little station over in Jersey, in East Orange, and Danny came, used to bring records out to us, and eventually wound up doing a show there, but it was Danny who would bring us the MC5, or Iggy and the Stooges, I mean-
JCM:
He was the manager of both of them.
VS:
Well, or, or, or on the fringe of managing them, but yeah, he was like the company freak at a lecture at the time. And he, Danny provided two of my greatest, sort of, long time ago rock and roll memories. One was, he brought Iggy to the station, and I interviewed Iggy on the air, and Iggy threw up on my sneakers, which, you know-
JCM:
Do you have that on tape?
VS:
Uh, no, unfortunately, I don't have it on tape, and the sneakers are gone, but it's indelibly imprinted on my psyche, you know, Iggy threw up on me, live, on the radio. (laugh) But uh, one night, Danny was doing the show, his show, and it was a little, uh, kind of a raMS:hackle house, on the edge of the campus, in East Orange, New Jersey, and the doorbell rang, it was a sort of a communal thing, so those of us who worked there were also hanging out there a lot too, it was 1968, 69. The doorbell rang, and I happened to be there, and I went down and I answered the door, and there were these four guys, these young guys, standing at the door, bedecked in full, flower-power, psychedelic hippie regalia, robes, and and scarves, and feather boas, and long, beautiful hair, and thigh-high boots and the whole deal, and I opened the door, and I said "Yes?" and they said to me, "We're the 1910 Fruitgum Company, and we wanna see Danny Fields." And I said, "Okay" and I closed the door and I went upstairs, and I said "Danny, the 1910 Fruitgum" now, do you boys know who the 1910, all right, the 1910 Fruitgum Company was like a, they were literally a bubble gum band back in the late sixties, a la the Archies, and groups like that, I forget what their hit was, they did have one or two hits.
ST
Was it "Sugar, Sugar?" or is that somebody else?
VS:
That was the Archies, but they had a song like that.
ST
"Yummy, Yummy, Yummy" is that what you're saying?
VS:
Was it "Yummy, Yummy" maybe, or was that the Archies, too?
ST
Which went on to be Homer Simpson's theme song, I think.
VS:
I went upstairs to Danny, and I, you know, interrupted him, and said "Danny, the 1910 Fruitgum Company are here" he said "Show them right up! Danny was so excited, he was thrilled. And he brought them in, and interviewed them on the air, and just that image of Danny Fields and these four guys, and they were like, Danny was legendary, even at that point, you know, they wanted to meet Danny Fields.
JCM:
Oh, God, it was so exciting when he came to the show, with Cyrinda Fox, or somebody, and uh, because I just read "Please Kill Me" which he's quoted throughout, and he was such a "Hedwig" fan and he's been so supportive throughout, and we thought it was perfect for him to do the liner notes. Almost, like, kind of fake liner notes, as if Hedwig-
VS:
He does the liner notes as if Hedwig is real.
ST
Wanted it to be like a story from "Please Kill Me" was the idea.
VS:
Has "Wig in a Box" become the, kind of anthem, that, I sort of thought it would be, early on, when I first heard the score, or not?
JCM:
I don't think so.
VS:
No, huh?
JCM:
I mean, we haven't really nationalized "Hedwig" yet, so it's interesting to see what people, sounds like a, socialist plan...um, but it'd be interesting to see how, I want to hear how people respond the record without having seen it, um, and we've already had good response on that, but, I'm so non-objective now, I can't tell. So it'd be interesting to see what songs actually do-
VS:
I mean, are there songs that the audience- you get a lot of repeat people in the audience, are there songs that stand out more than others, in..
JCM:
That's the one that everyone can sing. But that's the one we sing at the curtain call.
VS:
Yeah
JCM:
Everyone can do that, it's the sing-along song, you know, we have follow the bouncing word-
VS:
"Wig in the Box"
MS:
Follow the bouncing nothing.
JCM:
But that's the one that he remembers.
VS:
Sure, that, that, I think Sean first got turned on to it, hearing it on the radio, here the thing about "Wig in a Box" is that everybody sort of has that wig in the box, whether it's a real wig or not, everybody had something up on the top of the shelf that's their private thing, their moment when they can put that on and do something and become something that...
JCM:
In Michael's case, it actually is a wig, still is a wig, it's not a metaphor for him.(laugh)
VS:
Let's listen to the cast album "Hedwig and the Angry Inch" and the song "Wig in a Box"
"Wig in a Box"
VS:
From the cast album of, uh, the Off-Broadway hit, "Hedwig and the Angry Inch"
"Wig in a Box." Members of that cast and members of the creative team are with me tonight. John Cameron Mitchell, Stephen Trask, who wrote the show, Michael Cerveris, who is starring in it right now, Miriam Shor, who is appearing in it, as well. And uh, there is a song on the album, that, Stephen, you get to sing.
ST
Yes!
VS:
This is the song that shows the beginning of the song-writing relationship between Hedwig and Tommy. Uh, there's a wonderful moment, I think, in the p lay, where, um, Tommy's trying to write a song, but he keeps hitting the wrong notes, he keeps going to the, he gets like the first chord right, but the next chord is the wrong chord, and eventually Hedwig shows him how to do it, Hedwig gives him the song. Can you set it up any more than that?
ST
In the afternoon, which Tommy is trying to write this song, um, Hedwig, Hedwig helps Tommy begin to develop the chord progression, and then they sing sort of joke lyrics to each other, based on the melody that he's got, and um, and it becomes very romantic, they're dancing arm in arm, and singing, um, lyrics that actually follow the same lyrical structure here, but there sort of, they're, they're joke lyrics, and it becomes very romantic, um, and then Hedwig realizes that that, this is actually the moment where Hedwig realizes that Tommy is her other half, um, except at the end of the scene, he runs off, because he can't deal with, um, he can't deal with this sort of non-gendered freak that she is.
VS:
Tommy runs off.
ST
Tommy runs off, and um, what I kind of imagined, in my head sometimes, uh, this is not what I wrote when we put it in, but only recently started thinking of, the fact that, he went off, and the song was unfinished, and Tommy probably finished it one way, and Hedwig finished it another way, and um, and so in this moment of the show, where actually my character sings the song, cause Hedwig is, sort of choked up. You hear Hedwig's version of, of what we could imagine is a Tommy Gnosis hit. Um, and how Hedwig turned it into a song of having been jilted, and trying to move on with her life.
"Long Grift"
VS:
"The Long Grift" is the title of that song. Can you explain? The grift, the long grift?
ST
The long grift, um, it's a phrase that a friend of ours came up with, to describe a relationship that he'd had, and um, and uh, you know, a grifter is a swindler, a cheat, someone who, someone who, uh, a con artist, someone who invents little scenarios uh, to gain your confidence, and then swindles you out of something, and uh...
VS:
Grifter being a much more well-known word than grift! Grift, we don't, which is the origin of grifter, obviously.
JCM:
The long grift.
VS:
The long grift, I like that.
JCM:
It's like one of those mammoth plays where it goes on for years.
VS:
Little things disappear slowly. The chandelier.
JCM:
And Stephen wrote it for a friend of ours, Jack. Um, who was uh, doin' uh,
having a hard time with a certain, you know...
VS:
Substance!
JCM:
Yeah, substance in his life and it was a uh, very intense time, and um, we were working on the show, and he was going through a lot, and uh, Stephen wrote a song, in celebration of his hundredth day of sobriety.
ST
And and I wrote it from his perspective, you know, thinking, thinking of him singing to the addiction as the gigolo that keeps ripping you off and I, but it was sort of amusing when I actually went to, we were up at the Cloisters, on the lawn, and I went to sing, and I said "I wrote you this song, look what you've done, you gigolo, and I just stopped and said, now I have to explain and I'm not- this isn't me singing to you."(laughs)
VS:
So far, you guys have gotten some absolutely wonderful reviews from the music press, outside of the theatre reviews, now, outside of the theatre world, now, and theatre reviews, uh, very specifically, Rolling Stone, gave a really nice review to "Hedwig and the Angry Inch" to the cast album. And I think, certainly a very well-deserved review because one of the powers of this play is the fact that the music, the music is so good, the music is so authentic and the music is so melodic and yet raunchy rock and roll and it's so true to the era, that you're mining that whole seventies kind of glam thing, and I'm glad to see that the rock press and the rock critics are gonna give you guys your due as well and you must all be very thrilled about that.
MS:
Yes
ST:
It's wonderful.
VS:
I thank you for coming up tonight and spending time with us, once again on the radio here at Idiot's Delight, I feel like the show has been on the periphery of "Hedwig" you know, kind of
waving the flag and being a cheerleader and turning people on to it, and the last time you were here, you performed some of these songs, live, and uh, over the course of the months we've played those tapes back a lot, a uh, with your permission, I will still continue to do that from time to time, but I'm so glad that now finally I've got the CD. I've got the official cast album of "Hedwig and the Angry Inch."
JCM:
And I told you Vin, that I'm writing a part for you, (laugh) in this short film that Stephen and I will be doing, hopefully, I'll get to direct it, but-
VS:
I, I want to actually, lobby for a part in "Hedwig."
All
Laugh
JCM:
Oh, of course!
ST:
You're gonna love scale for "Hedwig"
VS:
If you're gonna open it up, you know I'm an actor now, you see my shaved head! I'm playing, I'm playing Lenin, in a production of "Travesties" the Tom Stoppard play, over in Jersey. I've been acting, acutally, for a couple of years now.
MS:
I saw him in "Waiting for Godot"though.
VS:
Last year, I played Vladamir in "Waiting for Godot"
JCM:
Wooooow!
VS:
And our "Godot" I must confess, was much more entertaining than the "Godot" here, which was very good, but our "Godot" was funnier, yeah.
JCM:
That's the thing that was missing from that.
VS:
We were a funny "Godot" yeah, dueling Godots. Uh, a wonderful play, like an endless play, that just, you can dip into it at anytime, any point along the way, fabulous.
JCM:
Well of course you'll be in the movie.
VS:
I mean, if you're gonna open it up-
JCM:
Are you gonna play yourself?
VS:
If you're gonna open it up and there's a- well Hedwig could uh, she could come on the radio.
JCM:
Totally! She's on tour.
VS:
There you go, there you go. John Cameron Mitchell, Stephen Trask, the creators of "Hedwig and the Angry Inch" Michael Cerveris, who is starring in it right now, will you be in it for a while, do you have an open-ended contract right now?
MC:
As long as people keep comin' down and buying tickets, which they're doin' in droves, so it's great. And we're doing the Wetlands thing, too.
VS:
What is this Wetlands thing? tell us about this, Michael.
MC:
On the twenty-third of February, as part of the Wetlands' I think twenty-fifth anniversary, um, we're gonna be coming down and doing songs from the show.
VS:
Can't be twenty-fifth, they haven't been around for that long, but, it's been a long time.
MC:
Something, it's some anniversary for them, so-
VS:
Sixth!
MC:
Actually, they've been open twelve months (laugh), but they're really proud of it And the- yeah, so they want us to come down on the twenty-third of February, which is our night off, Tuesday night, and we're gonna do stuff from the show.
VS:
The whole cast? The current, current, the current band or will the Cheater guys be there, or-
ST:
We've been having trouble- some of us have been in France and some of us have been in Syracuse, it's a little hard to tell who's-
JCM:
And we have our record release party next- everyone's welcome to at Life Nightclub on the seventeenth.
ST:
Yeah, go find a free invite somewhere, and just come on down, cause it's party night. February seventeenth.
VS:
John Cameron Mitchell, will you be at Wetlands as well? Will there be dueling Hedwigs that night, or uh...
JCM:
Well, some-
MC:
We've never appeared-
JCM:
Yes, we should do "The Origin of Love" together.
VS:
Yeah, you guys should do that, yeah, definitely.
MC:
Uh, sort of like the Sweeney sisters. Same hairdos...
All
Laugh
VS:
As I said, I feel like, uh, I'm, I'm a spiritual uncle, to "Hedwig and the Angry Inch" and so I'm thrilled that you guys allowed me to premier the album tonight.
JCM:
Thanks, Uncle Vin!
MS:
Uncle Vin always comes through for us.
VS:
Maybe I shouldn't have said uncle, maybe I should have said big brother! (laugh) And uh, we'll send you all on your way into this weathering New York night with the climax, from the show, and the album, an absolutely wonderful anthem, to rock and roll and the redeeming values of rock and roll,. And how rock and roll can save you - and get you through.
MC:
The misfits and the losers.
VS:
So Stephen! Michael! Miriam, John, good luck with future "Hedwig" endeavors, and other endeavors as well, please keep in touch with us here on Idiot's Delight.
Thank you, cause we remain your "Midnight Radio" here, on WNEW.
"Midnight Radio"
VS: And there you have the premier of, the cast album, of "Hedwig and the Angry Inch." "Midnight Radio" here on WNEW-FM in New York. I'm Vin Scelsa. I'll be right back with you, after these messages.

---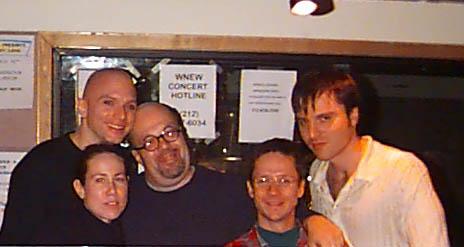 left to right: Michael, Miriam, Vin, John, Stephen




---
Special thanks to Vin Scelsa - be sure to visit him on the web and tune into WNEW-FM
Sundays, 8pm to 2am (or so)

http://www.wnew.com/wof/scelsa/

---