"Eins, Zwei, Drag"

The Village Voice
August 11, 1998, Volume XLIII No 32

By Alisa Solomon
photo by Michael Schmelling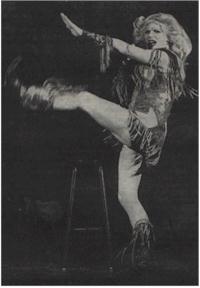 Hedwig and the Angry Inch hasn't gone on tour yet, but the glam-drag rock musical is already a big hit in Germany. Or at least among German critics. Now in its sixth month of performances -- with Michael Cerveris recently stepping inot the title role -- Hedwig has been heaped mit Liebe in the German media. According to the German Press Agency, the former East German, former male protagonist is 'the answer to Cabaret nad the warbling Trapp family." In the grateful words of a Munich daily, the show offers "a very refreshing change after all the boring Nazi stories." It's not just that Hedwig presents a Contemporary German character, explains critic Katja Guttmann, who writes about culture for papers in Frankfurt and Munich: "There are things about Germany that we want to think about, but only Americans can mention. The show brings up the Holocaust in an ironic way, and Germans can never do this." Hedwig, you remember, seeks privacy in her small East German home by sticking her head into the oven, and her mother has a few fond words for Hitler. Another character's drag name is Kristal Nacht. (The show's also becoming popular with German tourists visiting New York.)

"We weren't setting out to deal with the Holocaust or the East/West issue or really anything German." says composer Stephen Trask. "But as we worked, somehow Hedwig became the character through which we wanted to talk about the issues of duality and power and the legacy of guilt and shame." And American critics thought Hedwig was just one fabulous drag show with top-notch tunes."


---