---
E! News Weekend
October 29th 1999

Reporting on the October 28th 1999 Children's Benefit
The premiere of Hedwig benefited the Neil Bogart Fund for Children's cancer, leukemia and AIDS research.
Performance was attended by Ben Affleck, Paul Reiser, Steven Segal, Gene Simmons, Rebecca DeMornay, Neil Simon & more

Steve Kmetko:
Ben Affleck was seen hobnobbing with a statuesque blonde and it wasn't Gweneth Paltrow - it was a man!
Affleck was hobnobbing with Hedwig better known as actor Michael Cerveris at the Los Angeles premiere of Hedwig and the Angry Inch.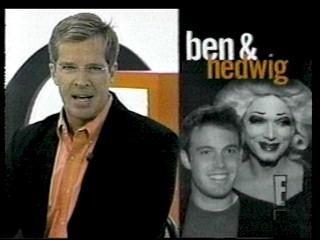 Ben Affleck:
Just about the greatest thing put before an audience.

Steve Kmetko:
What Ben is talking about is Hedwig and the Angry Inch- a rock opera having it's charity premiere in Los Angeles.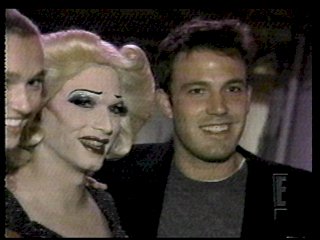 Michael & Ben Affleck

Steve Kmetko:
This is Ben with Hewig but what is the Angry Inch?

Ben:
That's sort of a personal question isn't it?
Steven Segal:
I would imagine that's a reference to a small (bleeped)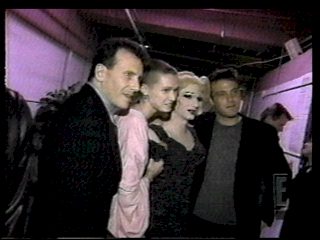 Michael:
Well I could show you ...-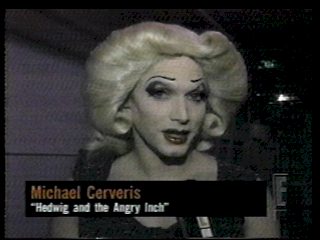 I know it is a cable station..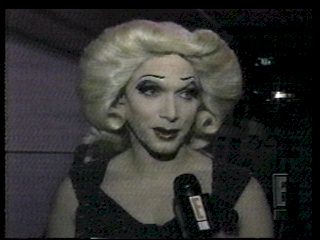 .. but I think you do have some parameters.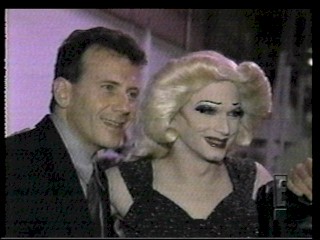 Paul Reiser:
The actual is inch is made of a rubberized plastic thing that's very angry. That's all I can say it's very angry..




Michael & Paul Reiser




Steve:
Well whatever the angry inch is - it also peaked the curiousity of celebrities such as Rebecca DeMorna, Neil Simon and LaMont Doger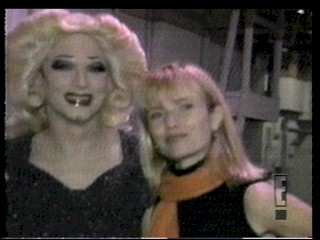 Michael and Rebecca DeMorney