---
Every Inch Counts in Campy Hedwig
The Hollywood Reporter,
November 2-8. 1999

By Jay Reiner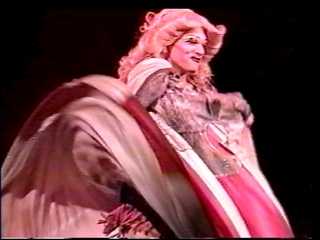 Hedwig makes her entrance to the skewed strains of America the Beautiful a la Jimi Hendrix. The bountifully bewigged blonde is decked out in a stars and stripes cape that, when she unfurls it, is large enough to go windsurfing. The audience applaudes the spectacle.
"You're so sweet," coos Hedwig in her best broken German accent. "I do love a warm hand on my entrance."
As it happens, Hedwig's little joke (the first of many) is at her own expense. If there's one thing this cross-dressing, would be rock star doesn't have, it's a female entrance. That, in a nutshell (so to speak) is the terrible truth buried inside the show's odd title "Hedwig and the Angry Inch". That angry inch is what's left of Hedwig's – formerly Hansel's private part after a botched sex-change operation. Oh, the pain! Oh the pleasure! Oh, the big bucks if this reasonably entertaining show goes over!
Hedwig developed a cultish following in New York after opening in Greenwich Village some 20 months ago. Whether it can repeat that success during it's open run at the Henry Fonda Theater in Los Angeles and elsewhere remains to be seen. Rock musicals, with a few notable exceptions, are a tough sell, though one about a Teutonic transvestite certainly has it's own marketing niche.
The best thing going for "Hedwig" is Michael Cerveris' finally honed performance as Hedwig. Cerveris played the part for a year in New York and has a wonderful way of skipping lightly over the melodramatic surface of Hedwig's troubled life while also suggesting the depths below. The result is a campy and poignant without pushing anyone one tone too far.
The reason Hedwig has so much to tell us is because her life has been a mess, from the miserable childhood she endured in East Germany to the botched operation and a bad marriage to an American soldier, who moved her into a Kansas trailer park. But worst of all was her botched love affair with Tommy Gnosis, a trailer park kid, she helped turn into a rock star only to be rejected by him when he finally encounters her inch before it got angry. This rejection is at the heart of Hedwig's problems and split persona, and it comes to symbolize her search for her true self.
Factor in a likeable 10 song score from composer Stephen Trask, a pop-rock mix that blends in bits of the Beatles with hard-driving punk and points inbetween, and Hedwig has it's moments.
---