---
Hedwig hurtles into Hollywood
Variety
October 31, 1999
By Steven Oxman

HOLLYWOOD - Hedwig has arrived in Hollywood and she, or he, or it, fits right in.

The title character of the Off Broadway hit musical ``Hedwig and the Angry Inch'' is a partially emasculated transvestite from East Germany with a sordid story of love found and lost. It's easy enough for a show to have a provocative premise; what's startling here is that John Cameron Mitchell's script and Stephen Trask's lyrics are so wonderfully evocative that they take the sensational aspects of the character and make them meaningful. Michael Cerveris delivers a superb performance in this polished, energetic mix of monologue, rock concert, German-style cabaret and downtown performance art.

David Bowie has signed on as a producer for this open-ended L.A. run, and the match is ideal. Hedwig's unparalleled identity crisis and effortless charisma capture the essence of glam-rock in a way that the film ``Velvet Goldmine'' never touched, and take it into a political and global context.

Hedwig tells us how, in a botched sex-change operation, he sacrificed most of his appendage to escape communist East Berlin, only to watch on TV from a mobile home in Kansas as the Berlin Wall crumbled just a year later. It's a set-up worthy of Ionesco.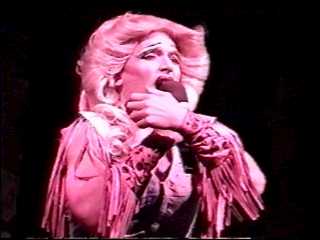 The theme of emancipation runs throughout, and provides the key to a moving if abstract ending. But Mitchell and Trask also layer in some philosophical depth, beginning early with the song ``Origin of Love,'' which recounts Plato's fanciful notion of humans having been split in two and forced to seek out their severed other halves.

Hedwig desperately seeks this metaphorical long-lost love, but, given that he has been doubly split, is especially uncertain of where to find it or what his ``other half'' will look like.

Trask's music here alternates among various styles, from punk to hard rock to folk to less categorizable hybrid sounds, and the score here certainly makes ``Rent'' and ``Jesus Christ Superstar'' (both of which the show refers to) seem like bubblegum pop. The songs are also extremely effective in advancing Hedwig's narrative and communicating the character's emotional states.

Cerveris' physical and vocal versatility is outstanding, and he delivers with equal authority exuberant rock songs and softly ironic monologues. Hedwig is pretentious and eloquent, and Cerveris conveys the script's bizarrely lyrical one-liners -- ``From this milkless tit, you sucked the very business we call show'' -- with just the right touch of pain and egomania.

In addition to the band -- which includes composer Trask for a short run -- the only other character here is Yitzak, Hedwig's current partner with a story and talent all his own. Miriam Shor performs Yitzak with appropriate bitterness, spitting out insults and resentfully managing the stage, delivering water or picking up after Hedwig.

Peter Askin's direction is fluid, and the design team has clearly worked in unison. While the show was obviously created to be performed in a smaller venue, the production here fills out the Henry Fonda Theatre acceptably.

Kevin Adams' lighting design deserves special mention, since sharp switches between dark and light create some of the evening's most powerful visual effects.

---
Hedwig ..... Michael Cerveris
Yitzak ..... Miriam Shor
With: Stephen Trask, Theodore Liscinski, III, Paul Livingston, Sid Sosa
A Canon Theatricals/Susan Dietz and Joan Stein presentation in association with David Bowie of a one-act musical with text by John Cameron Mitchell, song and lyrics by Stephen Trask. Director, Peter Askin; set, James Youmans; costumes, Fabio Toblini; lighting, Kevin Adams; sound, Phil Harris; musical staging, Jerry Mitchell. Opened, reviewed Oct. 31, 1999.
---