---
New York 1 Interview
August 2, 1999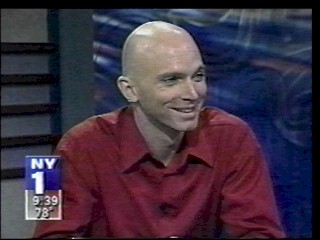 Paul Lombardi:
Welcome to the show Michael
Michael:
Thanks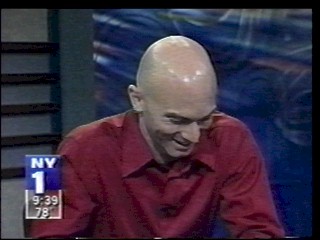 Paul :
It's been almost a year - a little over a year now since you've been in this role


Michael:
Well, yeah, yeah. I started
Paul :
It's not a drag?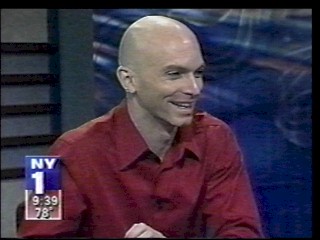 Michael:
It's nothing but a drag.
Paul :
Are you still enjoying it?

Michael:
Yes I absolutely am. I mean to get to go to work every night is like a dream so. It gets harder to get myself there sometimes but once I'm there I love it.


Paul :
You've gotten rave reviews for this role
Michael:
Yeah
Paul :
It's hard to step into a role who is created by the Playwright - John Cameron Mitchell - who was the original Hedwig who is now off preparing the film. You stepped right in and recreated the role.
How did you personalize Hedwig?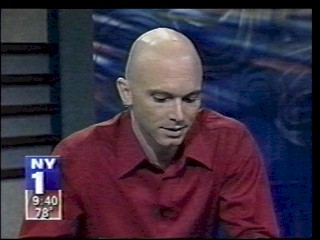 Michael:
It was funny because I'd seen it a few times before I thought I would even be in it. I had sort of connected with it as an audience person from the beginning and so when I went to start to work on it I just treated it like it was a character.
I didn't watch John do it for a while so I could kind of develop my own connection with it. But I didn't set out to make it different - anything specifically different from John. I just sort of looked for the aspects of myself that were similar to Hedwig
Paul :
You were frightened to find you had some.

Michael:
I think there's more of me in this character than in a lot of characters that I've played.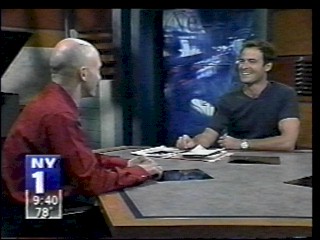 Paul :
We should probably explain to the audience members who aren't familiar with Hedwig who Hedwig is. It's sort of a rock musical autobiography. A transexual rock diva. The New York Times called it a journey from self parody to self realization. Do you agree with that?

Michael:
Yeah. Smart guys there.
Paul :
I see Hedwig as sort of a cross between vunerable Marilyn Monroe and sort of a vulgar Marilyn Manson sort of thing. Do you think that's accurate?



Michael:
Yeah I think that's true. The thing that I think people are surprised to find is how much they can identify with what seems to be this kind of freakish character but at bottom she is like any of the rest of us- Looking to be loved and trying to sort out the ways that she's been buffeted by life. So people identify with her much more than they think they would identify with a transexual German glam rock cabaret singer.
Paul :
How to you keep Hedwig from developing into camp?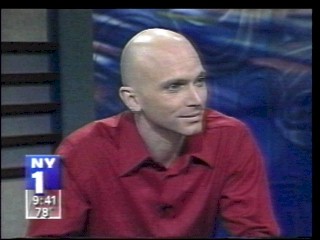 Michael:
By concentrating on the story all the time and trying to be as genuine and honest as possible
The camp aspects and the comedy aspects sort of take care of themselves because John's written such a terrific piece. But the underlying story and things that Hedwig wants to get out of life and wants to communicate to the audience even through the humor are really serious painful things.
As long as the focus is on that - telling that story then I think you're ok.
Paul :
As an audience member I've gotten into arguments about what it's ultimately about. IT's open to interpretation - I don't want to ruin it for anybody. what do you think it's ultimately about Without giving it away what happens.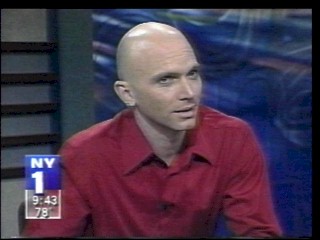 Michael:
Yeah, I think ultimately Hedwig arrives at a place by the end of the show where she's questions the way she's lived her life up to this point as one long search to find her other half To find the other part of herself and has kind of learned by the end -In typical new age fashion - that loving yourself is the most important thing and finding yourself whole in yourself which also means allowing other people to find themselves is really the only way that you're going to find any kind of ultimate fulfillment. And that's what happens in the end.

Paul :
And all of that happens within a homage to rock and roll.


Michael:
Absolutely.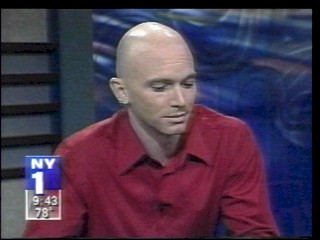 Paul :
You yourself are a rocker. You were the original Tommy on Broadway and you were in several bands.
How would you describe your own personal style as a singer and guitarist?


Michael:
Well, not nearly as flashy as Hedwig's. I'm a guitarist also so I tend to a little more - I don't' know downplay the performance aspect of things.
I guess my music generally fits into that vague alternative rock heading. But I've had bands ever since I was in Junior High School through the present.-so I've always kept a parallel life as a musician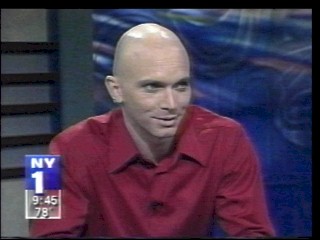 Paul :
Michael in the Playbill you thank all the misfits and the losers who made you what you are today. What did you mean by that? It's a line from the show
Michael:
If you're thanking people. And the kinds of friends that I've - the kinds of people that I've found my life crossing have often been people who were not the typical acceptable sort of people. And those are the kind of people that I sort of gravitated toward. Certainly
Paul :
The Hedwigs of the world
Michael::
The Hedwigs of the world. And found that I learned a lot more from those people than from the more stable bunch. Certainly makes life more interesting.

Paul :
Hopefully you'll run into quite a few of them when you head out to LA. When do you head out?
Michael:
Nothing but that out there. I start in the middle of October we open on Halloween in Los Angeles appropriately enough.
Paul :
Good night for Hedwig to hit LA.
Michael:
Exactly.
Paul :
Thank you Michael Cerveris
Michael:
My pleasure.
---