"The Genital Giant"
Time Out August 2000

Michael Cerveris has found the role of his career – in the musical "Hedwig and the Angry Inch", as a transsexual rock n' roll singer whose operation was botched.
Interview by Paul Burston.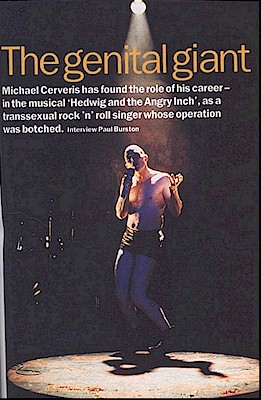 Michael Cerveris is wearing a badge that says "I Hate Musicals". This seems pretty odd given that he is a seasoned Broadway actor whose credits include starring roles in the musicals Tommy and Titanic. It's even stranger considering that he is promoting Hedwig and the Angry Inch, the celebrated Off-Broadway rock musical in which he has starred for the past 18 months, and which is about to open in London. Sipping mineral water in the reception of the Hempel Hotel in Paddington, Cerveris admits that the badge is a bit of a joke. He doesn't really hate musicals. And even if he did, that wouldn't have put him off his latest project. After all Hedwig is hardly your average musical.
The tragic-comic tale of an East German transsexual glam-rock singer,whose botched sex-change operation leaves her with "an angry inch" of male flesh between her legs, Hedwig is one of the most talked about productions to hit the New York stage in some time.
The show first opened two and a half years ago, at the Jane Street Theater in the West Village. Originally starring John Cameron Mitchell (who also wrote the script), it got glowing reviews. It wasn't long before the music-industry elite were beating a path to its door. Madonna was a fan. So too were Lou Reed and David Bowie (surprisingly, perhaps given the show's swipes at 'crypto-homo rockers'). In just over a year there was a Hedwig CD and talk of a film adaptation. For someone described as Mitchell as "an internationally ignored song stylist" Hedwig was doing pretty well.
When Mitchell finally decided it was time to hang up his spike heels and Farrah Fawcett wig, Cerveris was a natural choice to take over the role. In addition to his Broadway experience, he had served as guitarist and backing vocalist with former Husker Du frontman Bob Mould. Plus he had known Hedwig's creator for years. "John and I used to bump into each other in the waiting rooms at auditions", Cerveris explains. "I would hand him flyers for whatever band I was playing with at the time, and he would hand me flyers about this character, Hedwig that he was doing in clubs around town. At that point it was just some monologues and a couple of cover songs. We even did a workshop together for a musical about Queen. We were the bad boys at the back, laughing while someone tried to teach us to sing "Bohemian Rhapdody" in the style of a musical number. It was dire."
Cerveris is pretty damning of what he calls "the horrible mess that has been made of most attempts to combine rock n' roll and theater". Shortly before seeing Hedwig for the first time, he had gone along to support a friend who was appearing in Rent. He wasn't impressed. Some of the songs were good. But I would have preferred to hear them played by an anonymous band in a club somewhere. That's the trouble with most musicals – people burst into song with no explanation as to why."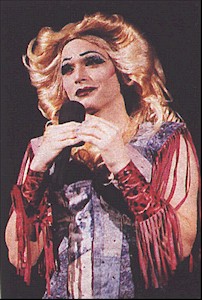 In Hedwig this problem is avoided by setting the action at a rock concert, during which the singer gradually spills her guts to the audience. According to Cerveris, "it starts out like a funny kind of cabaret evening with rock songs, and then it turns into something far more emotionally involving. The first time I saw it, by the end I was incredibly moved. To me it's the perfect example of how to mix rock n' roll and theater in a way which does justice to both."
Since it's original success in New York, there have been productions of Hedwig in Los Angeles (thanks partly to Bowie's financial support) and in Germany. Last New Year's Eve, Cerveris even opened for Culture Club at Radio City Music Hall – in character. One thing he has learned is that the show goes down differently in different parts of the world. Still, he is quietly hopeful that the London audiences will take Hedwig to their hearts. "There is a very European sensibility in Hedwig. I've always thought that New York is almost more a part of Europe than it is of America, so I would hope that the show would make an impression here."
Hedwig certainly made an impression on Cerveris. Years ago he played an English guitar student in the TV series Fame. For a long time afterwards, the only roles he was offered were Englishmen or musicans. Does this mean he expects to be playing singing transsexuals for the foreseeable future? "Well, if you'd asked me that two years ago I would have said, "What are the chances of that happening? But you wouldn't believe how many drag characters there are coming up in films and TV series. And I seem to up for every one of them. I suppose there are worse things to be type-cast as than an East German transsexual glam-rock singer. At least it's not boring". Hedwig and the Angry Inch opens on September 8 at the Playhouse.

---
Amazing Journey - Official Web Archive for Michael Cerveris
Please send any comments about this page and contributions
to email - webmaster@michaelcerveris.com