"A Many Gendered Thing"
The Sunday Times, September 24, 2000

http://www.sunday-times.co.uk

By Steve Grant

It's rocking, it's riveting and it's deeply confusing.
The West End theatre has been wowed by some distinguished drag queens, notably Tim Curry's Dr Frank N Furter, Eddie Izzard and Harvey Fierstein's moving mother-confessor in Torch Song Trilogy. And now comes Hedwig and the Angry Inch (Playhouse). Hedwig, born Hansel in war-battered East Berlin, is a semi-transsexual glam-rocker with a thing about wigs and tomatoes. He-she has a wardrobe that is part Jayne County, part Lily Savage, and is fortunate enough to be playing a gig at such an upmarket joint. Hedwig's band, the Angry Inch, are named after the ugly scar that was left after Hedwig's botched sex change. Oh, and we gather that her ex-lover, Tommy Gnosis, the rock god Hedwig created, is playing a concurrent gig at the Dome.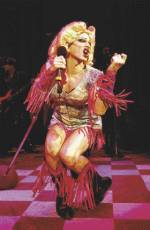 You may be confused, but then gender sometimes is, and John Cameron Mitchell and Stephen Trask's confessional rock cabaret shares the dilemma. Part sleaze concert, part philosophical treatise, it dramatises the separation and sexual incompleteness through which Hedwig (Michael Cerveris) only becomes free when she's performing. Product of the cold war, East and West, neither boy nor girl, Hedwig is fathered and abandoned by one GI and seduced and abandoned by another. She is both fascinated and repelled by the Berlin Wall, which emblematises her divided self.
Hedwig searches for her whole-mate, the other half, literally, trying to find that platonic, unifying part of herself that was allegedly taken away. One of the songs, "The Origin of Love", quotes directly from Aristophanes's speech in Plato's Symposium: "The sexes were not two as they are now, but originally three in number; there was man, woman and the union of the two, having a name corresponding to this double nature, which once had a real existence, but is now lost." But the Old Testament doesn't get off lightly: it was also the fault of that old Adam's rib, says Hedwig's alter-ego Tommy at one point. What kind of God pulls Eve out of Adam so that he can deny them access to the Tree of Knowledge?
The show starts with Hedwig something of a celebrity, despite having been hitherto "an internationally ignored stylist". Her reunion with Tommy has led to a crash involving a school bus full of deaf children, but at least the press are asking who's that mystery woman, and the rumour's out that Hedwig wrote all Tommy's songs on the first album. After all, she even gave Tommy his surname, the Greek for "knowledge".
Cerveris punctuates the mostly splendid numbers in Trask's score with both a bitch to the audience and the story of her life so far. This takes her from a squalid existence in Berlin - the space was so small that she had to climb inside the oven for some privacy - to seduction by a sweet-proffering black GI, who convinces her to have the operation so that they can be wed; to prostitution in a Kansas City trailer park after she is abandoned and where she seduces young Tommy, the geeky son of a local camp general.
This show opened in New York on Valentine's Day, 1998, and, like Rent, it may now be a victim of its own reputation. Admirers have included Lou Reed, Madonna and David Bowie, who even partly funded its transfer to Los Angeles, despite a reference to him by name in the show as a "crypto-homo rocker". For what it is, which is a one-man show with a very big hat, it is riveting: Cerveris, who played the Who's Tommy on Broadway and plays mean guitar, is quite hypnotic, whether being sad, happy or plain crazy. And if you like loud music, then there is a treat in Trask's music, which ranges from Iggy and Bowie through Lennon and McCartney to the country-rock pastiche of Sugar Daddy and the powerful Ramones-like Angry Inch.

The Sunday Times
---
Amazing Journey - Official Web Archive for Michael Cerveris
Please send any comments about this page and contributions
to email - webmaster@michaelcerveris.com