Michael Cerveris takes over as Hedwig from July 8 - August 4

photos by Carol Rosegg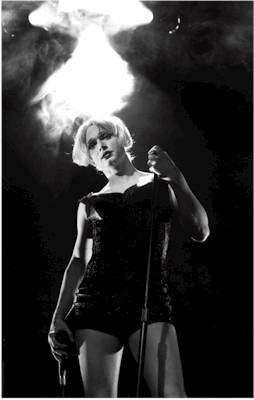 Michael will be leaving the great ship Titanic to perform lead in the hit Off Broadway rock musical, Hedwig and the Angry Inch from July 8th to August 4th. John Cameron Mitchell, writer and current star of the virtually one man show, asked Michael to take over for him when he vacations this summer. Michael accepted almost immediately, saying; "It's a truly wonderful rock and roll theater piece --one I've seen a number of times already just because I liked it and John's performance so much".

The darkly comic tale unfolds in the form of a rock gig. Michael will portray Hedwig, a German-American transsexual rock diva, who according to the press release, has been "transplanted to a Kansas trailer park and then catapulted to infamy. In sequined neck brace and a dress of bubblewrap, Hedwig tells us in song and story-- how 'some slip of a girly boy from Communist East Berlin became the internationally ignored song stylist barely standing before you.'"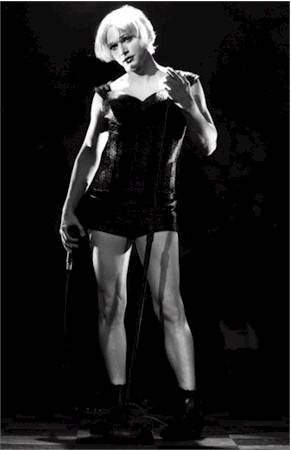 Miriam Shor co-stars as Hedwig's female as male companion- Yitzak. Michael's former shipmate in Titanic, Lisa Datz understudies the role. Hedwig's band - The Angry Inch is portrayed by composer and lyricist Stephen Trask's own alternative rock band Cheater. Chris Weilding, Scott Bilbrey and Dave McKinley round out the group.

The "New Glam, Post-punk" musical, was first developed at downtown venues Squeezebox, Fez and the Public Theater. The show began amazing larger audiences last year at the Westbeth Theater, moving in February to the new Jane Street Theater, Off Broadway where it has continued a very successful open ended run. Songs include "Tear Me Down," "The Origin Of Love," "The Angry Inch," "Wig In A Box," "Wicked Little Town," and "The Long Grift." An original cast album with Mitchell is currently being courted by Dreamworks, Atlantic, MCA and Capital.


Hedwig and the Angry Inch
Jane Street Theater
113 Jane Street, Manhattan
Take the A,C or E subway to 14th Street Station
Monday through Friday at 8pm, Saturday at 7pm and 10pm
Tickets are $45 and available at the Box Office or Tele-charge: 212-239-6200


After finishing with Hedwig, Michael will be accompanying alternative rock legend Bob Mould (formally of Hüsker Dü and Sugar) on his upcoming tour. He will be playing rhythm guitar and performing back-up. Rehearsals begin in New York on August 10th coinciding with the release date of the album. The tour, named after Mould's new album - The Last Dog and Pony Show will consist of five weeks in the US, 10 days in the UK and another 15 or so in Continental Europe, welcome news to Michael's many fans in Germany. Recently at the triumphant lame reunion concert, Mould joined Michael and other lame band members in an exhilarating encore, a cover of Mission of Burma's classic "That's When I Reach for My Revolver."

Matthew Bennett, who performed the role of Thomas Andrews in the original workshop for Titanic before his current roles of Mr. Pitman and the Major will take over when Michael leaves. The matinee on Saturday, July 4th will be Titanic's 500th show, Michael's final performance will be that evening. Although sad to leave the show, Michael is thrilled to be returning to his personal love of rock and roll saying it's, "All in all, a dream come true for my summer and fall".

---
Amazing Journey - Official Web Archive for Michael Cerveris
Please send any comments about this page and contributions
to email - webmaster@amazing-journey.com
copyright @1997-00