---
Baltimore, Maryland
Bohager's

TUESDAY 29 September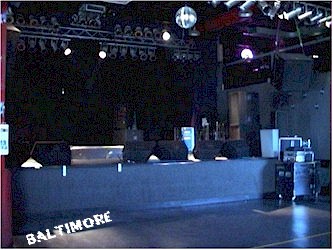 Short drive to Baltimore. We go early so Bob can do some phone interviews from Bohagers. The club is shallow and wide making for big sound problems on stage. Overall the low end is way too loud and boomy -- memories of the Milwaukee kick. Vocals are a wash. We get more fallback from the wall than the front wedges.


Matt, Jim and I head into town while Bob talks about "shaking babies and kissing hands" to various reporters.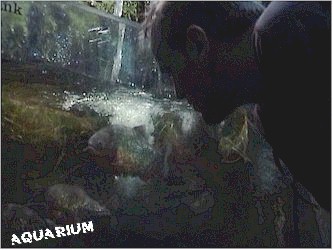 The three of us end up at the waterfront and spend an hour and a half in the National Aquarium. What a great place it is, very cool exhibits, especially the Venom Wing with little poison dart-shooting frogs and water moccasins. Then the big shark tank and the skate pool. And at the top of the building, the rain forest with mists and waterfalls and birds and lizards roaming free. Really nice change of pace afternoon.

Back to the venue where a local amp guy has finished working on the Top Hat trying to minimize the hum--which is mostly the fault of the P90's. He brings along some of his company's Budda amps and effects. Some good quality boutique stuff. Jim buys the huge purple Phat Boy tube driver for his bass. I'm tempted, but decide to try replacing my MXR DII with my Centaur pedal and will swap out the Rat for the Blues Driver I picked up in Northampton. Trying to get more tone into my rig and a bit more control and definition.

Our first exposure to Archers of Loaf who are joining us for this show and the next. Kind of odd when the support act has a tour bus AND stays in hotels when the headliners drive themselves in a rent-a-car. So much for their indie-cred.

They're nice enough guys, though -- real energetic bass player and I like the main singer's voice. They're just starting their tour and haven't quite got their routine down yet so Varnaline gets screwed out of a proper sound check, which isn't too cool.

I explore Fell's Point and find a cool coffee house.

The show is ok, but too loud -- not volume so much as out of balance. We give a good show, but the crowd is pretty laconic. They don't seem to get that this is something we all do together. Kind of an unsatisfying evening from our side. Varnaline splits immediately as do we.

Drive to DC, check in at the very nice Red Roof Inn (irons in the room!!--not that we use them......) And have late night Chinese at Ruby's where guys wander in off the street, sit down, and beg for money, cigarettes and food. The staff seem helpless as they watch their business slide downhill.

Our nation's capitol. One screwed up place, top to bottom.

---
Washington D.C.
9:30 Club

WEDNESDAY 30 September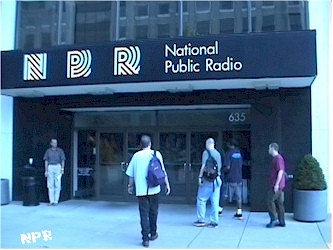 Get up early and walk over to the National Public Radio studios to record a session for their Anthem series. Bob very worried about his voice--touch of a cold, plus all the back to back shows and all the talking.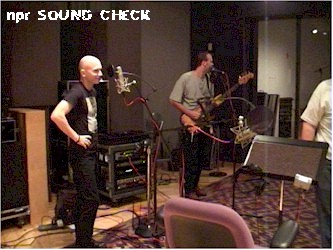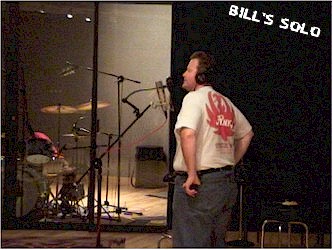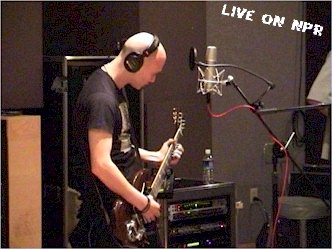 The studio is really nice as are the staff. They're excited to have so much rock gear on the premises (we've brought all our stuff). The session starts off a little stiff, but loosens up and actually becomes fun. We play pretty well, just a couple of goofs. Wonder how it'll sound. Unfortunately, the show isn't picked up by all NPR stations. Bob gives an interesting interview and the interviewer even shows an interest in the three of us.

Back to the hotel for a nap before going to the 9:30 Club.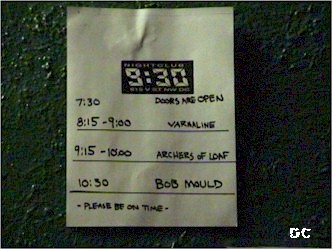 What an amazing venue. The original 9:30 was a total dive with a smell that supposedly clung to your clothes for days, I'm told. The new one is enormous, state of the art, with a lot of thought put into the design. Dressing room sleeps six. Stage converts from 300 to 1200 capacity. The sound is big but almost hifi.



Soundcheck goes a bit better today. Varnaline sound great. Archers sound good, too.

We have one of our best shows so far, second only to New York #1.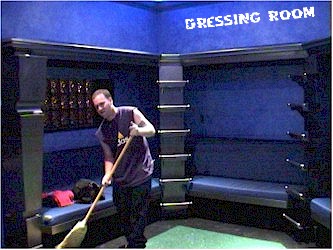 During the show, my strap breaks and I have to hold it in my teeth to keep playing until Charles can come out and swap it out mid-song. He gets applause as he exits.

Elliot Smith at the show, but doesn't stay to meet Bob. Too bad, we would have really liked to meet him. Disappointed in general that we aren't meeting more of the people that come out to hear us. Still an amazing show.



Some friends take us to a diner in Georgetown after, then back to the hotel and sleep.


---