---
Broadway on Broadway 1997
The time: 	Sunday, September 7th, Noon
The place:	Times Square, New York							
---

Earlier that morning, ABC news interviewed some of the cast members
who were attending. Including Titanic's own - Jennifer Piech

Lee:
We are here with one of the stars of the performance
today from Titanic. This is Jennifer Piech. She plays
Kate McGowan in the show and Jennifer this is your
first Broadway show- I want to wish you congratulations.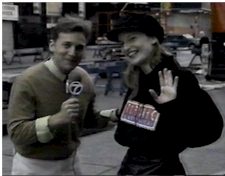 Jennifer:
Oh thank you. It's been great.

Lee:
It's great for me to be here on Broadway on Broadway
again. This is my second year here. Tell us a little bit
about the show- a big musical and the ensemble has
a lot of chemistry huh?



Jennifer:
Oh absolutely. In fact people say that's one of the
highpoints of the show- is how the ensemble work
so well together. And the singing is pretty magnificent.
Maury Yeston did a beautiful job with the score.

Lee:
And your character is?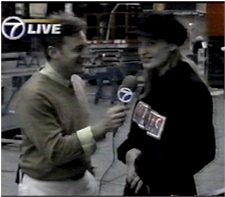 Jennifer:
Kate McGowan. Irish immigrant
3rd class. A bit pregnant.
And roping the man to be my
husband.

Lee:
And her plight? Does she
survive or do we have to
see the show for that?

Jennifer:
You have to see the show for that.
I give away no information.

Lee:
All right what theatre is that?

Jennifer:
The Lunt Fontanne on 46th and Broadway

Lee:
All right we wish you the best of luck-
thanks for coming out this morning.
Good luck with the peformance. They're
going to be here...what are you performing?

Jennifer:
A condensed version of our opening number.

Lee :
Wonderful.

---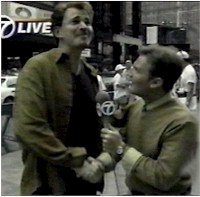 and Douglas Sills who later wowed the audience with his stirring version
of "Into the Fire" from the Scarlet Pimpernel.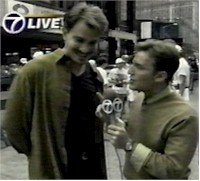 ---
Cast and Musical Numbers

"On the Town" - Overture
Mark Mitchell and the American Theatre Orchestra

"New York, New York"- On the Town
Jesse Tyler Ferguson, Jose Llana and Robert Montano
Conductor - Vinnie Fanule

"Summer Nights"- Grease
Melissa Dye, Steve Geyer, David Josefsberg, Alisa Klein,
Sean McDermott, Deidre O'Neil, Tom Richter, Ric Ryder,
Jeanna Schweppe and Marissa Jaret Winokur
Conductor- Vinnie Fanule

"On My Own" - Les Miserables
Sarah Uriarte Berry
Conductor: Vinnie Fanuele

"NYC" - Annie
Karen Byers- Blackwell, Colleen Dunn, Brittny Kissinger,
 Jim Ryan, Conrad John Schuck and Company
Conductor: Keith Levenson

"In His Eyes" - Jekyll & Hyde
Robert Cuccioli, Linda Eder and Christine Noll
Conductor: Jason Howland

"Take Me or Leave Me" - Rent
Fredi Walker and Kristen Lee Kelly
Conductor: Tim Weill

"Use What You Got" - The Life
Sam Harris and Company
Conductor: Joseph Baker

"Time is an Ocean" - The Capeman
Ruben Blades and Marc Anthony

"Getting to Know You" - The King and I
Faith Prince & the Wives and Children
Conductor: Cherie Rosen

"Anything" - Triumph of Love
Susan Egan
Conductor: Patrick Brady

"Sit Down John" - 1776
Linda Edmond, Brent Spiner & Company
Conductor: Mark Mitchell

"Tunnel of Love" - Side Show
The Company
Conductor: David Chase

"Bring in Da' Noise/Bring in Da' Funk" - Bring in Da' Noise/Bring in Da' Funk
Baakari Wilder, Jared Crawford, Lynette Dupre, Omar Edwards, 
Dule Hill, Raymond Hill, Jimmy Tate
Conductor: Zane Mark

"The Last Night of the World" - Miss Saigon
Matt Bogart, Deedee Lynn Magno
Conductor: Edward G. Robinson

"When You're Good to Mama" - Chicago
Marcia Lewis
Conductor: Bob Biling

"Home" - Beauty and the Beast
Deborah Gibson
Conductor : Steve Taylor

"Memory" - Cats
Laurie Beechman
Conductor: Mark McLaren

"Into the Fire" - The Scarlet Pimpernel
Douglas Sills and Chorus
Conductor: Ron Melrose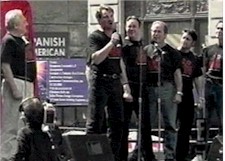 "Everybody Ought to Have a Maid"
- A Funny Thing Happened on the Way to the Forum
David Alan Grier, Ross Lehman and Ernie Sabella
Conductor: Ron Melrose

"I'm a Woman/Stand By Me" - Smokey Joe's Café
Ken Ard, BJ Crosby, Adrian Bailey, David Bedella, 
James Beeks, Ramona Kelly, 

Patti Darcy Jones, DeDee Lively and Destan Owens
Conductor: Lon Hoyt

"Music of the Night" - The Phantom of the Opera
Thomas James O'Leary
Conductor: David Lai

"Godspeed Titanic" - Titanic
The Company
Conductor: Matthew Sklar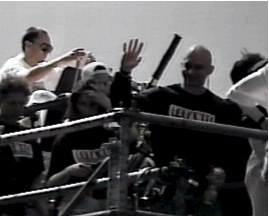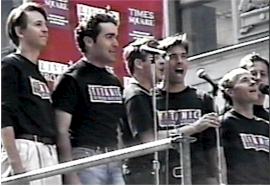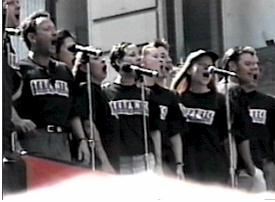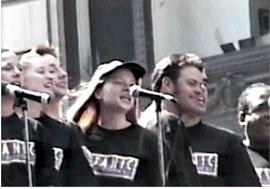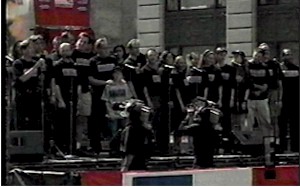 Confetti poured from above as the
the Titanic company led the crowd singing
"Give My Regards to Broadway"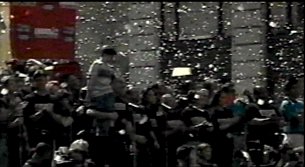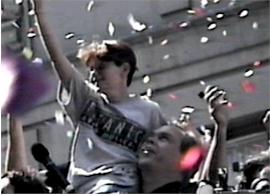 ---
		The League of American Theatres and Productions and the 
		Times Square Business Improvement District welcome you
		 to the 1997 Broadway on Broadway
		
		Hosted by - Ann Duquesnay; Marilu Henner; Lucy Lawless; 
			Paul Rudd; Carole Shelley
		Narrated By - Charles Edward Hall
		Production Stage Manager: Sam Ellis
		Musical Director - Mark Mitchell
		Script Writer- Tom Viola
		Sound Design- T. Richard Fitzgerald
		Art Director- Elizabeth Samet
		Video Producer/Director- David Stern
		Technical Supervisor- Keith DeVerna
		

---
Amazing Journey - Official Web Archive for Michael Cerveris
Please send any comments about this page and contributions 
to email - webmaster@michaelcerveris.com
copyright @1997-00