"Titanic Cares" - as reported on Playbill online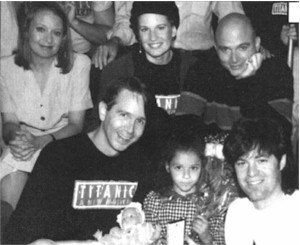 Cable network NY1 recently named the cast of the Broadway musical
Titanic as its "New Yorkers of the Week" for their generosity in writing
and recording "Christina," a "song of love" composed for Christina
Ann Rodriguez, an ill six-year-old from Brooklyn. Songs of Love is a
nationally recognized charity that has composed more than 500 uplifting
personalized songs for children who are chronically or terminally ill.
"Christina" was co-written by Titanic cast members Sean McCourt and
Matthew Bennett, and the entire cast of Titanic presented the song to
Christina Ann on Sept. 3 at the Lunt-Fontanne Theatre, where Titanic plays.

For more information about this worthy organization,
call Songs of Love at 718-997-8482.