Sail On!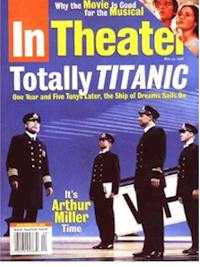 Titanic's cast and crew look back on the year their sinking ship rose to the top on Broadway.
By Kathy Henderson

A year ago, before anyone had heard Celine Dion wail "Never, far, wherever you are," before Leonardo DiCaprio had unveiled his first nude sketch, and before James Cameron had declared himself "king of the world," there was a Broadway musical called Titanic. It was in previews, and the word on the street was not good.


"An enormous amount of rumors and untruths were going around," recalls production stage manager Susan Green. Reports of computer glitches and delayed performances led the New York Post to predict that Titanic would close before it opened. "That was not true," Green says now. "And it was not true that there was an actress who was so unhappy her song was cut that she took off down the block wearing her wig cap."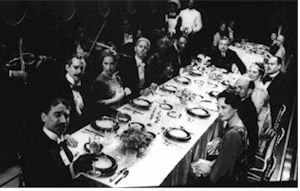 The show's problems could have been addressed with little fanfare in an out-of-town tryout, but the logistics of its multi-level set made that impossible. "The director (Richard Jones) couldn't figure out how he wanted to end it," Green says. "There was a scene with the guy who found the Titanic; that didn't work. For a while, there was a scene with a wrecked ship; that didn't work. Eventually, (Jones) came up with what he wanted to do, which was living meeting the dead. We put it on a Saturday matinee--the day the critics started coming--and at the end of the performance, the audience stood up to applaud. It was the first time they were standing up not to leave! We looked around, and everybody on stage and in the crew started weeping. That's when we knew we had it."

Although the initial reviews were mixed, Titanic ended up winning all five Tony Awards for which it was nominated, including Best Musical. "About 20 minutes before Whoppi Goldberg made the announcement," remembers producer Michael David, "my wife leaned over and said, "You might win!" I immediately started writing on my hand something to say if it happened. I went up on stage with this ink-filled hand, but I was so terrified and exhilarated that I never had a chance to look at it."

After Tony night, Titanic became a genuine hit, and continues doing near-capacity business at the Lunt-Fontanne Theater. When I first revisited the show last week for the first time since it opened, the theater was filled with tourists and several large theater parties. A busload of middle-schoolers cheered loudly from the balcony. My companion was my 12 year old daughter, who had never expressed an interest in seeing the musical until magazine covers of Leonardo DiCaprio began turning up on her closet door. Frankly, I wasn't sure what she'd think of the stage version after having seen the movie; I recalled having been underwhelmed by Stewart Lang's stark production design, which later won a Tony.

As it turns out, both of us were extremely impressed with Titanic. The show looks fresh and the cast remains strong, with most of the principal actors still in place a year later. Maury Yeston's score is even more beautiful than I'd remembered; the opening songs flow together seamlessly, and the duet of "The Proposal/The Night Was Alive" remains a highlight. The crowd loved Victoria Clark and Bill Buell's Second Class social climbers, and my daughter was taken with the charming Jennifer Piech as Irish emigrant Kate McGowan and Brian d'Arcy James as that sexy stoker, Frederick Barrett.

The biggest surprise was how much I admired Laing's sets the second time around. After experiencing the ship in all its $200 million movie glory, the stage version seemed appropriately theatrical, sleek and classy. The musical doesn't aim to be a tearjerker but memories of those frozen film bodies add resonance to the gangplank scenes. In short, the movie and the musical complement each other in ways one might never have predicted.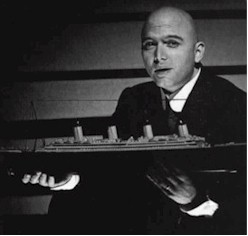 "The film has been a big help to us," says Michael Cerveris, who plays builder Thomas Andrews. "People come with images of the ship in their head--which is something films automatically do better--and then we do what the theater does best, which is connect in a human way," Adds the former star of the Who's Tommy, "Our audiences have gotten younger lately, and they seem very into the show."

Observes David, "There's no question that we have found a new layer of audience for the show since the release of the movie, and that's young people. We've always done great with school groups, but I'm talking about the the kind of kids who buy single tickets. They could go to Rent or Noise/Funk, and we are now on that short list of semi-acceptable Broadway fare. They're no longer reluctant to go with their parents when offered the possibility; they think Brian d'Arcy James is our Leonardo DiCaprio. There are definitely more young people gathering outside the stage door." (For the record, the strong-voiced d'Arcy James laughs off heartthrob talk: "Not with my big eyebrows! I think people are interested in meeting me because my character expresses his love for the woman he hopes will be his wife.")

The Titanic actor delights in seeing a new generation of fans embracing the show. "It was getting to the point in the past few years where only more mature audiences were going to the theater," notes Victoria Clark. "But do you know any American young person who hasn't seen the movie? They love it and they want to learn more about the Titanic. We have student rush tickets in the front row, and those are always filled up right away. We're greeted after the show by throngs of young people now, which is so nice."

David Garrison, a.k.a. the dastardly White Star Line owner J. Bruce Ismay, felt all along that the musical touched audiences in a special way. "I think people may be more willing to bring their imaginations to our version of the story, which is not a literal one," he says. "It's amazing to me that the press--which has complained about overproduced shows, chandeliers and helicopters--weren't as willing as audiences to embrace a nonrepresentational version of the story. People can go to the movies to see the real water--or the computer generated water. Here, they use their imaginations at a theatrical event. The show itself is such a different animal, " Garrison adds. "It's part pageant, part oratorio, part I don't know what. It's an ensemble effort."

That 43-member ensemble, many of whom have years of Broadway experience, is one of Titanic's greatest strengths. They're a wonderful group of actors who have agreed to play roles smaller than they're used to make the show work," David says of his leading players. "The fact that all those folks are still there is a credit to the power of the show. We haven't faded; a lot of stuff has only gotten stronger in our second year."

The Titanic company genuinely enjoys working together. "They're really fine actors and terrific singers,' says Cerveris of his castmates, "and best of all, they're fascinating, multifaceted human beings. I haven't found it difficult (to stay for a year) at all."

Adds John Cunningham, veteran star of Company and Six Degrees of Separation, who stars as Captain E. J. Smith, "It's much easier to continue when you're with the show that aims high. We're not doing singing, dancing waiters on the deck of the Titanic. We embrace what the story is about and treat it seriously."


---
So, what did you think of the movie?

"I thought the part that had to with the actual event was terrific. My favorite actor in the movie was Victor (Garber, who played Andrews); I guess that's not too surprising. I could have done without the whole Kate and Leo story; they could have cut that and still had a two-hour movie, and it would have been great. But most people in our company loved every minute of it."
--Michael Cerveris (Builder Thomas Andrews)

"I was in the doctor's office yesterday, and he said, 'Oh, that movie! The dialogue!' And I said, "Wait a minute. You have to judge this for what it is." James Cameron made a brilliant stroke when he made the choice to build the story around Romeo and Juliet. That's what equals a billion dollars. Plus, he individually sat over the equivalent of the D-Day invasion--that's how complicated it would be to photograph what we saw. I had a wonderful time, and I've got to hand him 110 percent credit.'
--John Cunningham (Captain E.J. Smith)

"I remember seeing the preview for the first time. I was just riveted, clutching my seat, because it was the first time I'd seen all the things that were in my head. The effects were so dazzling and so real."
--Brian d'Arcy James (Stoker Frederick Barrett)

"I loved seeing three-dimensionally what I'd only seen in pictures or read about --the state rooms and so forth. I wasn't a huge fan of the love story."
--Susan Green (production stage manager)

"I was pleased to see the scope of it, to see people moving through that three-dimensional world. I did my research from microfilm at the New York Public Library, so it was very powerful for me to see people moving through the ship, and to see how incredibly huge it was. The movie was like watching parts of our family--faces we didn't recognize, but the people we knew everything about."
--Victoria Clark (Passenger Alice Beane)

"I was daunted and awed by the technology, I cared less for the soap opera, but I know too much (about Titanic), so it isn't fair to ask me. I saw the movie at 10:30 on a Sunday morning, and my first inclination afterwards was to go right to the Lunt and see ours, too. I really do think the movie has helped prepare people for a theatrical rendering of the story."
--Michael David (producer)

"I felt there were a couple of different movies going on, and I liked one of them a lot, the one about the real story. I think the real story is much more compelling than anything you could dream up."
--David Garrison (Owner J. Bruce Ismay)




---
Amazing Journey - Official Web Archive for Michael Cerveris
Please send any comments about this page and contributions
to email - webmaster@michaelcerveris.com
copyright @1997-00