Titanic Revisited

Playbill Online, June 16, 1998

by Starla Smith

Playbill Backstage took another voyage with the 1997 Tony winning Broadway musical, Titanic and spoke with some of the original cast members about their past year, their feelings, and the blockbuster film on the same subject.

First stop: the first class cabin and Alma Cuervo, who plays Ida Straus, the Macy's founder's wife who chose to stay with her husband when the Titanic went down. Attached to Cuervo's makeup mirror are photos of the Strauses, as well as Titanic survivor, Molly Brown.

Maury Yeston, composer and lyricist, once commented that he was so committed to the creation of Titanic, that he would have written it -- if only for Strauses. Cuervo is equally dedicated to her character. Since the show opened, more than 300 descendants of the Straus family have seen the Broadway musical. "It's now like grandchildren and nephews," Cuervo said. "They're amazing. I cry every night, when they come . . . and when they don't. One of them brought us a copy of the last letter that Ida Straus ever wrote from the Titanic. The Strauses had actually been on a sister ship, the Olympic, which had a near-accident leaving the harbor, the same Captain at the helm.

"`What a ship, so huge and magnificently appointed,' " Cuervo read from the letter with misty eyes, "but size seemed to bring its troubles. Mr. Straus, who was on deck when the start was made, said that at one time, it looked painfully near to the repetition to Olympic's experience on her trip out of harbor. The danger was soon averted and we are now well on our course . . . .' "

The last sentence might describe Titanic's incredible musical journey this past year. "[Co-producer] Michael David really went to bat. Even when we were in trouble, " Cuervo described, "we knew that the whole gang was behind us and they were going to make a run for it. I think we probably would have run a good long time, even without the Tony's just on force of will. But boy, those things helped.

So did a guardian angel named Rosie. "Rosie O'Donnell saved us; she really did," Cuervo said. "The business turned around after she endorsed us. She talked about it, then she had us on, then we got Tony nominations and she had us on again, and then winning all the awards -- five big ones -- made all the difference. The fact that the movie didn't come out on time also probably helped us. Cause we were Titanic -- there was nothing else yet. Then when it did open, we were swept along. We're going to hit 500 [performances] around July 4th. It still is powerful and a joy to do. Particular moments make it especially joyous. And to hear it!"

On the anniversary of the Titanic disaster, David and the other producers responded to a call for help from O'Donnell. A young man had reached out to O'Donnell on behalf of his girlfriend's mother. The woman desperately needed an expensive life-saving operation. "He happened to be a Titanic buff who hoped to sell a postcard that had been mailed from the ship," Cuervo explained. "So he called Rosie who called the movie producers and said, `Now look, we've got this kid. You're king of the world, can you do something?' They said no, so she called Michael David, who said, `What do you need?' And he got the money for them -- there I go crying again -- then Maury and Michael decided that every year during the week that the ship went down, they will do something to save a life.

Although the company agrees that the film version of Titanic contributed to the continued success of the Broadway run, individually they are divided about what they think about the movie. "We call it the Siskel and Ebert relationship," Cuervo said. "I love it, but there's some people who don't like the Kate Winslett and Leonardo DiCaprio story line. They think it's simplistic or childish.

"I like that it focuses on the role that women had in that society, since the biggest suffragette parade in history was scheduled on the very day that that ship was slated to arrive in New York. We didn't have the vote; we didn't have anything. And a woman of that class -- you see in the movie -- was very stuck, as stuck as you think a poorer woman would have been. "

Henry Tram, who graduated from playing George Widener and Frank Carlson to the role of Henry Etches, the first class steward, hails the technical achievements of the movie, but thinks the love story was all wet. "I thought it was stupid. I didn't buy it at all. Not at all!"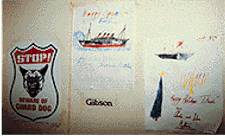 Tram shares a dressing room with Michael Cerveris, who plays Thomas Andrews , the architect, and Cerveris' dog, Gibson. A sign on the dressing room door playfully warns trespassers, "Beware of guard dog," but Gibson is actually a cover-girl type who would rather pose than prowl. Also decorating the door are original sketches of the Titanic by Charles McAteer, the youngest member of the cast who considers his theatrical stint "a hobby."

"This show really addresses an emotional need that audiences want," Tram emphasized. "Just to feel something for all these individuals, I think, is very cathartic, and it's cathartic for us. I think it's a story of such emotional weight for all us involved. Also what it's about -- the loss of life, saying goodbye to things. Wherever you choose to meet the play, it will support you. Even after a year, you look around and someone will be crying. It doesn't matter what part. Things really affect people in different ways. There are times in the opening number where you see people very moved, just at the prospect at what is ahead.

"During previews, things seemed sort of unfair, but I think we were all above that, anyway. We had so much work, we really couldn't be bothered. We never lost faith in it as a cast. Neither did the audiences. In retrospect, it seems like, `Wasn't that amazing?' "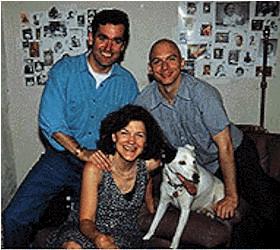 In the company green room at the very top of the stairs, Victoria Clark (the social climber Alice Beane), Brian d'Arcy James (the stoker Frederick Barrett), Cerveris and Gibson, are gathered for a Titanic family portrait. Behind this tableau you see two posterboards covered with baby pictures of the cast and crew, left over from a "match the baby" contest.

The movie is the current topic of discussion. "I think most people enjoyed it," d'Arcy James said. "I liked it very much, but there's definitely a few people in the cast who don't like the romance."




"That would be me," Cerveris interjected, "I just thought it was unnecessary. For me, it's about the ship. Engineers and architects sometimes come up to me after the show and say, `You know that thing at the end when you're redesigning the ship in the last minute -- you know it's going down, but you're redesigning it? That's what it's like being an architect. Even as the thing's falling apart, you're trying to figure it out."

"I think I'm just sort of more moved by this company," Clark said diplomatically, "and the actors in the company and how we grown to really love each other and what I'm learning about what life really means, and how quickly it passes."

" I can't believe that they're casting a tour right now in Los Angeles," said d'Arcy James. "I did the workshop of this, seeing its very bare bones with no physical element to the show, and now there's our Broadway production and a whole new national tour. That's amazing to me, that it's an entity to itself and it's spawning what will hopefully be many companies of the show. "

"In the beginning," Cerveris added, "especially when you're struggling through the early days of the show, you really feel like it's just your thing -- you and the other actors on stage. Then at a certain point, members of the company start to leave, new people come in, and it starts to exist as something outside of you. Now, I hear people talk about the show in the same category as Les Miz and Phantom. And there's a kind of sadness, because you're losing that initial original band of lunatics. Still there's a comfort in knowing that you were a part of creating something that's going to live on beyond your connection to it.

"Well, I think I've grown a lot personally in the past year," Clark continued. "It's been a real challenge to keep this part alive, because it starts so high and ends so low. I really have to find the peaks on both ends. Really it's like an iceberg with this other thing underneath that 's always there. And the whole role kind of flips and you see the bottom of the iceberg."

"You show your bottom in the show?" Cerveris feigned shock.

"Well, you have to look very carefully, " Clark retorted. " I only reveal to a lucky few.

If you ask Titanic folks about the most meaningful moments of the past year, the joy of working together on such a meaningful production tops their list.

"It's hard to distill it into one thing. I would have to say the most thrilling thing is to get to sing 'Still,' the beautiful song that Maury wrote -- and the idea that we lasted. After the reviews first came out, Maury gave us a magnificent speech about why we do what we do. I hate to paraphrase him, because it was so moving. He told us what had been the impetus for his writing the piece. How the Kate character came to be because of a woman he'd fallen in love with, and how what we do," Cuervo retold with tears in her eyes, "combines with what he does, and together we create something."

For Tram, the most meaningful, "is just being with this incredible cast. It's amazing to be a part of something so exceptional, because of all we've gone through. My father was a football coach of the Kansas City Chiefs, and when they played football games here, we always came to see Broadway shows. But I don't think he ever truly understood why I wanted to be an actor until he saw this show. For most of my career, I was doing a lot of downtown theater, and my parents would come to see that, and go, 'What the hell are you doing?' But my father was very, very moved by this production."

"I'm just proud that it's an American piece," Clark said. "It's an American bookwriter, an American composer. It's new, we're not doing a revival, and by god, you know there's a tour of it, and Peter Stone's getting honored all over the place, god bless him. And we watched all these guys just sit and sweat their butts off. I'm just totally delighted.' "

The youngest cast member, Charles McAteer, is convinced the best thing about last year was singing at the NBA All-Star game. "Better than winning a Tony," he grinned, "Oh, that was also fun."

But for Joan Weiss, a dresser for Titanic, nothing has changed. "I love the show but I hate the stairs. After a year of doing it, I'm still out of breath every time I come up those steps. Four levels. I actually counted them once -- 987 every show. I go to the basement, I come up. I run across, I run back, I go down, I come up . . . ."

So what is most meaningful to Weiss?

"My paycheck," she said on the run, " Definitely my paycheck!"





---
Amazing Journey - Official Web Archive for Michael Cerveris
Please send any comments about this page and contributions
to email - webmaster@michaelcerveris.com
copyright @1997-00