---



In the original script, Michael performed two roles: Thomas Andrews and Oceanographer, Robert Ballard.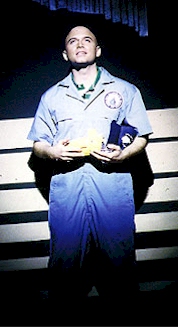 Ballard: real audio
"Ever since I first came here to the Woods Hole Oceanic Institute, I dreamed of one day finding RMS Titanic. With the loss of fifteen hundred and three men, women, and children, it was the greatest and most famous maritime disaster of this or any other century. And then on September 1st, .1985 at five minutes after one in the morning, I, Robert Ballard, became the first human being in 73 years to actually lay eyes on her.

Using the remarkable submersible search vehicle Argo, I found Titanic at a depth of two and a half miles, her massive rusted hull split in two. The great ship, which never even completed a single crossing, went to the bottom only 95 miles away from dry land and less than 36 hours short of her truimphant arrival in New York.
Cast:
A human metropolis
A complete civilization
Sleek and fast
At once a poem and the perfection of physical engineering
At once a poem and the perfection of physical engineering....

photo by Joan Marcus