---
"Of Cabbages and Kings"

Written by Ira Steven Behr
Directed by Debbie Allen

"Burn Down the Night" by Bob La Bounty
"The Ring of Love" by Vivian Ayers, D'Vaughn Pershing, HB Barnum & Debbie Allen

---
Mr Shorofsky's Classroom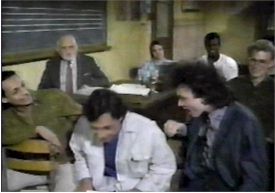 The students cheer Miltie on as he gets up
to perform his composition for the class.
Miltie:
I call this piece "Massacre"

He starts playing a familiar beat
on the drums.

Mr Shorofsky:
Stop!
That will be quite enough!

Miltie:
Something wrong?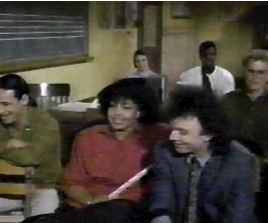 Mr Shorofsky:
You're assignment was to write and perform
an original piece of music not recycle "Wipeout".


The class laughs

Miltie:
I knew that sounded familiar.


Mr Shorofsky:
For three years now you've been
sliding through my class and
frankly I'm tired of it.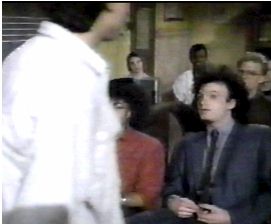 Miltie:
Don't take it personally, Mr Shorofsky.
I slide through all my courses.
Look, I know that I'm not going to
make a great performer.

Mr Shorofsky:
Then why are you here?

Miltie:
To meet the stars of tomorrow.
You know one day I'm going to
be a great agent. I mean what a gig-
they do all the work and I get 20%

Mr Shorofsky:
You mean 10%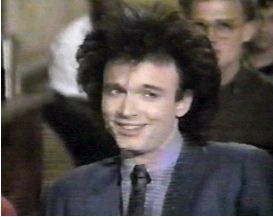 Miltie:
It's negotiable

The students laugh again

Mr Shorofsky:
I don't understand you Mr. Horowitz.
Surely there must be some form of
creative expression that interests you.

Miltie:
Not really.


Mr Shorofsky:
I refuse to believe that.
You do have talent, it's about time
you made an honest effort to use it.
I want you to redo this assignment.
Consider it your last chance to pass this course.

Miltie:
I must be good for a "C".

Mr Shorofsky:
You want a bet?

Miltie:
A "D"?
Look Mr Shorofsky, I can't write a song.

Mr. Shorofsky:
Try Mr. Horowitz.
Pass or fail. It's up to you.


---
Rehearsal Rooms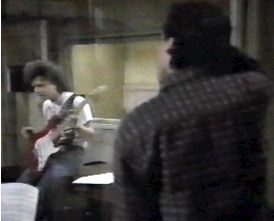 Miltie is at the piano trying to compose a
song for Shorofsky's class.
Ian is rehearsing a song with fellow students
in the room next door.

Ian:
That's better. Let's go again.

The other student begin to protest.



Ian:
It's still early, we've got time.

One two - one two three...

Next


---
---
Please send any comments about this page and contributions please
to email - webmaster@michaelcerveris.com