---
"The Crimson Blade"

Written by Richard Manning & Hans Heimler
Directed by Debbie Allen

Doug Logas - Darren Dalton
Ms Audrey Fleming - Alison La Placa
---
School Auditorium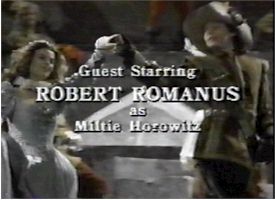 The students finish a performance
of "The Crimson Blade".



---
Lou's


Dusty:
I meant to tell you before Jesse-
you had a great performance tonight.

Jillian:
Yeah you were wonderful.
So bold and valiant and charming.
It must be fun playing the Crimson Blade
running around like Errol Flynn.


Miltie:
I thought we all looked pretty good.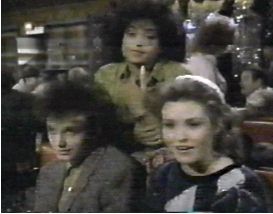 Jesse:
You did!

Ian:
He's right.

Jesse:
We all looked great.
It was a hell of a cast.
Me as the dashing hero.


Maxie:
Me as the lovely damsel.

Dusty:
And Miltie as the Wicked Governor.

Waitress:
Typecasting at it's very finest.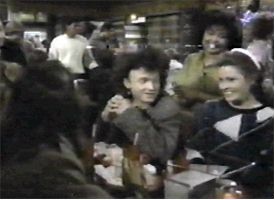 Miltie:
Very funny.

Waitress:
One for the hero and it's on the house

Miltie:
Hey wait a minute he gets a
free one and I don't.
Is that fair?

Jesse:
Who said Life was fair?


---
School Office: Morning


Ms Fleming, the new administrator is
being introduced to the staff.
There is much chaos as kids hurry off to class.

Shorofsky:
First time in the drivers seat huh?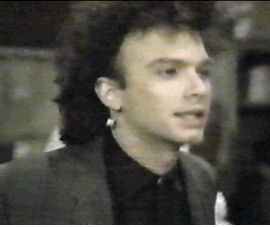 Ms Fleming:
Yes I just got my administration
license yesterday

Ian rushes into the office.

Ian:
Ms. Berg we need more chalk
in English Class


Ms Berg:
Under the computer

Ian:
Thanks love

Ms Fleming:
You seem a little disorganized around here

Ms Berg:
Oh, it's always like this in the morning.

Ms Fleming:
Oh really!

Shorofsky:
After a day or two you won't even notice

Ms Fleming:
I'm not sure that attitude
speaks well for these students

Ms Berg:
Oh they're good kids.
They're just a little noisy at times.

Ms Fleming:
I see.

Ms Berg:
I'll show you to your office.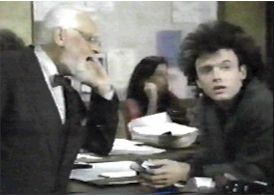 Ms Berg and Ms Fleming leave.


Ian:
Mr Shorofsky,
do you think we're too loud?

Mr. Shorofsky:
What?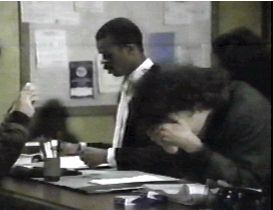 Ian:
I said do you think we're...

Ian sighs.


---
Mr. Shorofsky's Classroom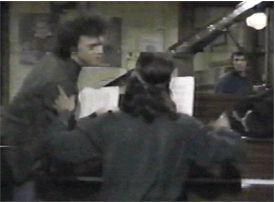 Ian passes around music to the
students who are rehearsing on the piano.
Jesse comes in.

Ian:
You're late.

Doug comes in.


Doug:
You're quite a quick change
artist aren't you?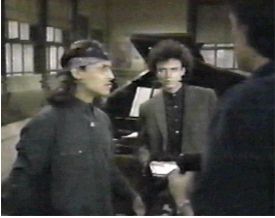 Jesse:
What are you talking about man?

Doug:
C'mon Mr. Crimson Blade
give me the bag!

Doug and Jesse fight over the bag.


Jesse:
C'mon are you blitzed man?
give me the bag!

Mr Shorofsky:
What's going on?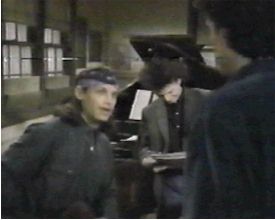 Jesse:
I don't know

Doug:
I'll show you
There...

He pulls some clothes out of the bag.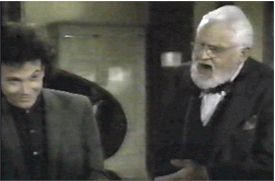 Jesse:
All right you got me man,
I confess to the dirty laundry!


Mr Shorofsky:
Mr Logan you're not even in this class.
Now let's get started.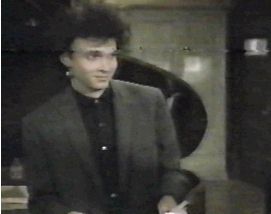 Doug:
All right.
I don't get mad.
I get even.




---
School Hallway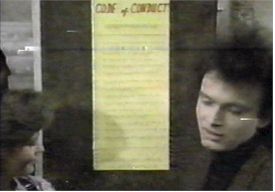 The students gather around a new notice
posted on the wall: "Code Of Conduct"

Ian: (reading from poster)
They can't mean it!
"Repeated infraction of these rules
will result in disciplinary action"



---
School Radio Station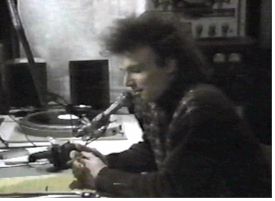 Ian:
make the School of the Arts
a better place to learn - unquote.
Well I think it's rubbish!
..and I urge you not to cooperate.
We've got to stand up to all this petty
harassment before the school is
overrun with tyrants.
Oh, I'm sorry I mean the hall police.
The school you save may be your own.



---
Lou's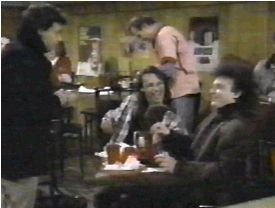 Miltie enters and goes to the table
where Ian and Jesse are finishing lunch.

Miltie:
Hey Ian I heard your radio show
the other day. Why'd you have to go
shooting your mouth off?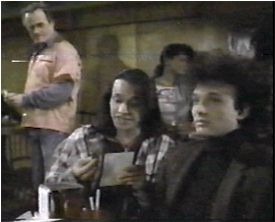 Ian:
What do you mean, it's an editorial!

Jesse:
Yeah!

Miltie:
Doug Logan is not gonna tolerate you
ranking on his hall monitors.
The guy is out for power
I know how he works.

Ian:
Well, sometime a lad has got to
stand up for what's right doesn't he?
Even if it gets him into soup heh?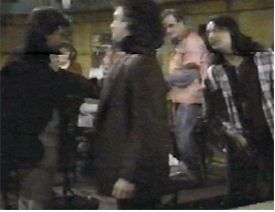 Jesse:
You're wasting your time trying to
explain that to Miltie here.
He never sticks his neck out for anybody.

Ian:
Oh, sure he does



---
School Hallway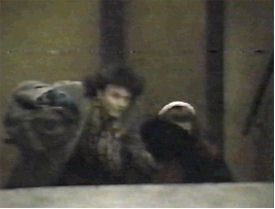 Ian and Jillian run in and quickly duck
so they won't be seen by the hall monitors

Ian:
Hide yourself!

Jillian:
I can't believe we're late!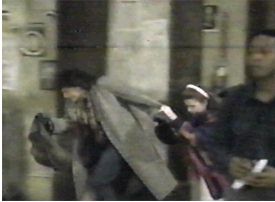 Ian:
Maybe we can make it
through the auditorium

They sneak across the hall
into the darkened auditorium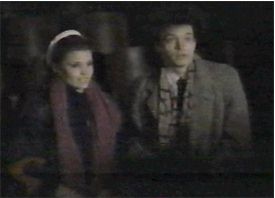 Doug Logan comes out of the
wings of the stage.

Doug:
Jillian and Ian!
Well what can I say?
- you're late!


Jillian:
It really wasn't our fault.
The subway was delayed.

Ian nods


Doug:
You know you really have to
for such things.
It's important to be ontime.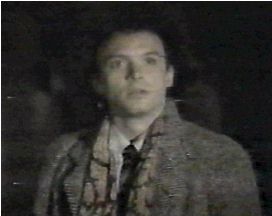 Ian:
Why don't you just give us the
citation and we'll be off to class

Doug:
You know I am going to let
Jillian off with a warning.
But I'm afraid I can't do the same for you.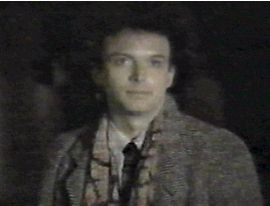 Doug:
Your display on the radio
hasn't made my job any easier.

Ian: (sarcastically)
That's a bleedin' shame.

Doug:
You can't be on the radio if
you're stuck in detention.
Think about that.


Ian:
This is how you get your jollies then?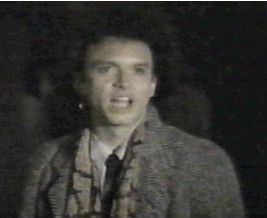 Doug:
I'm also writing you up for chewing gum.

Ian:
I'm not chewing any bloody gum!

Doug:
Well I say you are and
it's your word against mine isn't it?


Voice:
Wrong Logan!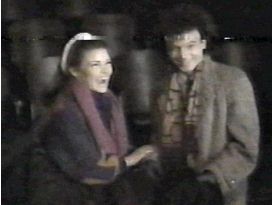 Doug:
Who's that?
C'mon out!

Voice:
Over here!

Auditorium fills with smoke.

Ian and Jillain run to class as Doug
chases the Crimson Blade through the school.

Next


---
page 1	  page 2	page 3
---
Please send any comments about this page and contributions
to email - webmaster@michaelcerveris.com