"Playing Dumb"

Theater Profile
Manhattan Spirit Through July 1, 1993

By Brian Maxwell

photo below: Crysta McCalush, Michael Cerveris, Tommy Hilfiger, Buddy Smith and Pete Townshend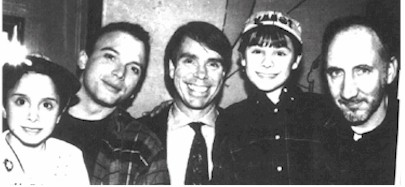 Not everyone can say "I'm doing exactly what I want to do and am completely thrilled about doing it."
But Michael Cerveris can and recently did.
Cerveris currently portrays the eponymous here of The Who's Tommy. His Broadway debut was greeted with a Theater World Award and a Tony Award nomination for Best Featured Actor in a Musical.
Although disappointed about not winning the award, he remains philosophical about the whole process.
"Initially, I was more excited about the original cast album we were recording when the Tony nominations were announced," Cerveris said. "But then you find yourself wanting to win something that was never really important to you because everyone keeps telling you "You're gonna win." Eventually, you just want it over with; it's like waiting for exam results—an added pressure that you don't need."
With typical self-effacement, Cerveris now worries that people may have mistaken the look on his face right before the award was announced as a smirk when actually, with his wig caught in a microphone wire, he was afraid he might have to to out on stage with a furry thing hanging down his back."
Hairpieces aside, the ever sanguine Cerveris bristles only at the suggestion that the Tommy of today might not be as tough as the original. "It's important to understand that Tommy comes back to embrace his family without whitewashing the problems of the past," Cerveris comments. "Tommy functions as an everyman character. He's anyone who has ever felt that reality is a little too much and then, consciously or unconsciously, shuts the world out. Eventually, however, he faces the fact that not everything is either good or bad and comes to terms with that."
"It's not simply a happy ending. It's just that he won't waste the rest of his life being angry."
The journey to that point allows Cerveris to transform himself from the withdrawn yet aware "deaf, dumb and blind boy" to the strutting Pinball Wizard. As he sings, "I'm a Sensation," he commands the stage and an audience knows that a budding star is in it's midst.
How does Cerveris sustain that intensity for eight performances a week? "I never get tired of the songs. I never get tired of the music. I feed off the energy of the score," he says." "And whatever annoying thing that has happened to me during the day I channel and get rid of it at night in front of 1,600 people."
Not bad for someone who recalls sitting in his bedroom in West Virginia with a hairbrush substituting for a microphone as he sang along to "Deep Purple." Yet Cerveris, educated at Phillips Exeter and Yale, has an Off-Broadway and regional background that includes delicate and poetic roles in Life Is a Dream, Maria Irene Fomes' Abingdon Square and Romeo and Juliet (opposite Phoebe Cates) at Chicago's Goodman Theater, as well as the rebel Crow in Shepard's Tooth of Crime.
It was the Tooth of Crime production in fact that led to his playing the rocker Ian Ware on television's Fame, which prepared him for Tommy. "I'm this really bizarre mix of classical actor and rock 'n' roll club crawler that was exactly needed for this show," he says matter-of-factly.
Others agree. Director Des McAnuff says "I knew from the moment of Michael's audition that he was the only one to play Tommy." And although he had to reaudition for the Broadway production, (a "long, agonizing process and period of waiting"), he emerged triumphant, as Pete Townshend's choice to interpret his creation.
After getting his role Cerveris spent a week in London with Townshend seeing the streets and houses which inspired the work. In La Jolla, where the theatrical Tommy originated, Cerveris and the cast sat for a week listening to the Who's music, "which seemed like a pretty great job to me," Cerveris says.
As he settles in for what looks like a long run, Cerveris is happy to be back in New York after living in Los Angeles. "I miss my car and big supermarkets of LA but I love the very close Broadway community here. After the show we go out and have a pint, unlike LA where everybody splits and drives off home."
Cerveris currently lives on Tenth Street. "I love the neighborhood. It's exactly where I want to be – if I'm a five minute walk from CBGB's, I'm okay."
Despite a year so far working on Tommy, Michael Cerveris says " I still wake up every morning and look forward to going to the theater." He may be a deaf, dumb and blind boy, but he's also a very, very happy one.
---
back to bio

Amazing Journey - Official Web Archive for Michael Cerveris
Please send any comments about this page and contributions
to email - webmaster@michaelcerveris.com