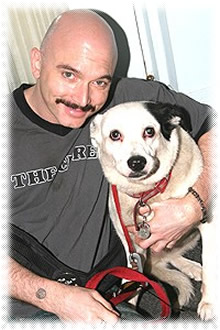 From Shakespeare's tragic hero Romeo to his arch villian Don John to rebel French poet Arthur Rimbaud...

From British rockers Ian Ware (tv series Fame); Tommy in Broadways' The Who's Tommy
to the German transexual rock diva Hedwig in Hedwig & the Angry Inch..to the tormented Giorgio in Sondheim's Passion...or his darkest role to date,Sweeney Todd.

He will be returning to the Great White Way again in Evita co-starring Ricky Martin and Elena Rogers

From perfoming alongside rock legends Pete Townshend and Bob Mould..
to writing, composing and fronting his own bands ..

Michael Cerveris, an impossibly versatile performer is leading what he has described as a "schizophrenic career"

One might say...an amazing journey ..
above: Michael and his dog Gibson (Bruce Glikas)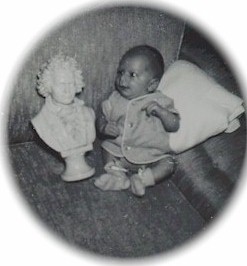 The journey began in Maryland. Growing up in an artistic household, his father a university professor of music and his mother a modern dancer -- music has always been an integral part of Michael's life. He recalls, "My first memory of growing up was listening to my father play piano." He and his younger siblings were each required to learn one instrument. At first, Michael was encouraged to try cello. His personal love of rock & roll would ultimately win out and he began playing guitar at age 10, taking formal lessons for a year and teaching himself by ear during the rest of his childhood.

He was introduced very early to performing. "When the university where my Dad taught needed a little kid for their productions I was often the kid they used. The first time I was ever on stage was about 2nd grade -- as one of the prince's little friends in "The Caucasian Chalk Circle." So when you start out your theatrical career with Brecht at the age of 7 or 8 you know you are in for the long haul."

His father's university position necessitated that the family move often, finally settling in Huntington, West Virginia which he considers his home town. This made it difficult to make friends. Spending his last two years of High School at Phillips Exeter Academy, Michael says "I always felt I was on the outside, a fringe member of every clique. It wasn't until I got a small part in a play, 'The Comedy of Errors,' that I found a place where I felt I knew at least as much as the people around me. In the theater, I felt at home". Michael also gained enough confidence to join his friends in persuading school officials into creating "a rock band class". It was there, in the 8th grade where he formed his very first band named Ukiah. "Basically, just once or twice a week, we would go into the music room with instruments that the school bought for us and just make noise."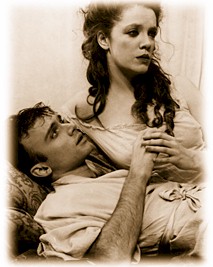 His music education continued throughout college. Attending Yale University, he had the opportunity to study voice with Blake Stern from the music school who had him singing German lieder and Italian songs.

Upon graduation, he went to New York, where he waited tables, dressed windows at F.A.O. Schwartz and played extras in soap operas between auditions. He continued studying under the tutorage of Calvin Remsburg. Michael says, "[he taught] without trying to make me any particular style of singer. I learned basic vocal production that you can take and apply to any style."

He then traveled across the country participating in repertory theatre productions.
He performed lead roles in classics such as Romeo and Juliet and A Midsummer Night's Dream as well as many cutting edge contemporary plays like Sam Shepard's Tooth of Crime and Total Eclipse by Christopher Hampton.

(left: Michael & Madeline Potter in Abingdon Square)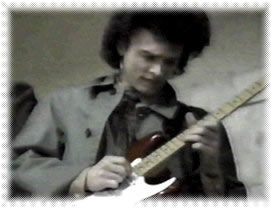 In 1986, he was cast as British Rocker Ian Ware in the acclaimed television series Fame. Bringing great poignancy as well as a sense of humor to the role, Michael was also able to display his singing, dancing and finely tuned guitar skills in a variety of musical styles including ballads (After Dark), classic (Rock and Roll Will Stand) and punk rock (No Feelings), vaudeville, country, jazz (Private Eye) and showtunes.

Never one to miss an opportunity, his time off camera was spent sitting with the writers, directors and producers absorbing the entire process.

Ian's Girl: "After Dark" real audio real video
Go Softly Into Morning: "Private Eye" real audio

(at right: in Fame)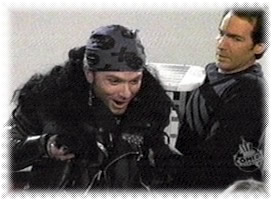 When the series ended the following year, Michael continued appearing in guest roles on series such as Quantum Leap, The Equalizer and 21 Jump Street. His endearing portrayal of father-to-be, Bobby Krull on the HBO series Dream On perfectly showcased his natural comic ability. He also went on to movies including the science fiction thriller Steel and Lace and the comedy Rock and Roll High School Forever.




(left: in Dream On)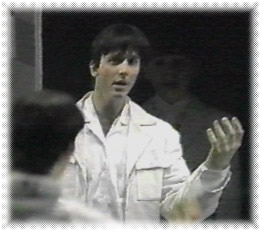 During this period, he never strayed far from the theatre stage, which he still believes is the most satisfying, purest acting experience. And in 1992, Michael originated the role of Tommy in the World Premiere of Tommy at the La Jolla Playhouse in California. Learning to ride a bronco pinball machine and sommersault gracefully high above the stage on wires was only the beginning. Michael conducted research into Autism, listened to music and ultimately looked into himself, creating a brilliant heartrending portrayal of the blind, deaf, dumb "pinball wizard".




(right: Michael as Tommy)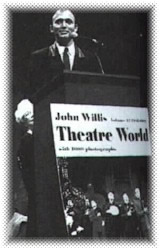 His electrifying performance was embraced by audiences and critics alike. Tommy author Pete Townshend was so impressed he asked Michael to perform with him at special appearances during his "Psychoderelict" tour. They were also often spotted in unannounced performances around New York City. It was this role that finally led to his debut on The Great White Way.

He earned a Tony Nomination for Best Featured Actor and won the Theatre World Award. His first CD recording also earned the show a Grammy for Best Original Cast album.


" Tommy" on Tony Awards 1993 real video mpeg(high bandwith only)
"Pinball Wizard" on CBS This Morning real audio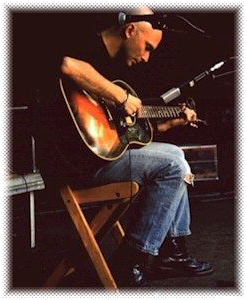 After triumphing nightly on Broadway, Michael continued to return to his first love -- composing and performing his own material. He asked fellow musicians Alice Ripley, Shannon Ford and John Jinks to join him and together they formed the alternative rock group lame. Playing first for Broadway Cares/Equity Fights AIDS, they continued at a number of clubs, NYU and had a regular slot at Sin-E, an Irish coffeehouse in New York. "The Band gives me as much energy as it takes from me -- just to have another creative outlet."

"Tenth Grade" on Break a Leg '93 real video '96 real audio
"Individual" Live @ Wetlands mp3 real audio
"Sleepwalking" '96 real audio mp3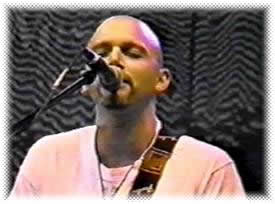 With breathless whispers building to achingly beautiful wails, Michael created an intimate soundscape littered with unforgettable images ("eyes like the eyes when a baby wakes"/ Brynn ) and often biting prose ("where I go bridges burn/your open wounds deserve salt"/ Individual). Images in wildly upbeat songs were just as striking and appropriately comical ("I want to write your name on my shoes"/Tenth Grade), ("wish I had an ocean in my bathtub where I could wash away my worries"/What I have). Dues were also paid to some of their rock influences with covers of The Ramones' "Sheena is a Punk Rocker" and "Frank Mills" from Hair. Led by Michael's agility, passion & guitar prowess lame engaged audiences in a rousing sometimes dizzying release of emotion.


He took Tommy to Germany for the European premiere for two years after that, continuing to play outside the show at festivals and clubs in the Frankfurt area with a German incarnation of lame. Like their American counterparts, German fans were quickly won over by his artistry, energy and his compassion which extended on and offstage. After 1,403 performances as Tommy, when the curtain fell on the final performance in Offenbach, upon Michael's initiative, the cast reunited one last time for a special benefit open air concert with all proceeds going to "Tommy Hall" - a therapeutic center for physically and mentally challenged children. Inspired by Michael's work, many of his German fans formed a "Tommy club" which continues to raise money for the Hall and support German musicals.

"I'm Free" live Tommy Benefit Concert Offenbach, 1996 real audio mpeg (high bandwith only)
"Once a Child" lame Live @MTW ''96 real audio real video
"Behind Blue Eyes" (written by Pete Townshend) live Germany real audio real video mpeg (high bandwith only)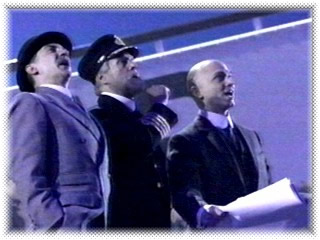 At last, he returned to the Broadway stage in the Original Cast of Titanic in 1997. As ship designer Thomas Andrews, he provided the moral center of the drama. His stunning performance of "Mr. Andrews' Vision" every night allowed the audience to experience the anguish, fear and despair of the doomed passengers. The show went on to win 5 Tony Awards including Best Musical.

"Mr. Andrews' Vision" real video real audio




(left: David Garrison, John Cunningham & Michael in Titanic)


Michael continued to work outside his role in Titanic in various other theatre projects. He performed a reading of The Wild Party for the Manhattan Theater Club and joined cast members of The Scarlet Pimpernel in a reading for a new rock version of Romeo and Juliet orchestrated by Terrence Mann. He went on to participate in a reading for new musical comedy called Joe! with fellow Titanic cast member Brian d'Arcy James. On May 10th and 17th, he narrated two benefit concerts of Chess for Broadway Cares/Equity Fights Aids.

On May 11, 1998, NY audiences once again were able to see and hear him off Broadway when he rejoined original "lame" band members in an exciting reunion performance at the Wetlands Preserve in Manhattan.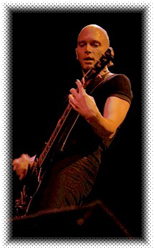 After completing 501 performances as the designer of the fateful ship, Michael returned to his love of rock -- first for a limited four week run taking over for writer and star John Cameron Mitchell as lead in the smash Off Broadway musical Hedwig and the Angry Inch and then performing in the most celebrated rock venues around the world with alternative legend Bob Mould on his final electric tour - the Last Dog and Pony Show. The tour was captured live on the CD, BobMouldBand:LiveDog98, available through www.granary-music.com.


Traveling throughout the US, Canada and UK on an exciting yet relentless schedule did not slow him down. With characteristic stamina and spirit, he followed the tour with a flurry of projects: spending time in Glasgow and Germany -- attending a charity dinner for "Tommy Hall", playing bass on a new CD (Blue Lava Style) for rock group See Saw and looking into the long anticipated possibility of releasing his own material. At the dawn of the new year, he teamed up with longtime friend Norman Blake (Teenage Fanclub) and began initial recording of Michael's limited release album Hinterlands (www.Retriever-Music.com)


(right: Michael with Bob Mould Band Live at Fillmore)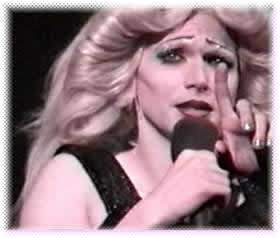 In 1999, Michael stepped back into the role (and heels) which stirred audiences the previous summer - Hedwig. Kicking off the New Year right with a highly charged concert at Radio City, he stomped the stage, rattled the roof, sprinted up the stairs into the upper Mezz of the famous Hall and even took the time to show off a few new guitar licks.

"Midnight Radio" live @ Wetlands real video
"The Origin of Love" Live real audio

"Substitute" Live @ Wetlands, NY - mpeg (high bandwith only) real video
with Michael, John Cameron Mitchell, Miriam Shor, Kevin Cahoon & Lisa Datz

(left and below: Michael as Hedwig)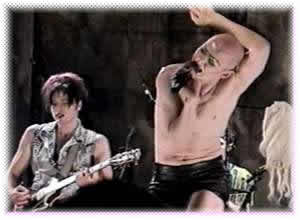 Performing the role for eight months in New York, Michael took Hedwig to other venues including Irving Plaza, Bowery Ballroom, the Wetlands and then ultimately from East Coast to West -- opening in Hollywood.

The show, "a tour-de-force with the emotional impact of a tornado" called on all of Michael's skills as an actor and musical performer. The New York Times raved "Cerveris is...capitvating, mesmerizing and enthralling". Variety elaborated, "Michael Cerveris delivers a superb performance in this polished, energetic mix of monologue, rock concert, German-style cabaret and downtown performance art. ...Cerveris' physical and vocal versatility is outstanding, and he delivers with equal authority exuberant rock songs and softly ironic monologues."

Backstage West declared Michael a "musical theater national treasure" and later presented him with the 1999 Garland Award for his performance.

After leading Hedwig to a spectacular Hollywood size opening - producers quickly began sending him movie and television scripts. His first choice was a quirky action comedy - The Mexican. He said, "It's a great script and a nice, small, but memorable role." The movie also starring Julia Roberts, James Gandolfini and Brad Pitt opened in 2001. Interview Magazine listed Michael's performance among "the top 10 Annual Two minutes or less Oscar Worthy Performances". At the same time, Michael also coordinated the makers and producers in preparations for bringing the überdiva Hedwig across the Atlantic for the UK premiere in September of 2000.

During his time in Europe he recorded two musical projects. The first was a collaboration with Charlotte Hatherley, of rock group ASH. Michael says , "It's all new and really cool." Then - after several visits to lay the groundwork - Michael returned to studios in Glasgow to record his long awaited first album of his own songs under the band name Retriever. This album, hinterlands, includes new versions of songs previously only heard in concert as well as compositions he wrote during the previous year. 2001 also marked the year that one of Michael's songs, "Star" was picked up by radio. Retriever gained a loyal following, playing in venues such as Mercury Lounge, CBGB's and The Vanderbilt - opening for Joan Osborne.

In March of 2002, he co-starred on the FOX TV series, The American Embassy. Creators of the show were so impressed by Michael's songwriting, Retriever was cast as Michael's character's band and plans were made to write episodes based on his songs. Although FOX only showed four of the six episodes filmed during the Mid-Season, it received many terrific reviews and inspired viewers to start a campaign to the save the show.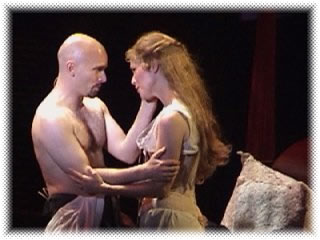 Within the very week following the cancellation of the series, organizers of the celebration of the works of Stephen Sondheim at Washington DC's Kennedy Center offered Michael the lead role in Passion. Judy Kuhn (Les Miserables, Chess) as Fosca and Rebecca Luker (Phantom, Secret Garden) as Clara rounded out the "trio of glorious lead actors"--Baltimore Sun. The show was immediately hailed as the highlight of the entire Celebration and Michael was singled out not only for his extraordinary performance but also for making the notoriously difficult show heartbreakingly accessible.

The New York Times raved: "In Eric Schaeffer's splendidly confident restaging of "Passion," Mr. Cerveris gives a performance of such emotional transparency that it hurts. It's the sort of performance that makes you ask where he's been all our lives...And you start to regard the brooding "Passion" not as an anomaly in the Sondheim canon but as its Rosetta stone."

Michael reprised his acclaimed role as Giorgio first in a Sondheim Celebration Lincoln Center, NYC and later in a full concert of Passion at the Ravinia Festival in Chicago with Patti Lupone and Audra MacDonald taking over as Fosca and Clara.

In Spring of 2003, Michael gave a touching performance as the paraplegic Vietnam Vet, Ken Tally in Lanford Wilson's critically praised Off-Broadway drama The Fifth of July. Later in the year he did an about turn in a hilarious portrayal of Francois - a smarmy yet sexy Frenchman in the Charles Mee comedy Wintertime.

In 2004, Michael reached two career milestones- first the release of his debut album, Dog Eared and in the Spring, Michael was presented with the Tony Award. The year also saw Michael appearing in not one but three Sondheim musicals.

Michael's wide release debut album hit the stores in February. The "beautifully crafted and original" CD quickly gained praise and was featured on shows such as MTV's Real World. "Cerveris turns pathos into pop redemption" (Amplifier) Time Out described it as "the very model of the modern Breakup Record, with its emphasis on acoustic guitars, uncertain melodies and hushed, tremulous singing, Dog Eared most recalls the work of the late Elliott Smith." You can find out more about the CD and look for upcoming gigs at www.Cerveris.com



He flew to Chicago for a month to do another fabulous comic turn as Count Carl Magnus in Gary Griffin's production of A Little Night Music.

In March, Michael returned to the Broadway stage slipping into the role of John Wilkes Booth in the long awaited production of Stephen Sondheim and John Weidman musical Assassins.


From "dynamic", "swashbuckling" and "matinee idol" to "coldly compelling" "violence seems to drip from his teeth when he speaks"..."the pinnacle of the pantheon in this Satanic vaudeville".... Since it's opening, critics singled out Michael's hauntingly complex performance.

He was honored by the Outer Critics Circle and in June of 2004, Michael received the Tony Award for Best Featured Actor in a Musical. The show also went on to win 5 Tony Awards including Best Revival of a Musical.

In September, Michael gave one of his finest performances at the Chicago Ravinia Festival in the title role of Sunday in the Park with George.

above: Michael wins 2004 Tony Award (Bruce Glikas)

MIchael then returned to Broadway giving one of his most chilling and brilliant performances as Sweeney Todd. John Doyle's new innovative take on the show. Instead of having an orchestra he had all the actors play instruments as they were performing. Michael played guitar for certain scenes and his costar Patti LuPone even played a little Trombone. The show was universally praised by critics and audiences. The show was nominated for several awards and Michael was nominated for Best Actor.

After Sweeney Tood, he starred in the new production, LoveMusik as Kurt Weill.

Right after he gave a dignified and emotional performance as Posthumous in Shakepeare's Cybelline at Lincoln Center.

n June of 2008, Michael just completed filming the new big screen fantasy/action movie Cirque du Freake. He stars as Mr. Tiny. The movie is being directed by Paul Weitz (of American Pie and About a Boy). Lauren Schuler Donner (The X Men trilogy) is producing for Universal,
It also stars Salma Hayek as Madame Truska, John C. Reilly as Larten Crepsley, Patrick Fugit as Evra Von and Josh Hutcherson as Steve.
Cirque Du Freak is based on a popular series of young adult books by Darren Shan. There are twelve books which are planned to be divided into a trilogy.

Michael will be returning to Broadway in March 2012 in Evita, co-starring Elena Rogers and Ricky Martin.


Michael's extensive career on the boards has made him the consummate performer. Whether he is donning the masks of comedy and tragedy or loosing his inner passion for rock and roll, the transformation is seemingly effortless, the result breathtaking.

His commitment to his craft is complete.
His joy of performance is contagious.
And he reaches his audience on every emotional level,
touching their hearts and minds, flooding their souls with inspiration.

And the journey continues...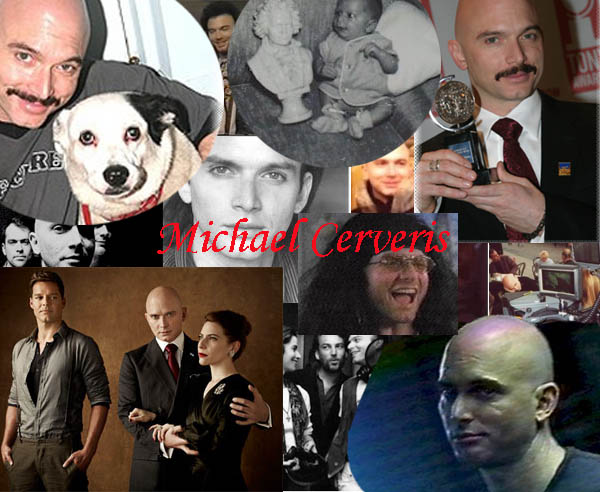 Regional Theatre

King Lear (2007) as Kent
The Apple Tree (City Center, NYC, 5/12-16/05) as Snake, Balladeer and Narrator
Spring Awakening (Lincoln Center, NYC; 2/2/05) as the Stranger
Sunday in the Park with George (Chicago Ravinia Festival) as George
The Booth Variations (59E59 Theater, NYC, 8/5-12/04) video performance as John Wilkes Booth
Wintertime (McArter Theater, NJ & Second Stage Theater, NY) as Francois
A Little Night Music (Chicago Shakespeare Theatre, Chicago) as Count Carl Magnus
The Fifth of July (The Signature Theatre, NYC) as Ken Tally
Much Ado About Nothing (La Jolla Playhouse, San Diego) as Don John
El Dorado (South Coast Repertory, Costa Mesa, California) as Nestor
Dogs (West Coast Ensemble, Hollywood, California)
Romeo and Juliet (Lowell Davis Festival Theatre, San Diego) as Mercutio
Measure for Measure (Old Globe, San Diego) as Claudio
Romeo and Juliet (Goodman Theater, Chicago) - as Romeo
Blood Sports (NY Theater Workshop)
Abingdon Square (American Place Theater. NY) - as Frank
Tooth of Crime (Hartford) - as Crow
Eastern Standard (Seattle Repertory Theater, Seattle) as Peter
Richard II (Mark Taper Forum, LA) - as Duke of Aumerle
Midsummer Night's Dream (Dallas Theater Center, Dallas) - as Puck
Romeo and Juliet - as Romeo
Total Eclipse (Westside Arts Theater, NY) - as Arthur Rimbaud
Life is a Dream (Ark Theater Company, NY ) as Astolfo
Green Fields (American Jewish Theater,NY) as Levi-Yitskhok
The Games (Brooklyn Academy of Music, NY) as the young man
Macbeth (Ark Theater Company, NY) as Malcolm
Nothing Sacred -(Northlight) as Bazarov
Moon (New York) as Marco
The Picture of Dorian Gray (Philadelphia Wilma Theater) as Dorian

Other Projects



For more see Other Projects
Cerveris Live @ Sin-E
Sin-E, NYC 10/29/04
And the Beat Goes On: Music Rocked the Movies
The Knitting Factory, NYC 10/22/04
Passion 10th Anniversary benefit
Ambassodor Theater, NYC 10/20/04
Cerveris Live @ Rattlestick
Rattlestick Theater, NYC 10/16/04
Cerveris Live @ Makor
Makor, NYC 10/13/04
Voices for Change (benefit for Kerry)
Ars Nova, NYC 10/11/04
The Waitress (reading)
East 13th Street Theater, 10/5/04
Loser's Lounge Tribute to David Bowie
FEZ, NYC 10/1, 2, 8, 9/04
Broadway Unplugged
Town Hall, NYC, 9/27/04, performed "Finishing the Hat"
Cerveris Live
The Millennium Stage, Washington DC, 8/24/04
Voices of Peace and Dissent
Tribecca Playhouse, NYC 8/16/04
The Booth Variations
59E59 Theater, NYC 8/5-22/04 video performance & compose music
Loser's Lounge Tribute to James Bond
FEZ, 8/6&7/04 performed "Live and Let Die"
Loser's Lounge Tribute to Serge Gainsbourg
FEZ, 7/16&7/04 performed "The Ballad of Melody Nelson"
Cerveris Live @Joe's Pub
Joe's Pub, 7/12/04
Broadway Barks 6
Schubert Alley, 7/10/04
The Wedding Party
Manhatten, 6/27/04 performed "the Book of Love"
Loser's Lounge Tribute to Prince
FEZ, NYC 5/30/04 performed "Get Off"
Cerveris Live @ Tonic
Tonic, NYC 5/2/04
Cerveris Live @Edge Theatre
Edge Theatre, Brooklyn 3/29/04
Loser's Lounge Tribute to James Bond
FEZ, NYC 2/6&7/04
Bernstein Gala
Hudson Theater, 11/24/03
Reading of Caveman in the Hedges
Bubby's NYC 10/27/03
Michael joins Benefit at Lambs Theater
Lambs Theater 11/3/03 performed "Pinball Wizard"
:Loser's Lounge Tribute to the Zombies
FEZ, NYC 11/7 & 8/03 performed "Hung On to A Dream"
Zipper Theater June 2003
The Zipper Theater, NYC 7/28/03 performing his own songs
Sh-K-Boom Closing Night
The Zipper Theater, NYC 7/28/03
Losers Lounge Tribute to Serge Gainsbourg
FEZ, NYC 7/11, 12 & 14/03 performed "The Ballad of Melody Nelson"
Losers Lounge Tribute to XTC
FEZ, NYC 6/13/03 performed "25:00"
And the Beat Goes On: June 2003
The Bottom Line 6/03 performed "Anarchy in the UK"
All Star Irish Rock Revue
Mercury Lounge, NY 3/14/03 performed "Peace, Love and Understanding"
Michael joins Southpaw Seven
Southpaw, Brooklyn, NY 3/11/03 performing his own songs
Loser's Lounge tribute to The BeeGees
FEZ, NYC 2/12 & 14/03 performed "World"
Losers' Lounge Tribute to Simon & Garfunkel,
FEZ, NYC 12/11,13,14/02 performed "America"
Losers' Lounge Tribute to Elvis Costello,
FEZ, NYC 10/11,12,13 /02 performed "Everyday I Write the Book"
"And the Beat Goes On" Concert Series
The Bottom Line, NYC 10/4/02 performed "Rock and Roll High School"
Michael Cerveris Live @Millennium Stage

Kennedy Center, Washington DC, 8/18/02
LiveDog98: Bob Mould Band Live Forum, UK
Losers' Lounge Tribute to Brian Wilson
Westbeth Theatre, NYC 1/24 &26/02 performed "God Only Knows"
"And the Beat Goes On" Concert Series
The Bottom Line, NYC 7/14/01 performed "Who Loves the Sun"
Loser's Lounge Tribute to Paul Williams
Westbeth Theater, NYC 6/8 & 16/01 performed "You and Me Against the World"
Love Me Or Leash Me: 50 Simple Ways to Keep Me a Happy, Healthy and Well Behaved Companion".
Michael has written a piece about his beloved dog Gibson for the book. Now available from Black dog and Leventhal Publishers,
the book includes a photo of Gibson taken by Charlotte Hatherley along with many other photos by 'Petographer' James Dratfield
and words of wisdom for any dog owner looking to make their happy pet even happier.
Some of the proceeds will go to benefit of animal organizations.

Club Makeup
El Rey Theater, CA 5/5/01 Tribute to Andy Warhol. performed "Young Americans"
Club Makeup
El Rey Theater, CA, 3/4/00) Monthly celebration of glam & glitter at the El Rey Theater. Fashion Show.
Broadway Barks (Shubert Alley, NYC 7/26/99)

"L'Histoire du Soldat" (Arizona State University West, 5/7-9/99)
as the Soldier
CD: Blue Lava Style
Germany, 11/98 performed bass with See Saw
Hedwig & the Angry Inch in Concert
The Last Dog and Pony Show World Tour - (9/10/98 - 11/6/98)
Lame Reunion Concert (Wetlands Preserve, Manhattan/ 5-11-98)
Chess Benefit Concerts (John Houseman Theatre, NY/5-10/17-98) as Narrator
Joe! (Lambs Theatre, NY/5-4-98) as Joe's Dad
Romeo and Juliet
NY,4/98 Reading as Tybalt & Prince
The Wild Party

Manhattan Theatre Club, NY/4-98 as Burrs
Tokyo Pop

- Original Motion Picture Soundtrack

Television:

Series:
Fringe as "the Observer", 2009 to present
The American Embassy as "Gary Forbush", 2002
Fame as "Ian Ware" Season 5, 1986-87

Guest Appearances:

Law and Order Criminal Intent (2008) episode "Depths"
Popped In/Crashed Out (10/20/01) as himself
The show is part chat and part quiz show. Celebrities recline on sofas while Phil Alexander (editor of rock music magazine Kerrang!)
 tests their knowledge of pop music and videos. Aired on ITV Friday October  20th after midnight. 

CSI: Crime Scene Investigation (5/17/01) as "Syd Goggle"
Dream On  "And Bobby Makes Three" (8/18/93) as "Bobby"
Quantum Leap "Glitter Rock" (4/10/91) as "Nick"
21 Jump Street "Back to School"  (10/20/90) as "Ray"
The Equalizer   "Race Traitors" (6/29/89) as "Nick Kaminsky" 
The Equalizer "Last Call" (3/23/88) as "Frankie"
Leg Work "The Best Couple I know" (10/17/87) as "Johnny Dark"
The Tracey Ullman Show (5/17/87) "Vive La Difference" as "Vic"

Doubletake (TV movie drama/1985) as "Gary Prine"