Q: Where does one go after performing in the most celebrated rock venues in the world?

A: Radio City Music Hall.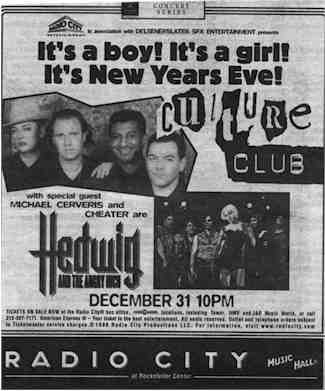 Just ask actor, composer and musician Michael Cerveris, who returns to NY this week after a whirlwind World Tour with The Last Dog and Pony Show. Michael will be stepping back into the role (and heels) which earned him both audience and critical acclaim last summer in the smash Off-Broadway rock musical Hedwig and the Angry Inch.

"I'm very excited to be returning to Hedwig and reuniting with Cheater, Miriam, and all the Jane Street crew. The show is still about the best thing in New York theater-wise and it's about the only way I can see coming down from the LDAP tour. I'm back at the gym daily now in anticipation of those costumes."

John Cameron Mitchell, writer and current star leaves January 3rd to take the tale of the rock überdiva to the big screen.

Before returning to that cozy little theater down on Jane Street on January 4th, he will rattle the slightly larger roof of Radio City, kicking off an exciting New Year's concert with Culture Club. He is eagerly anticipating the opportunity to perform at the famous Music Hall, "It's going to be a very surreal thrill and a great finish to a remarkable year. "

Audiences have seen him valiently struggle to keep the doomed ship afloat as Titanic designer Thomas Andrews and alternatively tearing down the roof and emotional walls of the East German transexual rock diva Hedwig. In May, they saw him sans costume performing his own rousing yet bittersweet compositions when he performed at the Wetlands reuniting with New York lame bandmates Alice Ripley, John Jinks and Shannon Ford. Then a worldwide audience saw him sharing the stage with alternative legend and Hedwig fan Bob Mould.
After the exciting and sometimes grueling tour schedule which took him across the US, Canada and the UK, Michael stayed in Europe for a few weeks - spending time in Glasgow and Germany -- attending a charity dinner, recording a new cd and catching up with friends.

On Sunday, November 15th at 6 pm, Michael was honored guest at a charity dinner for "Tommy Hall" at the ristorante Dino in the Luisenstreet 63 in Offenbach, Germany. "The benefit dinner in Offenbach was really nice. A great chance to reconnect with the Tommy Fanclub folks, friends from the town and former lame bandmates."

Michael founded "Tommy Hall", a rehabilitation center for mentally & physically challenged children in 1996 along with fellow Tommy cast members in a benefit open air concert. Although the concert was a tremendous success, the building of the center had been in limbo due to poor management. The benefit dinner is the beginning of a new series of fund-raising events to help push the efforts forward. Michael is hopeful about the future of "Tommy Hall": "This time, the organizers seem well prepared and I hope their goals to finish the fundraising and start building by the millennium can be realized. I'd like to be returning to celebrate the laying of the cornerstone before too long."

In Weilheim outside Munich, Germany, Michael re-entered the recording studio, playing bass for the German rock group SeeSaw. SeeSaw, a young, hip group, opened for lame in 1996 at the MTW club in Offenbach.
Michael reunited with his friends. "They're great guys and their album is going to be great.
They asked me to play bass on six songs and I discovered that I actually can play bass OK", he says with characteristic modesty. "I had a blast."

Double T Records in Germany will release the cd in Spring of 1999. Stayed tuned to Amazing Journey for ordering information.

Michael also spent some time in the beautiful countryside of Scotland. "I also had a fantastic time in Glasgow with friends there. If I ever moved out of the US, it might be there. The music scene is so varied and supportive and friendly. I met members of the Pastels, BMX Bandits, Superstar and Belle and Sebastian--all terrific bands. Plus got to see the "Teen Fannies" play at the Grand Old Oprey Glasgow which was great fun."

His time there also brought up the long awaited possibility of releasing his own material. "Norman (manager of Teenage Fanclub) and I talked about working on some things together which I would love. Maybe I'll release some music this coming year (finally)."

"My life/career is more filled with left-field thrills than I could ever have hoped for.

What am I going to do in 1999 as a follow up?" he muses, "Time to call The Artist..."


where:
New Year's Concert with Hedwig and Culture Club
Radio City Music Hall
1260 6th Ave
New York NY 10020

when
New Year's Eve: Thursday; December 31
Show: 10:00

how much
Tickets available through Ticketmaster
VIP $77
Orchestra, First Mezz & first 5 rows of 2nd Mezz - $67
Rear 2nd Mezz - $57
3rd Mezz - $47
phone: 212-307-7171
or at Radio City box office
50th Street and Avenue of the Americas
Open 10AM-8PM Monday-Saturday, 11AM-8PM Sunday

Hedwig and the Angry Inch -- Off Broadway
113 Jane Street, NY, NY
tickets available through Telecharge

back to bio