"raise the Titanic: Will an epic new musical float on Broadway?"

Elle Magazine
by Lisa Kogan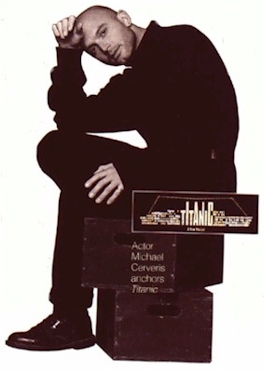 On April 10, 1912, the R.M.S. Titanic, containing, among other things, a gymnasium, a squash court, a Turkish sauna, a swimming pool, three libraries, an original jewel-encrusted copy of The Rubaiyat of Omar Khayyam, 20,000 crystal drinking glasses, and 1110 pounds of marmalade, set sail from Southampton, England, to New York. It was-no irony intended--the last word in luxury. Indeed, the only thing the fabled White Star Line seemed to skimp on was lifeboats.

What emerges eighty-five years later is a new Broadway musical, Titanic. "The Titanic is almost more metaphor than actual event," says actor Michael Cerveris, who, as the ship's builder Thomas Andrews, is the voice of doomed grace and the play's moral center. "The boat went down in the midst of a cultural, political and economic revolution, so what the disaster came to symbolize depended on who you spoke to."
The West Virginia raised actor pauses for a sip of ginger ale.
"I think the Titanic is about fate responding to the idea that man could conquer nature at will."
Michael Cerveris conquered Broadway in 1993 with his searing and lyrical performance as Tommy in Pete Townshend's groundbreaking rock opera. But where Tommy is a classic, Titanic (even with book and music by Tony Award winners Peter Stone and Maury Yeston) is a strictly sink or swim proposition. Cerveris welcomes the challenge: When conversation turns to how tempting it is for critics to imagine a musical in which Gopher from the Love Boat pirouettes around a giant neon inner tube, his smile develops like a Polaroid, getting brighter as it comes into focus. He recalls the themes of some other unlikely hit shows; the Jews of Anatevka fleeing pogroms, lovers torn apart by gang violence, and the plight of impoverished junkies dying of AIDS, better known as Fiddler on the Roof, West Side Story and Rent.

True enough, but Tevye, Tony and Angel didn't have to drown eight times a week.

"Fortunately, I don't have to either," Cerveris says, laughing. "I only get crushed to death by a piano."


back to bio
---
Amazing Journey - Official Web Archive for Michael Cerveris
Please send any comments about this page and contributions
to email - webmaster@michaelcerveris.com