---


No Longer Homeless

Flatiron News, Holiday Issue 1997 Volume 3 No 5
Meet Your Neighbor: Habitat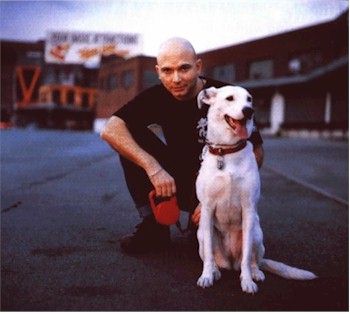 Michael and Gibson

"Michael Cerveris Goes Down With His Ship"
by Henry Edwards

After graduation from Yale drama school, Michael Cerveris spent the next three-and-a-half years crashing in 13 different New York apartments. A lot has happened since then, including a five-year stint on the syndicated series Fame, and on Broadway triumph as deaf, dumb and blind Tommy Walker, the mythological hero of The Who's Tommy.

These days, Michael can be found prowling the deck as ship designer Thomas Andrews in Broadway blockbuster Titanic. In theatre parlance, the "eleven o'clock" number is the showstopper that precedes the finale. Taking full advantage of this cherished theatrical moment, Michael draws blood with his impassioned reading of "The Blame", which exposes the all too human frailties that provoked the catastrophic sinking of the great ocean liner.

Titanic has gone on to earn five Tony Awards, including Best Musical. But Michael, who goes down with his ship, inevitably feels "melancholy" after the curtain comes down.

One thing that cheers him up is his recent purchase of a one-bedroom co-op. Relaxing in his living room after a Sunday matinee, the soft-spoken sensitive Broadway star confides that his soul really belongs to rock and roll. During the run of Tommy, he formed a band, and a living room closet houses his guitar collection. Photographs of him jamming with Pete Townshend are on permanent display nearby.

Michael is also cheered by his dog, Gibson. Three years ago, he spotted the animal at the ASPCA. Bowled over because she resembled Nipper, the RCA dog, the actor adopted her on the spot.

Michael pats Gibson's head. "This is really the first time in my life that I've put roots down." he announces.

He looks and sounds genuinely astonished.
And exceptionally pleased.

Michael Cerveris's Flatiron Picks

Favorite Hangout: Tramps
(45 West 21st Street).
"The shows are later than anybody else's.
Their booking policy is eclectic and untrendy.
The room is a little shabby, which I think is quite right for rock and roll."

Favorite Restaurant: La Lunchonette
(130 Tenth Avenue).
"I love the fact that it's in the outer reaches.
It's also the only French bistro that I've ever seen with a Madonna shrine."

---