Playbill Online Interview, April 23, 1997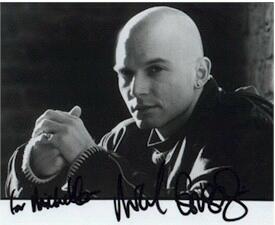 Asked what research he used to prepare for the role of ship designer Thomas Andrews, Michael Cerveris told Playbill On-Line he'd initially hoped to go to Belfast, Ireland, to see the Harland & Wolff company who built the original Titanic.

He couldn't make the trip but did trade many faxes with the people there. He also went to the Titanic Historical Society in Indian Orchard, MA, and spent an afternoon with the president, Ed Kamuda.

"We looked through photographs. They had a couple of artifacts sent by survivors, although they don't agree with salvaging things from wrecks. Also, there's a very helpful book written in 1912 about Thomas Andrews, and I'd see documentaries like on the Discovery Channel. By now, most of the cast have big Titanic libraries."

Cerveris, who came to national promise as the lead in The Who's "Tommy", told Playbill On-Line that although there are differences in singing rock and show music, "Singing steadily over the years made me able to sing now in Titanic. I studied voice at Yale with Blake Stern from the music school, and he had me singing German lieder and Italian songs. Tommy was the first musical I'd done professionally. That was a real change and challenge for me. I'd grown up having rock and roll bands, so the style of music was something I was a little more used to. But I wasn't used to the rigors of singing eight times a week and maintaining a voice in that way. My voice grew a great deal from the time I started singing in California [La Jolla] to years later."

Asked how he went from playing a pinball wizard to a prideful ship builder, Cerveris said, "When I came back from doing Tommy in Germany and tried to figure out what my next job would be, I wasn't looking for another musical. But Titanic came along...and the music is so rich and exciting -- a treat to be able to sing. I do seem to be Broadway musical stunt guy -- if it blows up, sinks or spins around, they call me."

Cerveris is serious, though, about the creative process Titanic needed to go through before being ready for audiences. "[The creators] are pretty satisfied with the point it's reached. We had all that technical stuff, but really, when we first left the rehearsal room, we were tremendously well-prepared as far as the cast went. We were even ahead of schedule. We did all you could do until you get it up on a set in front of an audience. As for the technical challenges, it was a longer, more grueling process than I've been a part of before, but it wasn't really that unusual. All shows go through this kind of thing. They just didn't used to go through them in New York. Plus, if you put the name "Titanic" on it, people are waiting for disaster."

Cerveris continued, "A lot of the difficulties were exaggerated, and the precariousness of the whole thing was exaggerated, too. Maury Yeston and Peter Stone have been around the block a number of times on Broadway. I was surprised how much courage they had to cut things that weren't working and write new material when it was required. They did it with compassion and thoughtfulness. Everybody in the show lost things they'd grown attached to, and they'd d also get completely new pages in the morning for that night's performance. But the atmosphere was so positive and professional. The result is, I think, a terrific show in fine shape."

Cerveris, who's stopped giving opening night gifts to individual cast members and instead makes a donation to Broadway Cares/Equity Fights AIDS, tries to make opening night special by giving fellow performers a copy of a letter he has that Martha Graham sent to Agnes DeMille.

"It's about how each person's performance and individual contribution to any kind of work of art is unique, because it's them doing it. No matter what anybody thinks of it, you don't need to worry about good or bad or whatever; it's special because it's you."

---