---


Playbill Online Chat

Monday, February 9, 1998 at 9pm EST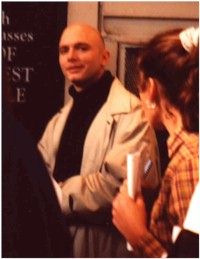 Playbill On-Line's Andrew McGibbon hosted a chat with Titanic's Michael Cerveris. Michael is probably most known for originating the role of Tommy in the Broadway musical Tommy. The transcript of that chat follows.

JohnK:
You are incredible as Andrews, Michael -- how did you approach the role? Lots of research in the real Andrews, or did you just work from the script?

Michael Cerveris:
No, a lot of research, a lot of reading, a lot of watching old videos and documentary footage. That was the ground work and then from there we tried to find the parts of the historical Andrews that would fit in the show.

corkystclair:
Hi Michael!! I have been an avid fan of your work for several years now and I was wondering how much longer you are planning to stay with Titanic? I'm hoping I'll have many more chances to see you!

Michael Cerveris:
I have no immediate plans to leave. We're coming up on our 1 year anniversary and everyone's contracts are up for renewal. Assuming everything goes well in negotiations I should be there for some time.

Lanz:
How do you react to reviews? Good and Bad?

Michael Cerveris:
I try not to read them at all. Because good or bad, when you are looking at the printed word it just has too strong an effect, on me anyway. You end up finding out the gist of what was said anyway. And in the end it's just one persons opinion. I try to have my life as "unrelated" to critics as possible. It's just too hard not to take it personally.

Jason1:
Michael, I am a huge fan of the show and I want to know if it is possible for me to somehow get a backstage tour of the Lunt-Fontanne Theater.

Michael Cerveris:
They discourage us from taking tours because they usually are trying to close up the theatre really quickly. They like to have everyone out of the building by 11 PM. But they do occasionally allow tours. The best way to do that is to contact the stage management staff and arrange for it through them. And I would be happy to say hi.

Broadway Baby:
Hello Michael. Do you feel the Titanic movie has increased ticket sales?

Michael Cerveris:
I think it probably has. In what is traditionally a slow theatre time, the month of January, we really didn't see much of a dip. And beyond that, I think it's made people more excited about the show as they're seeing it because they're familiar with the characters already. And of course, they know how it ends.

AliceBeane:
-- bowing to Cerveris-- Hi Michael! I have a few questions for you 1-Are you leaving Titanic? 2-If you are, where are you going? 3-Are you married? 4-My friend and I are coming to Titanic soon, we want to know if you want Pop Tarts or Zero Bars. YOU ROCK! I LOVE YOU! ~Farin

Michael Cerveris:
I'm a fan of Pop Tarts or Zero Bars but I don't require any gifts. I'm not married, not engaged and sadly single.

NikiZ:
If you could star in any musical role, what would it be?

Michael Cerveris:
Maybe Sweeney Todd because that was the first Broadway musical I ever saw.

Titan:
With the success of the film, do you think a motion picture will ever be made of the musical, especially since the film industry seems to have turned its back on musicals as a genre?

Michael Cerveris:
I doubt they would ever make a film of the musical. And I think it's a shame there aren't more films made of musicals. I think in a lot of cases there would wonderful films that could be made from big and small musicals but I agree that unfortunately, Hollywood doesn't seem interested.

Ana:
1- Congratulations, you are BRILLIANT in Titanic. I would like to know what do you do to keep your voice perfect singing 8 times a week ? 2- Do you know that there is a wonderful page about you on Internet, called Amazing Journey ? I wish you all the success of the world. Your Brazilian fan, Rosana Moraes

Michael Cerveris:
Lots and lots of water. I just try to be careful to rest my voice when it's tired. And not eat and drink things that are going to make it harder to sing. It's all a question of balance.

Playbill:
We have heard reports that there is a web page out there dedicated to you?

Michael Cerveris:
I heard from the people who created that page on the net and I was very impressed by it and I just wrote them recently to offer them other material if they need it. It's a little scary sometimes to have people creating these terrific things for you and you don't even know about them. Especially since I'm technologically challenged right now.

Jason1:
Michael, what advice do you have for aspiring actors?

Michael Cerveris:
First of all, staying in school through college. That is the simplest recommendation I have. And secondly, if you focus on the process of improving yourself and your skills instead of focusing on specific goals, like being on Broadway, or being a movie star, then you'll always find yourself satisfied with what you are doing. Instead of always feeling like you're chasing some illusive prize.

Elizabeth:
Michael, where did you get your training (which college, etc?)

Michael Cerveris:
I went to Yale undergrad. And high school for 2 years at Philips Exeter Academy. Where I studied with a man named B. Rodney Marriott.

bugaloo:
Hi Michael!! Who are your influences as an actor?

Michael Cerveris:
I'm influenced in one way or another by just about everything that I see and I have a lot of actors that I respect and admire. Robert Duval is one, Gene Hackman, Tommy Lee Jones, Alan Rickman, and lots of actresses too. Juliet Stephenson, also friends and co-workers inspire me all the time. I've been really lucky to be in two big ensemble companies in Tommy and Titanic. Where you can look left and right on stage and be inspired by people every day.

EmmeGuitar:
Hey Michael! Is there any chance for a ''Lame'' reunion? Thanks, Emme

Michael Cerveris:
I've been thinking about that a lot just this week. And I actually have spoken to Alice Ripley about possibly doing that. And if we do I'll certainly make sure that Playbill knows about it.

HydesKitty:
Hello, Michael. I'm curious, out of all the roles you've done, which was your most fulfilling?

Michael Cerveris:
I'd say Tommy. It really was my heart and soul poured into that character. Which is why, I think, I was able to do it for so long.

Jason1:
Mike, what are your hobbies?

Michael Cerveris:
I don't have enough time for hobbies really. But I do like listening to music a lot. And reading, and playing with my dog.

Kathy:
How do you feel playing a character that actually lived?

Michael Cerveris:
It's a really big responsibility to take on the memory of an actual person. During the 85th anniversary of the Titanic sinking we were on stage at the same time that 85 years ago these actual people were experiencing the event for real. And I think all of us hope very strongly that we're doing the memory of these people justice.

Jason1:
Are there any memorable bloopers that you've seen at the Lunt Fontanne?

Michael Cerveris:
A lot of them were overly chronicled by the NY Post. And more recently, Mr. Heartley dropped his violin bow overboard and had to flee the stage.

Shprintze13:
When did you begin acting?

Michael Cerveris:
My father is a university professor so when the schools needed a little kid for their productions I was often the kid they used. The first time I was ever on stage was about 2nd grade. As one of the princes little friends in The Caucasian Chalk Circle. So when you start out your theatrical career with Brecht at the age of 7 or 8 you know you are in for the long run.

Shprintze13:
Did you like the portrayal of Andrews in the movie Titanic?

Michael Cerveris:
Yes, very much. I thought Victor did a really terrific job. He got to use Andrews' correct dialect, which would be Irish and he got to use hair.

Shprintze13:
How do they actually make the ship sink on stage?

Michael Cerveris:
Vast quantities of water!

CountessCharlotte:
Michael--does it bother you at all that, no matter what roles you conquer in your career, you'll probably always be remembered as Tommy?

Michael Cerveris:
No, it's better than being remember as Richard Nixon

Shprintze13:
Is it true that Andrews really killed himself by staying on the sinking ship?

Michael Cerveris:
We think so. He was last seen in the smoking room surrounded by his plans.

Jason1:
Did you ever really get hurt in the scene where the ship sinks?

Michael Cerveris:
Not badly hurt. But I have a nice collection of small bruises and scrapes. It seems like any time they need someone to sing while things blow up, spin around, fall down or sink, they call me.

Autumn_Nicole:
I am a fan from when you were on Fame. What was it like working on Fame?

Michael Cerveris:
That was a really fun experience. Again, I was part of a great talented ensemble. And it gave me the opportunity to be paid while I learned to work in front of a camera. I spent a lot of time sitting with the editors and directors and writers learning how everything was put together.

Autumn_Nicole:
How long have you known how to play guitar? And do you like to play classical music on your guitar?

Michael Cerveris:
I started playing guitar when I was about 11. And I studied for a while at first and learned the basics and even studied a little jazz and classical technique. But I'm really not that accomplished to be able to play classical music for guitar. But some of my favorite guitarists are classical guitarists.

Violet:
Titanic has such a wonderful score... what are some of your personal favorite scenes and numbers from the show?

Michael Cerveris:
I still can't watch or listen to "Ladies Maid" without getting all choked up. It's such a great expression of the hopes and dreams of people like my grandparents coming to America. And I especially like singing "The Blame" because of the interaction with David Garrison, John Cunningham and Martin Moran.

Titan:
Why did the writers choose to make Jack Thayer a child when he was 17 in real life

Michael Cerveris:
I don't actually know. My guess is that they wanted a character who would represent all the youthful innocents that was on board the ship. So they bent the historical truth a bit.

Broadway Baby:
Titanic as you know is a passionate and emotional show, Do you find yourself getting choked up at the end?

Michael Cerveris:
I find myself leaving the theatre with a kind of melancholy. It's a lot different from the way I felt leaving after Tommy.

ksholes:
On your way to Broadway Titanic experienced turbulence. Was there someone in the creative team or a cast member who kept up everyone's spirits?

Michael Cerveris:
I think that everyone in the creative team were excellent at hiding whatever doubts they may have had. And making us feel supported and as confident as possible that we would weather the storm. But Richard Jones, our director, set such a brilliant example of selflessness and generosity that it made everybody work together.

CaptSmith:
Michael, I was wondering if you share a dressing room at the L-F? If so, does it get cramped at all?

Michael Cerveris:
Yes and yes. I share with the actor playing Mr. Etches which was originally Allan Corduner and now Henry Stram. Luckily both of them are very flexible and fairly small.

ksholes:
The actor who play Andrews in the movie, Victor Garber, has appeared in several shows. Any chance he'll replace you. I saw Titanic, The Musical last May and enjoyed it very much.

Michael Cerveris:
I don't think so because he opens very soon in Art. But I'm a fan and friend of his for some time.

RentBoy:
What do you mean by "technologically challenged"?

Michael Cerveris:
I don't have a computer. Yet! But my family insists that I get one soon so they can at least email me.

Broadway Baby:
Do you have a fan club?

Michael Cerveris:
I don't. But I do know that there's at least one website The Amazing Journey. The URL is http://www.web-span.com/micheez/index.htm and I think there is another one as well, but I'm not sure of that address.

BBNeuwirth7:
Did you major in theater at Yale?

Michael Cerveris:
Yes, but it was not its own department in the undergraduate school in Yale. At least at that time. So, I was a theatre studies major in the humanities department. So I had to fill a lot of regular academic requirements in addition to theatre work.which was exactly the kind of education that I wanted.

Broadway Baby:
WHAT is Lame?

Michael Cerveris:
"Lame" is a band that I started while I was doing Tommy. Comprised of myself singing and playing guitar, Alice Ripley singing and playing guitar, her husband Shannon Ford playing drums and John Jinks playing bass. Doing a lot of our own original material and some covers. We played at clubs in NY and then I later formed another version of "Lame" while I was in Germany with 2 German musicians.

TITANIC FAN:
Do you think Titanic will win the Grammy for best cast recording

Michael Cerveris:
I certainly hope so. I confess, I voted for it.

Abby:
Hi Michael, I remember hearing a great story about your audition for the Broadway version of Tommy. I was wondering if you had any other great stories to share.

Playbill:
Actually Michael, why don't you tell us the story about the Tommy audition.

Michael Cerveris:
We all had to re-audition for the Broadway company after doing the show 110 times in La Jolla. But when my turn came to audition I had to fly to NY and unfortunately, I was just getting over a cold. I was put up in a Times Square Hotel where they initially put me in a room next to one sealed off with NYPD crime scene tape. And the next morning I warmed up in an apartment full of cats (the animals, not the actors) and I'm allergic. So... by the time I got to the audition, my voice was pretty much dried up and gone. So, I plowed through a couple of songs before it disappeared altogether. The good thing is that it forced them to judge me on the basis of the work that I had done since I couldn't really have done anything better in an audition room that I hadn't done on stage. It also taught me that even your worst nightmares coming true are not always the end of the world. And most importantly, it gave me a good story to use on the Tonight Show when I met Jay Leno. I'm not sure the producers thought it was as funny a story as Jay seemed to.

David Robert Laro:
Do you like to listen to your cast albums?

Michael Cerveris:
I finally listened to Tommy (once) on a car stereo and I have yet to get through all of Titanic. I basically listened to enough that I know that I don't have to hide in public.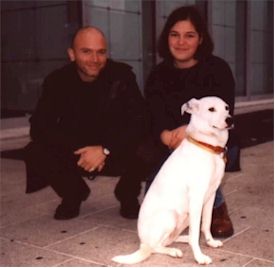 agnes:
What kind of dog?

Michael Cerveris:
She is the greatest dog, although, I'm sure every owner says that of their dog. She looks like the RCA dog, Nipper. She's all white with one black ear and one spotted ear. And I found her at the ASPCA in Manhattan. She's the only dog I know that has lived in Europe for 2 years and gone swimming in the Mediterranean.


agnes:
Were you able to meet anyone who actually knew your character in real life?


Michael Cerveris:
No, but I communicated by phone and by fax with people at Harland and Wolff ship builders where the Titanic was built and also with people from the Ulster Titanic Historical Society about Andrews as a person and a designer. He does have family still living in the family home outside of Belfast but they prefer not to be approached by people from the outside. So I respected their privacy.

NikiZ:
Greetings from Germany (from Markus). How did you like Germany?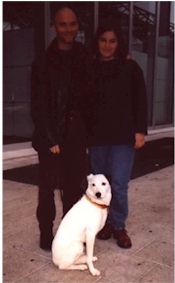 Michael Cerveris:
I LOVED Germany. I had a great time living there and travelling all over the country. The German musical fans are extremely enthusiastic and supportive and I hope to get back there some day. Either working or just visiting.

diane:
Mr Cerveris, where are you from? For the longest time I thought you were British!

Michael Cerveris:
That's probably because I seem to only play British characters. But I actually grew up in Huntington, West Virginia.

RentBoy:
You've performed for audiences outside of this country, are there any interesting differences with how they behave during shows and also afterwards as well?

Michael Cerveris:
Well, for one thing, in Germany, fans are extremely organized and bring you little stuffed animals and also you have cards made with your picture from the show that they call Autogram Cards that you sign for people. As far as in the show, the reaction to Tommy in Germany was much like the reaction in the US. Maybe a little more wild because they really appreciated the unique character of that musical. It was also very interesting working with European actors and stage crew. Especially when your show begins with a five minute re-telling of WWII. In fact, when the British soldiers used to sing We've Won, We've Won, We've Won one of our German stage managers used to smile and sing. We've Lost, We've Lost, We've Lost


---