---

The Band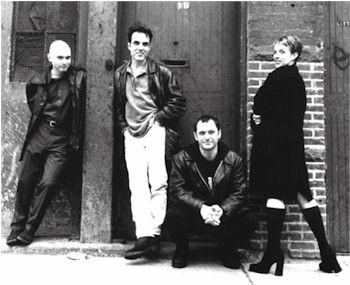 Michael Cerveris - vocals & guitar

John Jinks - bass

Shannon Ford - drums

Alice Ripley - vocals & guitar


photo by Kate Raudenbush

---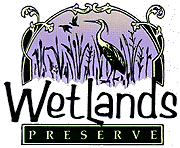 lame Reunion

Monday, May 11th at 9pm (doors open at 8pm)
at the Wetlands Preserve

It will be an all ages show
general admission $7


Tickets
General Admission is $7 per person.
Tickets are available without surcharge
on a cash only basis at the Wetlands Box Office
161 Hudson Street in Manhatten
Mon-Fri - 5:00pm til closing
Saturday - 9:00pm til closing

or

Ticketmaster Online or by phone 1-212-307-7171.
Credit Cards are accepted
There is a $2.25 per ticket service charge

---

Directions
The Wetlands Preserve is located 3 blocks below Canal Street.
It is outside the Holland Tunnel from New Jersey.

Can be reached by subway:
A, C or E trains to the Canal Street Station or
1 or 9 trains to Canal Street Station.

Street parking is available,
and 24 hour garages are nearby.

---
Press Release

photo by Kate Raudenbush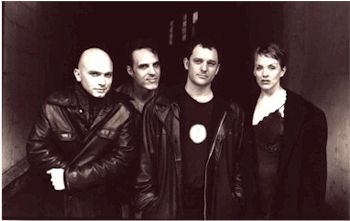 lame are a four member band from Manhattan whose music combines melancholy, Big-Star influenced ballads and Afghan Whigs-esque purges with ironic punk thrashings and noisy pop harmonies.

Michael Cerveris sings and plays guitar, Alice Ripley sings and plays guitar, Shannon Ford plays drums, and John Jinks plays bass. In their spare time, Cerveris and Ripley have starred in several Broadway shows (Tommy and Titanic for him, Tommy, Sunset Boulevard and Side Show for her). Alice spent several years in Nashville as a singer-songwriter before moving to New York. Michael played and sang with Pete Townshend in unannounced shows in NY and on Townshend's Psychoderelict tour in the US. Shannon was Danny Gatton's drummer and played with Poppa Chubby's band and The Interesting Guys. John has played with Fido and engineered recordings with The Cogs and Travis Pickle.

lame first stumbled on stage in 1994, played at a number of NY clubs and NYU, and had a regular acoustic slot at Sin-E during the Jeff Buckley days. After two years, Cerveris left for Germany, formed a German version of the band, and played festivals and clubs in the Frankfurt area. Ripley, Ford, and Jinks continued their own projects and bands back in NY.

Now, due to popular demand and a lack of good excuses, they are reuniting for one or two shows before once more becoming the mystery that was and is ...lame.


---
Cerveris and Ripley Reunite in "Lame" Rock Band, May 11

Playbill Online March 27, 1998
by Christine Ehren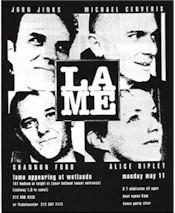 Michael Cerveris and Alice Ripley will reunite their rock band, lame, for a performance May 11 at the Wetlands Preserve.

Lame is comprised of Michael Cerveris (vocals, guitar), Alice Ripley (vocals, guitar), Ripley's husband Shannon Ford (drums) and John Jinks (bass).

The unusual moniker was kind of Cerveris' idea, he explained. He was tired of the over-inflated names of groups. lame was an attempt to find the audience they were looking for-- "People who had the sense of humor to see a band called Lame," he said.

According to the press release, their sound combines "melancholy, Big Star influenced ballads, and Afghan Whigs-esque purges with ironic punk thrashings and noisy pop harmonies".

According to Cerveris, the band plans to play mostly original songs written by himself, Ripley and Jinks. Titles include "Individual", "Brynn", "Cassandra Sees" and "10th Grade".

The band first performed together in 1994 during the run of The Who's Tommy, playing at such venues as China Club and Sin-E. When Cerveris followed Tommy to Germany, the band ceased. Ripley remained on Broadway with Sunset Boulevard and Side Show. Cerveris returned in 1997 with Titanic

The concert, an "all ages" show, begins at 9pm at Wetlands, located at 161 Hudson Street in Manhattan. Tickets are $7 and are available at the box office or by calling Ticketmaster at 212-307-7171.
---