Michael will be returning to Broadway in the upcoming production of Evita. The show will also star Elena Roger and Ricky Martin.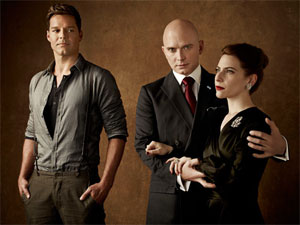 Ricky Martin, Michael Cerveris and Elena Rogers in Evita
Michael will play Juan Peron in the musical by Tim Rice and Andrew Lloyd Webber. The show will be The Marquis Theatre opening in spring 2012.
Previews begin March 12, 2012 with an official opening on April 5th.

The musical dramatizes the life of Eva Peron, Argentina 's glamorous and controversial first lady. It first appeared on Broadway with Patti LuPone in 1979 and a film version starred Madonna in 1996.
The revival, directed by Michael Grandage and choreographed by Rob Ashford, first appeared in London in 2006.

It won tremendous critical acclaim when it premiered in London. The Evening Standard raved, "I HAVE FALLEN HEAD OVER HEELS FOR EVITA AGAIN!"

This is the first new Broadway production of the seven-time Tony Award-winning musical since it debuted on Broadway over 30 years ago.

Rounding out the cast are Ashley Amber, George Lee Andrews, Wendi Bergamini, Eric L. Christian, Kristine Covillo, Colin Cunliffe, Margot de La Barre, Bradley Dean, Melanie Field, Jennie Ford, Bahiyah Sayyed Gaines, Constantine Germanacos, Laurel Harris, Nick Kenkel, Brad Little, Erica Mansfield, Emily Mechler, Sydney Morton, Jessica Lea Patty, Aleks Pevec, Kristie Dale Sanders, Timothy Shew, Michaeljon Slinger, Johnny Stellard, Alex Michael Stoll, Daniel Torres and Matt Wall.
The creative team includes Tony Award-winning scenic and costume designer Christopher Oram (Red), Tony Award-winning lighting designer Neil Austin (Red), Olivier Award-winning sound designer Mick Potter (Woman In White), wig and hair designer Richard Mawbey (Frost/Nixon), projection designer Zachary Borovay (Rock of Ages) and music supervisor/director Kristen Blodgette (Mary Poppins).
Orchestrations are by Andrew Lloyd Webber and David Cullen (Sunset Boulevard), and dance arrangements are by David Chase (Billy Elliot).

Tickets are on sale now at Ticketmaster.
Official EVITA on Broadway site

Official Ricky Martin site http://rickymartinmusic.com/
As most of you know Michael has been appearing regularly on the hit TV series Fringe. He plays the Observer, a mysterious chilling character. His co-star Jasika Nicole mentioned him in a recent interview.

" Do you see the Observer [Michael Cerveris] all over the place?

I get to hang out with him in real life more than I ever got to see the Observer [on set]. We have a couple of friends in common and we've gone to some functions together. And he is a really cool guy. He came to my birthday party. My partner and I ended up hanging out and talking with him for like an hour. He's just really cool. And he has eyebrows in real life, which a lot of people don't know. He doesn't look nearly as bizarre as he does when he's on set.
In the scripts when they mention the Observer, they never say "we will see the Observer doing this blah blah blah." There will be one line and it says, "You will be observed." That's also really creepy ... "
You can read the full article here: Red Eye Chicago

FRINGE on Wikipedia