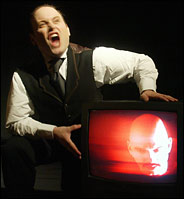 In "The Booth Variations," a new multimedia piece involving the famous Booth acting clan of 19th-century America, the actor Todd Cerveris is a man of both stage and screen.
At a rehearsal space on Eighth Avenue recently, Mr. Cerveris recited a monologue as himself, dressed in a green shirt, jeans and sneakers. Then, appearing on video on a monitor at his feet, there was Mr. Cerveris as Davy Herold, a soft-spoken young man who was an accomplice of John Wilkes Booth.
Moments later, onstage with one arm sharply outstretched and a foot thrust forward, Mr. Cerveris performed an interior monologue as Edwin Booth, considered the finest American tragedian of his day, who continued to be popular despite the murder of President Lincoln by his brother John Wilkes.
Finally, when that passage ended, in a video segment projected on the back wall, Mr. Cerveris appeared as a cloaked Junius, the father of Edwin and John and an actor best known for his passionate — and erratic — performances.
Think of it as the Booth Family episode of "E! True Hollywood Story!"
"We are 21st-century artists looking at a story through 19th-century angles," Mr. Cerveris said during a break.
A waltz among eras, actors and media forms is at the heart of "The Booth Variations," which opens today at 59E59 Theaters in a world premiere. It is the product of three years of collaboration among Mr. Cerveris, who helped write the script with Caridad Svich, a playwright; Nick Philippou, who is directing; and Peter Nigrini, a videographer. It is also the first full production of the Moonshine Project, a company recently started by a group of former theater students, led by Steve Bebout, its artistic director.
Mr. Cerveris, 36, who was inspired after reading "Right or Wrong, God Judge Me," a collection of writings by John Wilkes Booth, had little trouble casting the role of the presidential assassin. His older brother, the actor Michael Cerveris, 43, won a Tony Award in June for his performance as John Wilkes Booth in the recently closed Broadway revival of the Stephen Sondheim-John Weidman musical "Assassins."
"When I got randomly and separately cast in `Assassins,' it seemed to be fate," said Cerveris the elder. "And I already had the mustache."
In a strange confluence of actor, production and timing, had "Assassins" not closed, Michael Cerveris would have played John Wilkes Booth in the musical at Studio 54, while portraying the same character on video in "The Booth Variations." At one point, there was talk of borrowing the costume from the Broadway production; instead, only Michael Cerveris's strikingly bald head will appear — on a monitor.
This Chinese-box approach to storytelling — an actor playing an actor playing an actor in the virtual world, with brothers in the roles of brothers — suits the play's multilayered approach to retelling history. Much of the story finds Edwin trying to reconcile his roles as son to a domineering father and as brother to a man with a shameful place in American history. Making virtual appearances in addition to his brother and father are his first wife, Mary Devlin; the Civil War photographer Mathew Brady; and what the script describes as "Lincoln's brain." Through these characters, the authors ask questions about reality, history and fiction — Where does the stage begin and end? How truthful is photography? How strong should the fraternal bond be? — questions as relevant and as unanswerable then as they are today.
"It's an examination of identity and how we define who we are as an individual, as a performer, as a sibling, as a country," said Michael Cerveris, who helped write the play's folksy musical score with Will Johnson. "In all those ways, how much do we get to determine who we are, and how much does the eye of the world determine that?"
That question emerges through the show's high-tech storytelling. In addition to video images and Todd Cerveris's performances (both live and recorded), two actors will be seated at tables onstage to provide voice-overs. "You will see exposed wires and equipment onstage," Mr. Philippou said, "including monitors, and a projector that fills the back wall with a live feed from a camera, prerecorded stuff and stuff that seems live but actually is prerecorded. We're kind of playing with the received image of an actor."
Mr. Philippou and the younger Mr. Cerveris said their intention was not necessarily to examine the Booth family with factual accuracy, but rather to reimagine them through the lens of the American celebrity-making machine.
"We're now in a fiction of our own making," Mr. Philippou said. "We know we're telling some lies. But as far as I'm concerned, this is as real as anything."