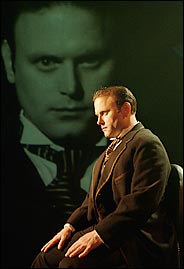 Jason Lindberg Photography
Todd Cerveris, who plays two Booths in the play "The Booth Variations."

The dialogue — between master and apprentice, genius and imitator — is as old as art itself. But for a few exciting moments this eternal conversation feels brand new in "The Booth Variations," the seriously ambitious mixed-media work that opened last night at the 59E59 theater complex.
The participants in this exchange are two 19th-century Shakespearean actors, Junius Booth and his son Edwin, and they are both portrayed by the same man, Todd Cerveris. There is Mr. Cerveris in the flesh as the young Edwin, watching his father's performance as Lear from the wings. And then there is the phantom version of Mr. Cerveris as Booth père, an outsize spectral figure who flickers against the theater's back wall in video projection.
The facial features of this eidolonic Junius are as slippery and silvery as mercury, never quite coming into focus. But the words, spoken by an electronically distorted voice, are identifiably Lear's. And Junius's gestures and postures are definite enough for us to see that Edwin is replicating them exactly, though without anything like the same haunting effect.
It is a daring, startling sequence, and it embodies what is best in "The Booth Variations," a far-ranging historical fantasia created by Mr. Cerveris, Nick Philippou and Caridad Svich about the celebrated and notorious American stage family. Combining contemporary technology with an archaically heightened style of acting, this duet between father and son crackles with a fraught Oedipal artistic struggle, while playing with the audience's perceptions of what defines compelling acting.
The first two-thirds of the production, written by Mr. Cerveris and Ms. Svich and directed by Mr. Philippou, has enough of such multileveled moments to keep you intrigued if not unconditionally engaged. Developed with obvious care and effort over the past three years, "The Booth Variations" is sparked by bright insights about the shadowy relationship between performers and their audiences in the American past and present.
Using projected and televised video images designed by Peter Nigrini and Mr. Philippou in counterpoint with live performance, "The Booth Variations" makes a case for its central characters as paradigms for today's people-eating culture of celebrity. The show follows Edwin Booth's development as an actor: his early days as his father's studious mimic, his glory days as an intense and original interpreter of Shakespeare, his autumn days when people went to see him as the brother of the man who shot President Abraham Lincoln.
That of course was John Wilkes Booth, who as it happens was recently played by Michael Cerveris, brother to Todd, in the revival of the musical "Assassins." Michael Cerveris shows up again in the same role in "The Booth Variations," this time as a satanic creature in red-toned video interludes who looks like an especially dangerous refugee from "America's Most Wanted" and who intones sinister, poetic pronouncements about the public fascination with violence and confession.
If this all sounds a tad too arty and self-conscious, in truth it often is, especially in a flash-forward coda in which Edwin Booth's "Hamlet" is transported to the future to be recorded for television. And the text, in the John Wilkes Booth sequences in particular, can lean toward overheated staleness. ("This is reality split and turned inside out for a new century where the body of murder sits in a tabloid celluloid Polaroid strip ready to be worshiped." Oh, please.)
Todd Cerveris (who also appears on three television screens as Davy Herold, an accomplice in the escape of John Wilkes Booth) is perhaps inevitably more convincing as the awkward, untried Edwin Booth than as the mesmerizer he becomes. And while scenes in which Edwin poses for the photographer Mathew Brady offer incisive (if flowery) commentary on a nascent art form, the show would be far more effective without leaping into the 21st century to make implicit correspondences obvious.
"The Booth Variations" is most persuasive as a precise anatomy of an actor's art and life — gesture by gesture, tour stop by tour stop — and of their appropriation by a hungry public. Endlessly self-reflective and self-analytical, the show's appeal is more intellectual than dramatic. Even so, it is clearly the work of a team so in thrall to the possibilities and permutations of theater that it can't stop thinking about them.
THE BOOTH VARIATIONS
Conceived and created by Todd Cerveris, Nick Philippou and Caridad Svich; written by Mr. Cerveris and Ms. Svich. Directed by Mr. Philippou; sets by Peter Nigrini and Mr. Philippou; projections and lighting by Mr. Nigrini; costumes by David Rigler; sound by Jeffrey Yoshi Lee; original music by Michael Cerveris and Will Johnson; choreography and movement by Deborah Lohse; assistant lighting designer, Jon Donk. Presented by the Moonshine Project. At 59E59 Theaters, 59 East 59th Street, Manhattan.
WITH: Todd Cerveris, Michael Cerveris, Josh Mann and Lila Donnolo.