THEATER REVIEW | 'PASSION'
The New York Daily News
April 1, 2005
By Howard Kissel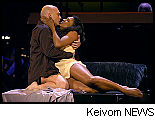 Michael Cerveris sings his heart out to Audra McDonald.

If you had to choose Stephen Sondheim's darkest musical, you might settle on his 1994 "Passion," because, unlike the misanthropic "Sweeney Todd" or the cynical "Merrily We Roll Along," it has nothing comic to leaven the gloom.
As if the material were not dark enough, director Lonny Price has made it even darker this week in a concert version for the Lincoln Center American Songbook series in the Rose Theater of the Time Warner Center.
"Passion" is about Giorgio, a handsome soldier obsessed with an ugly, terminally ill woman, Fosca, who is equally obsessed with him. She eventually draws him away from Clara, his mistress, whose commitment to him is undercut by her own husband and children.
The music Sondheim composed to describe this awkward love triangle is deceptively simple. Often the themes seem to pivot back and forth over a few notes, the repetition giving the melody a disquieting forcefulness.
The lyrics have a comparable directness. The overall effect the score creates is riveting you to something unsettling.
Donna Murphy, who created the role of Fosca, made it musically seamless, which added to its mesmerizing quality. Here Patti LuPone, always a gutsy performer, emphasizes the dramatic at the expense of the musical. Normally this would strengthen the impact, but, oddly, breaking up the musical line makes it jarring without any emotional appeal.
Few male performers have the vocal richness or dramatic intensity of Michael Cerveris, who plays Giorgio superbly. It does seem odd, though, to have a romantic hero who is bald and stocky, conjuring up Erich von Stroheim. Would a tasteful wig have been out of place?
As Clara, Audra McDonald has warm musicality. In the other roles, Richard Easton stands out as a concerned doctor.
Paul Gemigniani, who conducted the original Broadway production, leads the American Theater Orchestra here. He finds all the somber colors in Jonathan Tunick's spare, incisive orchestrations.
If "Passion" has an overriding sense of musical beauty, it can be deeply moving. In this reading, which has its last performance tonight, the effect is merely dislocating.