THEATER REVIEW | 'PASSION'
The New York Times
April 1, 2005
By Charles Isherwood
photo by Richard Termine (larger Image)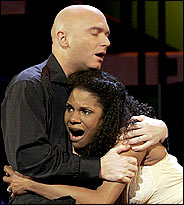 The theater lover could be forgiven for thinking there are no new discoveries to be made about the musicals of Stephen Sondheim. The works of the musical theater's reigning master, who celebrated his 75th birthday last week, have been undergoing nonstop revival and reappraisal for decades. The money Mr. Sondheim has spent dry cleaning his tuxedo for gala tributes alone could probably pay for another Broadway revival of "Follies."

But a new concert version of Mr. Sondheim's 1994 musical, "Passion," which opened at the Rose Theater on Wednesday and was telecast on "Live From Lincoln Center" last night, proves there are still revelations at hand. This pared-down production of one of Mr. Sondheim's most challenging works, a gothic romance about a young military officer drawn into an intense relationship with a sick, ugly woman, illuminates the shapely beauty and emotional vibrancy of Mr. Sondheim's score with unsettling, ultimately shattering force. More than a decade after its Broadway premiere, "Passion" may have found its purest, most persuasive and most powerful form.

Mr. Sondheim's third collaboration with James Lapine, who wrote the book and directed the original production, "Passion" was a succès d'estime that captivated many critics but was too gloomy and musically sophisticated to lure a large Broadway audience. It has continued to divide Mr. Sondheim's devotees. Some find its quasi-operatic score lacking in melodic richness and its story unappealing or simply incredible.

Lonny Price's superbly conceived concert adaptation suggests that "Passion" is not ideally served by being dramatized in traditional Broadway style. Mr. Price, who first directed this production at the Ravinia Festival in 2003, has stripped away all the extraneous matter in Mr. Lapine's book (much of the stiff raillery of the soldiers is excised, thank goodness). Settings are merely suggested. The indispensable music director, Paul Gemignani, and the American Theater Orchestra can be glimpsed behind the performers through scaffolding that provides the unadorned playing spaces. Looming above the stage is a large black screen onto which are projected a series of Mark Rothkoesque paintings in light, matched to the mood of each scene or musical sequence.

The stylized presentation puts the emphasis on psychology and emotion rather than narrative, drawing our attention away from the peculiar arc of this strange story and seducing our engagement with its unsettling ideas about the processes and imperatives of romantic love. "Passion" no longer takes place in a naturalistic 19th-century frame but in the mind of a man undergoing a profound emotional transformation. It is now easier to trace - and to share - his experience through the surging, seamless pulse of Mr. Sondheim's music, orchestrated with extraordinary sensitivity by Jonathan Tunick.

The role of Fosca, the tormented soul who falls desperately in love with a man already happily involved with another woman, is a formidable challenge. Donna Murphy, who created the role in the original production, emphasized a delicate, searching quality in the character. She made us feel the pathos and the poetry beneath the character's wretched surface. Ms. Murphy's rich, lustrous voice was the sound of a beautiful soul trapped in an ugly body.

There is nothing ethereal about Patti LuPone's powerfully human Fosca. She is a woman of itching flesh and racing blood. The intensity of Ms. LuPone's performance imbues the character with a strange, implacable moral force: a need so overwhelming must inspire respect, even compassion. Fosca embodies the idea that love is among life's absolute necessities, as crucial as food and water. Because Fosca has been denied the gifts that attract it, she must pursue it with the heedless aggression of a starving animal. The occasional stridency in Ms. LuPone's tone signals her life-or-death desperation.

Giorgio, the object of Fosca's intemperate desire, is played by Michael Cerveris, the foremost interpreter of this equally demanding role in recent years. (He also played it in the Kennedy Center production of 2002, and in concert last fall with Ms. Murphy and Marin Mazzie.) In the early scenes he sings with a bright clarity that darkens and takes on stronger emotional coloring as Fosca's presence comes to dominate Giorgio's thoughts, her voice seeping into the corners of his psyche like a spreading bloodstain.

Giorgio has never had to think about love, because it has come as naturally into his life as sunlight. Fosca forces him to confront this ignorance, to examine the depth and color of his feelings for his lover, Clara, who is played - magnificently - by Audra McDonald. (Her bright, burnished soprano is sunlight itself.) The macabre paradox of "Passion" is that Giorgio's emotional awakening nearly destroys him. Mr. Cerveris makes palpably clear that as he rises to the challenges of Fosca's love, Giorgio is as physically ravaged as he is spiritually ennobled.

Indeed, arguments surrounding "Passion" have often focused on whether Giorgio is redeemed or destroyed by Fosca's love. Look for the answer in Mr. Sondheim's music, and you'll find only more questions. The musical's final trio has a soaring, rhapsodic sound, but the very last note reverberates with doom.

Such ambivalence has always come naturally to Mr. Sondheim, of course. In "Passion" it is simply drawn in bolder, blunter and more volatile colors than in his other musicals, as this eye-opening production makes painfully clear. "Passion" argues with disquieting conviction that romantic love, in its purest form, is life's richest reward, its deepest purpose. Unfortunately, it may also be fatal.

'Passion'

Music and lyrics by Stephen Sondheim; book by James Lapine, based on the film "Passione d'Amore." American Theater Orchestra, Paul Gemignani, musical director. Directed by Lonny Price; musical staging, Marla Lampert; sets by James Noone; costumes by Gail Brassard; lighting by Alan Adelman; sound by Tom Clark; production stage manager, Jeffrey M. Markowitz. American Songbook presented by Lincoln Center. At the Rose Theater in Frederick P. Rose Hall in the Time Warner Center, 10 Columbus Circle, fifth floor; (212) 721-6500. Through tonight. Running time: 1 hour 36 minutes.

WITH: Patti LuPone (Fosca), Audra McDonald (Clara) and Michael Cerveris (Giorgio).


"Passion" continues at the Rose Theater, Lincoln Center, through tonight.