"The Man Who's Paid to Disrobe"
Former 'Tommy' Michael Cerveris now in 'Wintertime'

CNN.com
March 6, 2004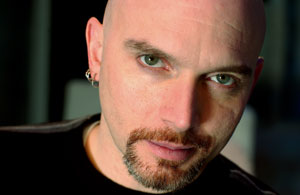 By Heidi Vogt
Michael Cerveris is halfway through his performance in the off-Broadway comedy "Wintertime" and he's taking off his clothes again.
As the aging French playboy Francois, Cerveris dances in women's lingerie and shakes his naked derriere when words fail to express his overflowing emotions. "I'm afraid it's true. I am a pig," his character apologizes, before ending the show in sequined pink briefs, accessorized only with a necktie, sunglasses and a Viking hat.
"I hadn't laughed out loud reading a script in years," Cerveris says of his role, the actor's first major stage outing in New York since 1999. "It just suited my sense of humor exactly."
Now that he's back in New York, Cerveris, who originated the role of "Tommy" on Broadway, plans to stick around. He joins the Broadway revival of Stephen Sondheim's "Assassins" in mid-March as John Wilkes Booth.
Though Cerveris easily plays a man past his prime in "Wintertime," he's actually a pretty young 43. Eating an egg white omelet in a Chelsea diner, he sports the multiple earrings and tattoos of a young urbanite, matched with silver rings that darken the skin on his fingers. The "PAID" stamp on the back of his hand stands out, not yet washed off from post-show revelry the night before.
"Wintertime" director David Schweizer even characterizes Cerveris' bald head as a "sexy chrome-dome." "And those chrome-dome guys," says Schweizer, "are kind of ageless."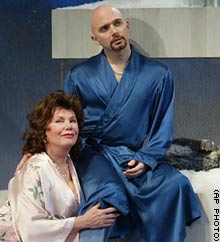 Set at a family's mountain retreat, "Wintertime" takes place over one bizarre weekend when everyone connected with the household decides to show up unexpectedly. There's the son and his girlfriend, the mother and her lover (Cerveris), the husband and his male lover and the friendly lesbian couple next door. As they try to make sense of their intertwined relationships, characters fall in and out of the nearby icy lake, lip sync to opera and collectively moon the audience.
Cerveris calls "Wintertime" exactly the type of ensemble piece he imagined doing when he moved to New York in 1983, fresh from Yale University's theater studies program.
"To have a company like we have of adventurous people who are endlessly inventive and yet really respectful - it makes the whole process sort of the way you thought it would be in college," he says.
"What makes Michael such a rare treat is that he has the openness and the fearlessness of a young person," says Schweizer, who also directed Cerveris in the Williamstown Theatre Festival's production of Shakespeare's "The Winter's Tale," in 1981. "He comes into rehearsal and there's this wonderful impression that he's just brand new to the work."
The Charles L. Mee play is one of Cerveris' few forays outside of musical theater in the past decade. Yet it "functions like a musical," he says.
"There are points when words just fail the characters and they have to jump into another reality." So they react by repeatedly slamming a door that leads nowhere or performing a striptease.
Still, "Wintertime" brings Cerveris a little closer to the career he always planned to have.
"I expected to have a career as a legit nonmusical theater actor doing downtown-y, kind of avant-garde things," the stocky actor says with a laugh. "Then one innocent little audition for what at the time was kind of a risky, quirky little musical led to this life."
"The Who's Tommy" launched him to Broadway in 1993, which led to a role as the earnest shipbuilder in "Titanic" and the sexually confused lounge singer in "Hedwig and the Angry Inch," both in 1997.
After "Hedwig," Cerveris told his agents he didn't want to do another musical, unless, of course, it was a Sondheim musical.
"That was a couple weeks before 'Passion' at the Kennedy Center happened and since then I've done nothing but Sondheim musicals," Cerveris says. "So be careful what you wish for."
He recently appeared in Sondheim's "A Little Night Music" for Chicago Shakespeare Theater and plans to take on another Sondheim show, "Sunday in the Park With George," in Chicago next summer.
But as much as he planned to avoid musical theater, Cerveris has never tried to avoid music. A guitarist, he has been playing music as long as he's been acting, in what he describes as progressively "less-bad" bands. He talks proudly of those bad-boy days, recalling his first band, as a teenager in West Virginia, when the group tried to incorporate a wailing police siren into a show in their junior high gymnasium.
"When we rehearsed, the siren was so loud we could barely stay in the building," he says. "When the show happened, we had to mike the siren. We were playing so loud you couldn't hear it."
Though he hasn't been back to West Virginia in 20 years and his family has also moved away, Cerveris considers the state home. "I'm really glad I didn't grow up in New York or L.A.," he says.
Cerveris continued with music in college, taking classical voice lessons at Yale to appease his father, a pianist and music professor who didn't really appreciate his son's loud music. "I wanted to do something where I could participate in his world a bit," Cerveris says.
After college, his first major break came when he got the role as a guitar-playing English exchange student on "Fame," the 1980s TV series.
"But I was not a `Dawson's Creek' kind of WB kid ever," he says. "Me being on `Fame' ... was like Johnny Depp being on '21 Jump Street.' In retrospect, it was weird that he was there. It was weird that I was on 'Fame.'" Cerveris says he never really felt mainstream enough for "Fame."
Meeting Townshend, touring with Mould

But it was such rock 'n' roll parts that set the stage for a lifetime of musing about the intersection of music and theater.
After Cerveris landed the role of Tommy with a guitar solo in his audition, he befriended Pete Townshend and the two ended up jamming at The
Who's London studio.

Cerveris later toured with Bob Mould, originally of the punk rock trio Husker Du. In January, Cerveris released his first CD, a compilation of
introspective songs with big name collaborators such as Steve Shelley of Sonic Youth.
"Any time an actor somebody who makes a living portraying other people tries to get into music, I think it's kind of threatening to music business people," Cerveris says. "It's like there's this secret agreement in the music business to pretend that there's a sincerity or a truthfulness that is not performance and is not show biz at all, that these skinny guys in good thrift store clothes are somehow real in a way a performer wouldn't be. Yet the truth is most of them know that they are performers, and that it is a show."
Cerveris knows exactly what it takes to put on a good show, says Marsha Mason, who plays Cerveris' older lover in "Wintertime." "He played in a pub when we were in Princeton. I sat there and I just truly was in awe. I couldn't contain myself," Mason said. "He said he
couldn't look at me because he was nervous of my reaction."
"I do feel so much more exposed and naked when I'm performing my own stuff," Cerveris acknowledges.
And he performs his own songs fully dressed.
On the Net:
http://www.amazing-journey.com
http://www.cerveris.com