"A Bittersweet Farce in the Middle of Wintertime"
American Theatre Web Review
3/3/2004
by Andy Propst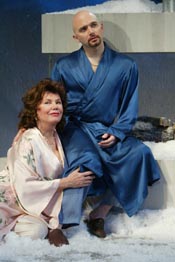 Photo: Joan Marcus
As the temperatures in New York City have topped 60 degrees at the beginning of March, a gentle snow continues inside Second Stage Theatre's home on 43rd Street where Charles L. Mee's Wintertime opened last night. The snow falls as one enters the theater and seems to have been doing so for many hours; there are drifts on Andrew Lieberman's set of white modern Scandinavian furniture and the barren white-trunked trees that extend up into the flies. There's an extraordinary sense of tranquility as one waits for the production to begin. Placid gives way to frantic, however, after the play has begun and Mee's romantic, farcical rollercoaster is off and running.
The setting is Maria and Frank's "white summer house set in the white winter woods". Their son, Jonathan, has come there with his girlfriend, Ariel, with the intention of proposing. Imagine his surprise when he discovers that mom is there with her paramour du jour, Francois. Soon, dad has arrived with his boyfriend, Edmund. (Neither couple is surprised by their partners' liaison; they have maintained an open relationship for years.)
The presence of these four, along with appearances from the lesbian couple from next door, Hilda and Bertha, along with Jacqueline (an ex of Francois'), disrupts Jonathan's plans. Soon, recriminations, petty jealousies, and insecurities have replaced the various couples' romantic notions. A door is wheeled onto the stage, and the performers barge back and force through it in a carefully choreographed sequence that provokes gales of laughter.
Underneath the laughter here and throughout Mee's play though, is the sense of youthful longing that all of the characters have. These are people who desperately need to love and be loved, and yet, they seem constitutionally unable to give or receive it unconditionally. The result is both comic and vaguely tragic, particularly given the eloquent verbal riffs that Mee gives to his characters.
The cumulative effect of Mee's writing is that Wintertime seems almost to be a symphonic work, where actors have replaced musical instruments. Director David Schweizer has ensured that Wintertime rises and falls musically throughout. Kevin Adams' exquisite lighting helps to further shape the production, dimming during its more somber moments and brilliantly washing the stage during its most antic sequences.
As for performers, Michael Cerveris, as Francois, leads Wintertime in zaniness. His preening, pouting, and pubescent lover from Gaul is, simultaneously, an exemplar of exuberance and restraint. Marsha Mason, long absent from the stage, nearly matches as the Italian Maria; the actress seems most flummoxed by having to cavort for two hours with a heavy Italian accent.
Mary Louise Burke brings a wacky voice of reason to the proceedings as one half of the perennially jealous and needy lesbian duo. Also on the side of reason, but just barely, Nicholas Hormann, who brings an elegant wounded presence to the stage as the bi-sexual (homosexual? – Mee never makes it totally clear), Frank. As the non-sequiturs of the piece, Tina Benko as Jacqueline and Danny Mastrogiorgio delight. (Mastrogiorgio shows up in the play's first half as a deliveryman, who later becomes a substitute for a minister whose services are needed.) The minister is there for a solemn occasion, but one can't help but snicker at the ludicrousness of it all. The perfect way of describing the experience of seeing Wintertime.
-------
Wintertime continues through March 21 at Second Stage Theatre (307 West 43rd Street). Performances are Tuesday at 7pm; Wednesday through Saturday at 8pm; Wednesday and Sunday at 2pm; and Sunday at 3pm. Tickets are $36-55 and can be purchased by calling 212246-4422. Further information is available online at www.SecondStageTheatre.com.