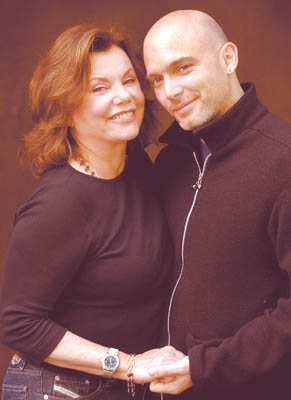 True love is a farce in 'Wintertime'
The Star-Ledger
Monday, October 20, 2003
By Peter Filichia

Here's a farce for the 21st century.
Charles L. Mee's "Wintertime," at the McCarter's Matthews Theatre in Princeton, is a thinking man's travesty that shows how people love these days. It's a brilliant black comedy that takes place on a snow-white set.

Jonathan brings his fetching girlfriend Ariel to his parents' summer house on New Year's Eve, planning to propose. But his mother, Maria, is already there with her lover Francois. Then his father, Frank, shows up with boyfriend Edmund. Lesbian lovers Bertha and Hilda soon enter, as well as a doctor who's been summoned and a delivery man who has not.
Those 10 characters make nine couples, with a possibility of a 10th by the final curtain. In an age of virtual reality, Mee's subject is virtual fidelity. Today, an occasional dalliance isn't really a violation of marriage vows. Just make sure you're first in the eyes of the person you love the most.
Farces are famous for their slamming doors, but Andrew Lieberman's surreal set offers none. The walls of the bungalow are actually outside snow banks, so when characters enter, they just take a step from the frozen tundra right onto the floor of the living room. It's that kind of play.
Actually, one door does suddenly show up, but that's just so everyone can have a turn slamming it to vent his frustration. For, as civilized as they are, jealousy does surface. Soon there's many a broken dish, self-mutilation and even a suicide.
That allows Act Two to suddenly shift to a memorial service. Now come the sentimental utterances, as second-guessers wish for a second chance. Some speak from the heart and one from index cards. Soon the service resembles the third act of "Our Town" -- even in the intentionally static way it's staged -- in its wish that people could better appreciate life.
That the play then becomes a strip show with some dorsal nudity is just another way that Mee delightfully flies in the face of convention.
Director David Schweizer applies the right brittle touch. He knows he has a script in which no single character dominates, so he's created a stunning ensemble.
McCaleb Burnett is a wonderfully eager and goofy Jonathan. As his father, Nicholas Hormann is most effective when he gives arm-round-the-shoulder advice, containing platitudes by which he does not live.
As Ariel, Brienin Bryant is a charming Chatty-Cathy doll, though she doesn't have the ultimate mile-a-minute speech. That belongs to T. Scott Cunningham's Edmund, who breathlessly rails against Frank for placing his family and friends ahead of his lover.
Michael Cerveris is funny, with ze "aw-haw-haw" purposely bogus French accent. Tina Benko's doctor drolly matches it. Lola Pashalinski is hilarious as Hilda, the more ornery of the lesbians, while Carmen de Lavallade displays the elegance of Bertha. As the delivery man, Danny Mastrogiorgio doesn't have as much to do as some, but he makes just as strong an impression.
Then there's Marsha Mason -- yes, that Marsha Mason -- who, as Maria, has the perfect absence of guilt when she says of Frank most matter-of-factly, "I love him the way I love a husband" -- showing that that type of love can only go so far.
And so, this impressionist play on its impressionistic set makes quite an impression. "Wintertime" is a farce for all seasons.