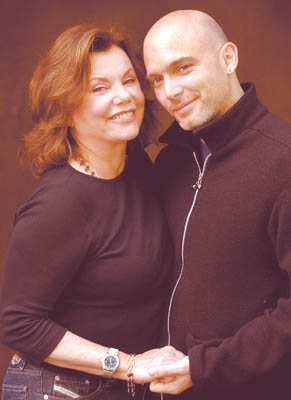 A Romantic Weekend That Ends Up With Too Many Lovers
The New York Times: New Jersey Weekly Desk
Sunday, October 26, 2003
By Naomi Siegel

PRINCETON -- VICTORIA may have her secrets, but, for the next few weeks, the McCarter Theater Center can one-up anything she conjures. ''Wintertime,'' Charles L. Mee's raucous riff on love in its many permutations, features a display of outrageous undergarments that would cause even Gypsy Rose Lee to blush. Spangled briefs, tie-dyed long johns and patchwork bustiers are sported, stripped and tossed unceremoniously by the sexually diverse crew of rowdies in the cast.
Mr. Mee is the man of the moment. His comedy ''Big Love,'' a deconstruction of Aeschylus's ''The Suppliant Women,'' will be presented next month at McCarter by Princeton's drama program, and ''bobrauschenbergamerica,'' his take on the life of the artist Robert Rauschenberg, was performed last week at the Brooklyn Academy of Music's Next Wave Festival.

The human condition in all its messiness is Mr. Mee's concern. ''Wintertime'' opens with young lovers -- Jonathan (McCaleb Burnett) and his intended, Ariel (Brienin Bryant) -- seeking a weekend of blissful winter solitude at his parents' deserted summer house.
Deserted is not what they find. Maria, Jonathan's scantily clad mother, played with a wandering ''Mediterranean'' accent by Marsha Mason, is the first to appear, followed by her Gallic lover Francois, the linguistically nimble, hilariously funny Michael Cerveris. Sloshing though the snow comes Frank (Nicholas Hormann in a touching performance), Jonathan's father and once-a-week husband to Maria.
Edmund, Frank's petulant lover, also shows up, as do the romantically warring neighborhood duo of Hilda and Bertha. Bob, a mysterious stranger purporting to be delivering a compost machine, suddenly appears and, without missing a beat, offers a convoluted monologue on love as filtered through the writings of Sappho, Plato and the Greek tragedians. Danny Mastrogiorgio's deadpan delivery of this pseudo guru's diatribe is a hoot.
''Wintertime'' proves tedious; it goes on too long and its humor stoops too low, in extended mooning sequences for a start. Farce is tricky to pull off. The director, David Schweizer, turns to old-time vaudeville schticks to keep things going, but even this does not save several scenes from sagging. Still, one can never accuse the work of lacking heart, broken or otherwise.
--------------------