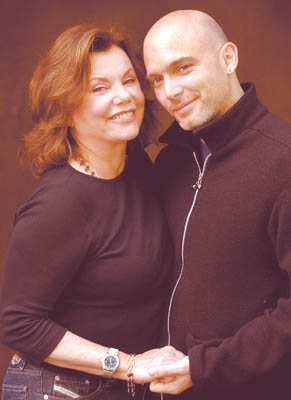 Blizzard of Passion
By Jillian Kalonick
Packet Online: TimeOFF
10/08/2003

Half-dressed lovers and slamming doors abound in Charles Mee's farcical 'Wintertime' at McCarter Theatre.
It's enough to mortify any son, sneaking off with his significant other to a secluded country house, only to find his half-clothed mother — drinking champagne with her French lover — has beaten him to it.

So begins Charles Mee's play Wintertime, about a collision of couples who meet post-holiday and grapple with their insecurities and affections. Playing at McCarter Theatre Oct. 14 through Nov. 2, it stars Marsha Mason as the mother, Maria.

"She's tricky, surprising, unpredictable, wild and incredibly nurturing and loving and crazy all at the same time, so naturally that appeals to me from an acting point of view," Ms. Mason says. "I'd like to meet Maria, I'd like to be her best friend."

Maria plays matriarch to the group of couples who slam doors, destroy furniture and rip off their clothes in a frenzied but comic orchestration of passion and jealousy.

Staff photo by Mark Czajkowski
Marsha Mason plays the matriarch and Michael Cerveris is her lover in Wintertime at McCarter Theatre

"It's hysterical, it's highly stylized, and ultimately for it to be really successful and satisfying, it has to be rooted in an emotional reality," says Ms. Mason of the play's physicality. "But then it can be taken to its extreme."

Known for her Academy Award-nominated performance in The Goodbye Girl, the film by her former husband Neil Simon, the actress's career has spanned theater, film and television. Her memoir, Journey: A Personal Odyssey (Simon & Schuster) was published in 2000.

In the whirlwind of Wintertime is a range of emotions, all typical in the context of falling in and out of love. "What I also like is the complexity of the relationships, what appears to be stereotypical isn't at all, but we personify basic personality aspects sometimes," Ms. Mason says.
Mr. Mee, known for creating collage plays and borrowing from other works, makes all of his plays available on the Web, following through on his philosophy that all playwrights can and should borrow from others. Wintertime is influenced by several works, including Greek tragedies and Shakespeare's A Winter's Tale.

Michael Cerveris plays Francois, Maria's boorish lover, who is constantly offering his own take on others' relationships.
"I have a growing affection for him, because as much as he's a pig and incorrigible, there is a sincerity and truthfulness to him," Mr. Cerveris says. "He offers his philosophies of life, which are very convoluted and complicated, but boil down to we've just forgotten that everything in life is about being loved and wanting to be loved and how to get somebody else to love you, and that's not such a bad philosophy.
"The reality of it gets a little tricky... but as much as he is a rascal and a dog, he has a good message to deliver."

Mr. Cerveris, who was nominated for a Tony Award for his performance in Tommy and starred in the gender-bending Hedwig and the Angry Inch, says he is thriving on the emotional intensity of Wintertime. The Yale-educated actor got his start in television's Fame and has ha:d enormous success with musicals, also playing ship designer Thomas Andrews in Titanic on Broadway. His other career is music in February he'll release his debut solo album, Dog Eared.

"The thing I always loved about Shakespeare and musicals is there's this heightened sense of reality," Mr. Cerveris says, "and the emotions get so big that you just have to speak in rhyming verse, or you have to sing, and the same kind of thing happens in this play in a way.
"Chuck (Mee) does these things where at a moment in the play people are so upset they don't know what to do, so a door comes out and they just slam the door for a while, and it makes no sense when you think of it realistically... but it has an emotional logic to it."
The play's script is broken into phrases, not sentences, as if in a poem.

"It sets off the ideas and thoughts in a way so that you can hear how he hears it in his head, how he thinks the ideas go together," Mr. Cerveris says. "It gives you kind of an insight to the rhythms that he's hearing in his head when he writes the characters... He's like David Mamet, who has a sense of the musicality of language and the rhythmic way people's thoughts are communicated. It really helps to have that extra tool to help you put things together."

He also found that Mr. Mee's free-form, collage-type style gave the actors the freedom to interpret the text in a variety of ways.

"People tend to write in such a linear fashion, in such a plot kind of fashion, that you don't get material that has so much going on and can be weighted in so many different ways," he says. "As soon as any little correction is made in one character's speech, it changes the way everybody else reacts, and it's great to see that.

"As an actor, it's really fun to work that way because nothing can get stale, it's constantly changing and evolving."
The nature of the play demands constant quick changes, as swift as the emotional curves in any relationship.

"The subjects that we're talking about, there are no hard and fast answers," says Mr. Cerveris. "One day you trust the person you're involved with, and then you hear some information, or see someone look twice at somebody, and suddenly everything that you felt confident and great with is suddenly out the window over nothing.

"The trick is to be really light with it, really specific but able to turn on a dime all the time too. That's the challenge that we're finding."
Wintertime plays at McCarter Theatre's Matthews Theatre, 91 University Place, Princeton, Oct. 14-Nov. 2. Performances: Wed.-Fri. 8 p.m.; Sat. 3:30, 8 p.m.; Sun. 2 p.m.; Oct. 14, 8 p.m.; Oct. 26, 7:30 p.m. Tickets cost $27-$53. For information, call (609) 258-2787.