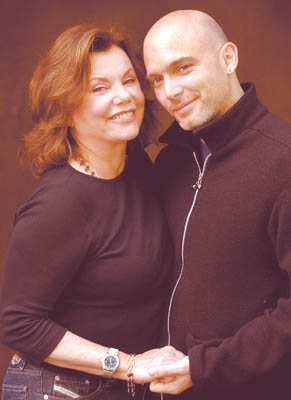 Talkin' Broadway: Wintertime is Delightful and Breezy

Surprises abound in Charles L. Mee's loopy operatic farce Wintertime, which will be delighting McCarter Theatre audiences in Princeton through November 2. If the planets are in proper alignment, it could become a surprise hit of the New York theatre season when this production moves to the Second Stage Theatre on West 43rd Street this winter.
Youthful Jonathan (McCaleb Burnett) brings his idealistic girlfriend Ariel (Brienin Bryant) to his family summer house in the mountains in order to propose marriage to her on New Year's Eve. They discover Jonathan's mother (Marsha Mason, with an Italian accent) in flagrante delicto with her French lover Francois (Michael Cerveris).
In very short order, Jonathan's father Frank (Nicholas Hormann), his male lover Edmund (T. Scott Cunningham), and an older lesbian couple Bertha (Carmen de Lavallade) and Hilda (Lola Pashalinski) arrive. It is immediately clear that there can be no turning back from the chaos that must ensue. The menagerie is later completed by Jacqueline (Tina Benko), a doctor called to the scene, and Bob (Danny Mastrogiorgio), a deliveryman.
The erudite author peppers us with enough ideas about the human condition to fill any number of plays. The need for love, its nature, and the inconstancy (if not impossibility) of it are explored. The players expound on mythological stories, their theories about relationships, and their emotional needs and life experiences. Their dialogue sometimes offers us philosophy, other times laugh inducing "foolosophy," and, more often, an adroit admixture of the two. Whether wise or harebrained, there is a loopy, off-centeredness to each of them which keeps the audience amused and attentive.
Manic, choreographic, operatic and sexual outbursts of behavior occur in a farcical manner. Although they may seem to burst forth in anything for a laugh fashion, it is clear early on that Mee is in control of his material and that it all fits neatly into his design pattern.
Director David Schweizer directs in a manic, off-kilter style that is fully in tune with the writing. After a bit of flat exposition, he and his cast, in lockstep with the author's zaniness, deliver a free wheeling, kind of goofy performance which keeps things spinning riotously through most of the performance.
The entire ensemble sparkles. The first sparks are struck by the delightful Lola Pashalinski. She brings an extraordinary deadpan style to the proceedings, which we first recognize with our own laughter. In the ways which matter most, Lola is as beautiful as she was when she appeared in Charles Ludlum's Corn thirty years ago. It is a pleasure to see Alvin Ailey's great and delightful muse Carmen de Lavallade as her put upon partner.
At the center of the contretemps are Marsha Mason and Nicholas Hormann. Mason's hot blooded and sensual Maria, who by design appears to be less zany some of the others, performs ably. Nicholas Hormann is convincing as her husband Frank who provides the bit of melancholy which lends ballast to the entire enterprise.
Much of the play's humor is in the hands of Michael Cerveris and T. Scott Cunningham respectively portraying Maria's and Frank's lovers. Although his French accent is less than convincing, Michael Cerveris perfectly conveys the self justifying bizarre reasoning of Francois. His humorous first act dance of seduction is a knockout. In keeping with Mee's concept, Cunningham is engagingly delightful delivering Edmund's convoluted ideas in a manner of calm rationality.
Danny Mastrogiorgio's maniacally amusing deliveryman Bob devastatingly satirizes the homicidal reasoning of extremists who believe that any economic success is evil in and of itself and justifies any destructive response.
Andrew Lieberman's beautiful and kooky set helps set the evening's tone. It is all in shades of white (with the help of the blue accented lighting design of Kevin Adams), and lavishly commingles the mountain country winter exterior with the house interior.
Sean Curran's choreography is extremely amusing. A little more eroticism would be an effective addition to his hilariously in bad taste second act set piece.
However, Artistic Director Emily Mann may have already pushed out the envelope a bit by presenting this sexually liberated play. In any event, only the most uptight and determined cultural conservative could fail to be amused.
Charles L. Mee's Wintertime is an ingenious and intelligent funhouse which leaves one reeling with its nutty delights. Rendered lightheaded and giddy, and with apologies to the Gershwins and Dubose Hayward, I praise the McCarter Wintertime to the tune of their "Summertime":
Wintertime, it's delightful and breezy Laughs keep comin' an' you're feeling so high The words are rich an' the cast is sure cookin' So rush, don't mean maybe, it's to die. Wintertime by Charles L. Mee; directed by David Schweizer. Cast (in order of appearance): McCaleb Burnett (Jonathan); Brienin Bryant (Ariel); Marsha Mason (Maria); Michael Cerveris (Francois) Nicholas Hormann (Frank); T. Scott Cunningham (Edmund); Carmen de Lavallade (Bertha); Lola Pashalinski (Hilda); Danny Mastrogiorgio (Bob); Tina Benko (Jacqueline).