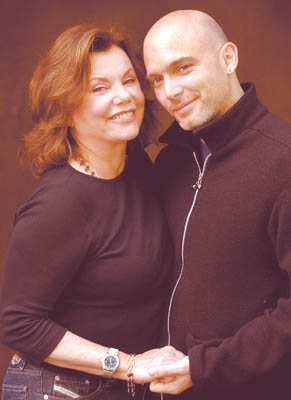 Heating up `Wintertime'
Charles L. Mee's comedy about three couples in love, on the stage at McCarter Theatre, is fired by passion and jealousy.
The Trenton Times
By Ted Otten
Sunday, October 19, 2003

Three couples in love want to be alone, but everyone involved - some of them having shared previous relationships - arrive at the same supposedly deserted place at the same time.
That's the basic plot of Charles L. Mee's adult comedy "Wintertime," which opened this weekend at McCarter Theatre in Princeton Borough for a run through Nov. 2. In the play, which premiered last year at San Diego's La Jolla Playhouse and then moved to Minneapolis' Guthrie Theatre, nine of the 10 characters are in love; the 10th runs a hardware store and doubles as a minister.
The action starts when Jonathan brings his mate, Ariel, to his family's vacation home soon after Christmas with the intention of proposing marriage. His mother, Maria, however, is already there with her lover, Francois. Then his father, Frank, arrives with his lover, Edmund, and Hilda, a neighbor, rushes in screaming that her own lover, Bertha, has fallen through the ice and disappeared while reaching for a sandwich.

Even the most sublime love is subject to bickering and jealousy, and that idea brings about the twists in the play.
Francois is so taken with Ariel's outlook on love that Maria suspects he's had an affair with her, and Jonathan, equally jealous, swears he'll never speak to her again and wonders why he ever considered marrying her.
Both four-time Oscar nominee Marsha Mason, who plays Maria, and Michael Cerveris, who plays Francois, are new to McCarter, and both were taken with Mee's script and their roles on first sight.
"That doesn't always happen," says Mason, "but this one grabbed me right away. It was unique, something so unusual that I couldn't liken it to anything else. Mee has such an original voice.
"Now, how something looks on the printed page may not be the same way it plays, but this has so much humor and is genuinely touching," says Mason, who has starred in such classics as Neil Simon's "The Goodbye Girl," "Only When I Laugh" and "Chapter Two." "What this play says is so much more palpable in the playing of it than in the words in the script."
And Maria, Mason notes, has some pretty fun words.
"Maria is Italian and mixes syntax and uses certain words peculiarly sometimes," Mason explains.
What made the actress fall in love with her role, however, was "Maria's depth."
"I like her honesty, her free-spiritedness, her bravery, her love of love," Mason says. "I think she believes that this life is all there is and she wants to live it as fully and as satisfyingly as she possibly can. She's a sensualist and believes in all forms of love and has been made happy by her romantic and family relationships. She isn't daunted by the fact that the action takes place in a surrealistic setting."
The set, which the script describes as "a forest of white birch with a white summer house, set in the white winter woods," was designed by Andrew Lieberman. Director David Schweizer explained that its unique design had to be a paradox - "like no place we've ever seen to the audience, and yet utterly familiar to the people who inhabit it."
Cerveris, who appeared on Broadway in "Titanic" and "Tommy," relishes his role as Francois, Maria's French lover. Francois' command of English is far better than that of the play's other French character, Jaqueline Benoit, a doctor who makes house calls and freely dispenses medicines, and who happens also to be Francois' former lover.
"He's an unrepentant Frenchman, a Lothario," Cerveris says of Francois. "He feels it's his duty and responsibility to help everyone experience love as fully as possible, so he's full of advice for everybody and bubbling with explanations for his own behavior, which, by most standards, would be kind of reprehensible. He loves being in love and doesn't feel bound by society's standards for love."
Cerveris thinks that Francois' love for Maria is genuine. In her, he sees a kindred spirit. The depth of her emotions and the size of her passion matches his own. His speech about Ariel, the one which provokes such jealousy, exuberantly explains those qualities he's already found in Maria.
"He's not interested in Ariel, although to Maria and her son it seems he is. He might just see her as a younger Maria. A young Maria might have been as wrapped up in passion and love as Ariel is in the first few moments of the play, when she and Jonathan think they're alone and so in love."
While Cerveris enjoys analyzing his character, he doesn't want to reveal all of the play's mysteries.
For instance, just how and why does most of the cast, decked out in flowered underwear, sing "O Mio Babbino Caro" from Puccini's wildly romantic comic opera "Gianni Schicchi"?
That's a whole other story.
"Wintertime" runs through Nov. 2 at McCarter Theatre, 91 University Place, Princeton Borough, 8 p.m. Wednesdays-Fridays, 3:30 and 8 p.m. Saturdays, 2 p.m. Sundays and 7:30 p.m. Oct. 26. Tickets are $31-$53. www.mccarter.org or (609) 258-2787.