---
"Go Softly into Morning"

Written by Renee Schonfeld Longstreet
Directed by Win Phelps

With:
Mickey Garth - Sean Gregory Sullivan
Mike Lifton - Willard E. Pugh

"Private Eye" by Bruce Scott and John Hostetter

---
Dyrenforth: <to camera>
When something like this happens to my school.
I suffer along with the others.


---
Scene: School Hallway - Monday morning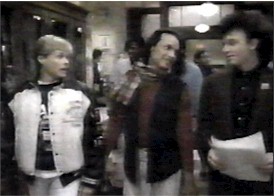 Hey Valesquez!
You letting Danny take Nicole out?

Jesse:
Huh?

Yeah, Mickey took them both home from
the party last night. They still ain't showed up yet.

Jesse:
Get off it man! Nicole and I are friends - that's it.

Wait a minute are you saying you don't care is that it?
Because I'd lay that guy out.

Jesse:
Can you believe this guy?

Ian: <looking at papers>
I can not rehearse this again.
Ms Grant has got to let up.

Jesse:
No way! We don't have enough time with it!

Ian:
Forgive me!
I forgot I was talking to the next Bob Fosse!

Jesse:
That's right!


---
Scene: Video room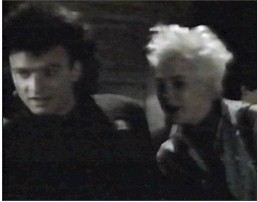 Ian meets Reggie in the doorway as she is coming in

Ian: <whispering>
Hi! Where's Dusty?
Is she going to be here?
You didn't tell anybody else did you?

Reggie:
Of course not.

The students all gather around a tv and
watch a video of the party from the previous night.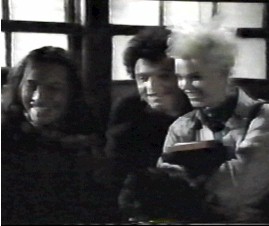 Mickey: (on video)
My imitation of Ian Ware.
What's happen?
Won't you introduce me to your bud?

Ian:
Not bad.

Danny:
Take your bloke to lunch man.



Reggie:
How much did he have to drink?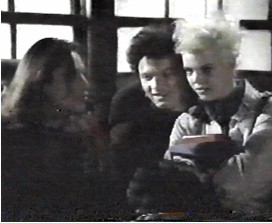 Ian:
Too much.
Was a great party wasn't it?

Reggie:
I guess you had to have been there.

Jesse:
We were.




---
Scene: Backstage of School Auditorium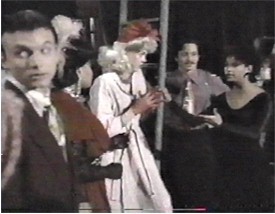 Lydia:
Well they are already thirty minutes late

They weren't in first period either.

Lydia:
This is ridiculous.
They should have at least called the office.







They knew we had a technical rehearsal today.
Can't depend on these kids.
Pepper you just shining me on?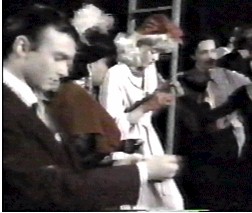 What are you all just standing around for?
C'mon Ian we're going to get started anyway.
Everybody! Vince you take Danny's part.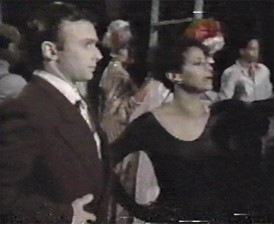 I'll get Nicole's part.
Get me her hat and her jacket somebody!

Get these sets moving!
C'mon start the smoke!


Next


---
page 1	page 2	page 3
---