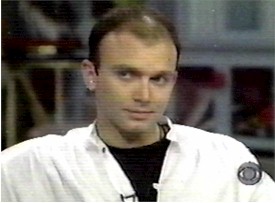 Paula Zahn:
Michael Cerveris heads the cast as Tommy.


<<Clip from Tommy>>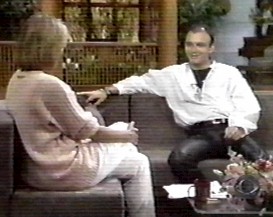 The cast album of Tommy hits the record stores
tomorrow and Michael Cerveris is here to sing
for us this morning.

Good Morning and welcome!


Michael:
Good morning.


Paula:
Congratulations!

Michael:
Thanks.

Paula:
I was so drained when I saw it.
I don't know how you can do
that six nights a week.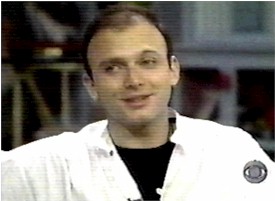 Michael:
Yeah, I mean it's exhausting.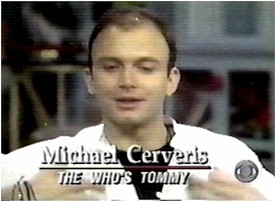 I never know how exhausting
it is until I sit down in the
dressing room and soaked to
the skin with sweat and then I
realize how tired I am.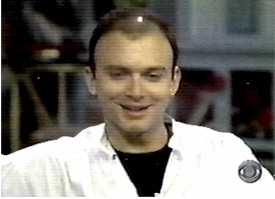 But I get so pumped up by the
audience that I'm awake then for
the next three hours.

Paula:
Hey- we were equally soaked.
I've never seen an audience work like that.




Michael:
Yeah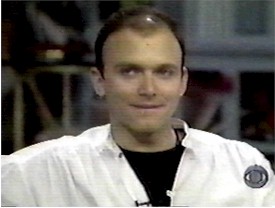 Paula:
Four standing ovations!
People were screaming all
through the show....

Michael:
Yeah that's a pretty standard thing.

Paula:
Do you get a buzz from that?



Michael:
Yeah - the audience vary from
night to night you know but it's always
a response like that. That kind of enthusiasm.
That kind of immediate uncensored response.


Paula:
Now that you've the comfort of
these awards resting on your shoulders
- this does give you some comfort...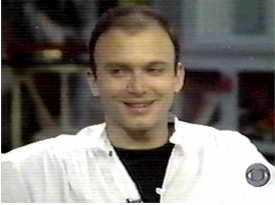 Michael:
I'm taking complete breaths
onstage again which is really great.

Paula:
You are. But was it pretty scary
walking onto that Broadway stage
for the first time? Were you intimidated?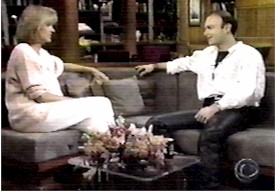 Michael:
Yeah, I was. But it was really so
much of a process that had begun
a year earlier at La Jolla -
the La Jolla Playhouse that..

Paula:
Which is where you started testing it..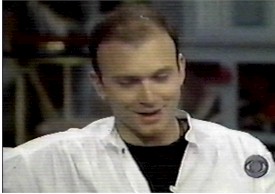 Michael:
Yeah where we started.
But I had always been made to feel
by Pete Townshend and Des McAnuff,
the director that I wasn't competing with
anybody else- I wasn't trying to erase
images of Roger or anybody




That I was just going to find my way to
be this strange boy.
And that's what I tried to focus on.



Paula:
Well you certainly have found your
way in my judgement.
Thank you so much for coming.
And what are we going to listen to this morning?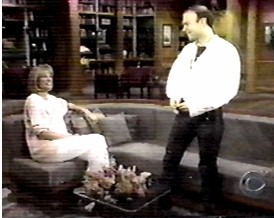 Michael:
A little "Pinball Wizard"

Paula:
Great! Hottest number in the show.
Good luck!

Michael:
Thanks!



Next