E! On Broadway -The Who's Tommy


Pete Townshend:
I'm from rock and roll. We belong here.
This is our place. Whether we're welcome
or not - we're here. And we like it here.
And we're staying.

E!:
The Who's Tommy is undoubtably the hit
of the season with record breaking box office
returns. It's the first musical to bring
authentic rock and roll music to Broadway.

Scott Zeiger (producer):
About fifty years ago when Broadway was
truly realizing it's heyday. the Broadway
composers were the same composers that
were popular on record - on radio.
The beginnings of Radio. It was the music of
the time and what's happened is whether it be
MTV or the diversity of rock and roll.
It seems to be that whole genre of musician
has been completely passed over.

E!:
The story of the deaf, dumb and blind
pinball wizard has been around for
twenty years. The music is the same
but the look is different. This Tommy
certainly doesn't resemble the original
played by Roger Daltrey.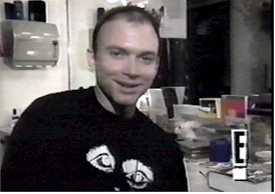 Michael: real audio



Hi, I'm Michael Cerveris and I play
Tommy on Broadway.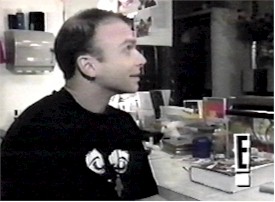 And this is where
I basically live these days.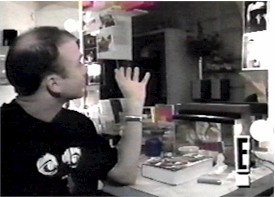 I have all my collection of paraphernalia.
Some of this stuff has been in my
dressing room for years.
Some of them are pictures that just sorta
mean something to me- like Johnny Rotten,
James Dean and Monty Cliff.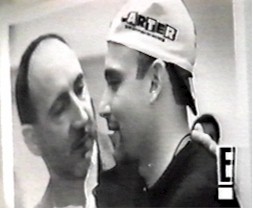 Then pictures of me with famous rock stars.
Which is really fun.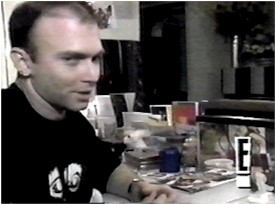 And then I have Murray.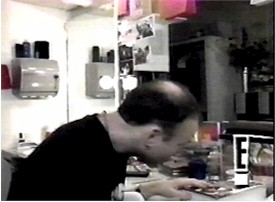 Murray my lizard who's hiding in back of the cactus now.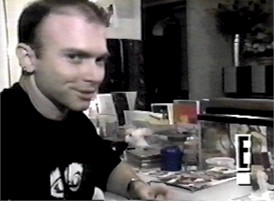 Murray the lizard who's been dubbed
"the Pinball Lizard" by our musical director.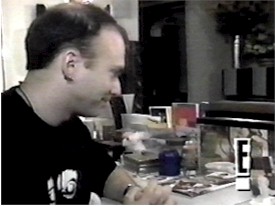 It's stuck, I'm afraid.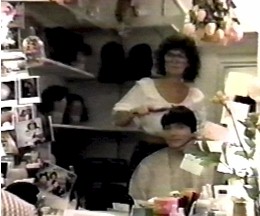 When I first auditioned for the part,
I figured I was auditioning for some role
other than Tommy because I didn't have
long curly blond hair and I certainly
couldn't sing like Roger
.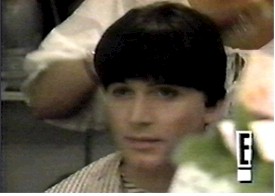 When I saw the designs, the wig & everything
- it was clear that if anything I was sorta like
a Little Pete or actually I think I look more
like Keith Moon maybe <laughing> I don't know..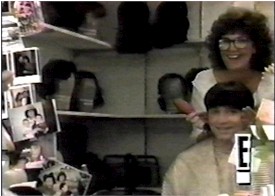 Michael:
I don't think I ever had my hair cut like this.

Hairstylist:
I hope not!
Michael:
Somebody said to me they couldn't
tell if it's a great wig or really bad haircut.
They felt bad for me.


E!:
Actually there are three other
Tommy's and an understudy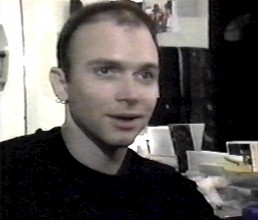 Michael:
Buddy and I worked a lot on the final
"See Me feel Me" duet section.
We rehearsed it often just singing to eachother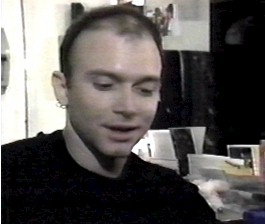 - really close together and that was pretty wild
because he's a terrific actor.







He's a great kid but he's also a real little actor
and there's a lot of soul in that little body.




E!:
The hardest part for all the
Tommy's is keeping a blank face.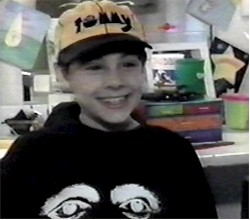 Buddy Smith:
I just concentrate really hard.
Basically all I'm thinking about the whole
time is not moving and keeping my eyes
in the same place and not fidgeting or anything.



Crysta Macalush:
I just clear my head completely and don't
think about anything. Don't think about what you're doing.
Just be deaf, dumb and blind.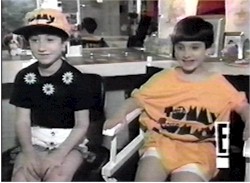 Carly Jane Steinborn:
I just think about the show.




Next





Back to Tommy Main
---
Please send any comments about this page and contributions
to email - webmaster@michaelcerveris.com