---
"Ian's Girl"

Written by Peggy Goldman
Directed by Win Phelps

With:
Joanna - Traci Lin
Will - Gregory Cooke
Tony - Sanlor Black
Nick - Steve Cooper
---
Classroom- late night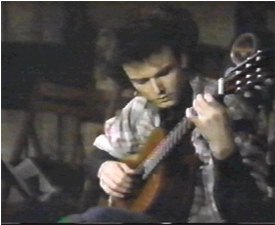 Ian is composing for Shorofsky's class.
Reggie enters.

Reggie:
Sorry I'm late
I had to run lines for Seager.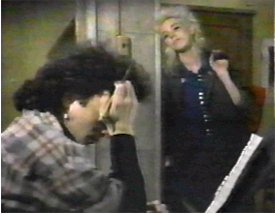 Ian:
It's ok

Reggie:
You ready?

Ian:
It's not quite right.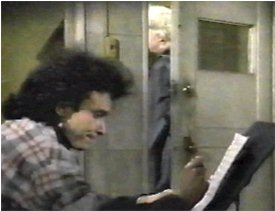 Reggie:
Ian it's 10:30.
Ok, all right. Good luck

She leaves him to his composition.



Ian:
Thanks.

---
Mr. Shorofsky's classroom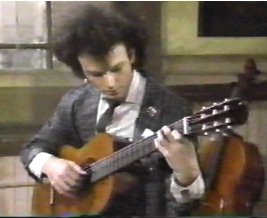 Ian finishes playing his composition for the class.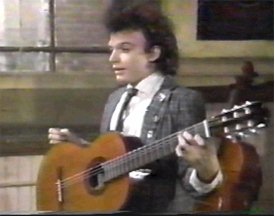 The class applaudes enthusiastically then waits
for Mr. Shorofsky's comments.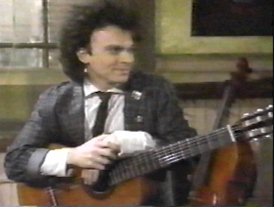 Shorofsky:
Thank you Mr. Ware.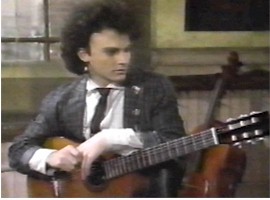 Shorofsky:
A pleasant piece and it's coming along
nicely.
Still don't you think that some of
your chord transitions are rather predictable?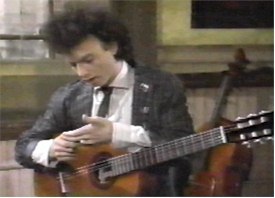 Ian:
I don't know I thought that..

Shorofsky:
Well they are. I suggest that you consider
either a minor key or at least a variation
in the transition from A to B.


Ian:
That's not really what I was...


The bell rings.
Ian starts to leave and Shorofsky calls him.


Shorofsky:
I look forward to tomorrow ladies and
gentleman for your completed compositions.
Ah Mr. Ware can I see you a moment?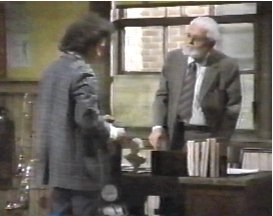 Ian:
If it's about the composition I'd rather
you let me think about the changes.

Shorofsky:
No nothing like that. Tell me are you
aquainted with the Sikovia competition?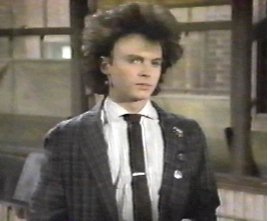 Ian:
Not really.

Shorofsky:
Well it's a magnificent opportunity
for a classical guitarist and I think
you would be a top entrant.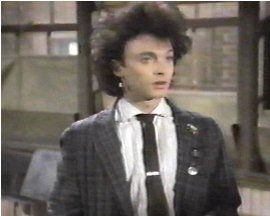 Ian:
You want me to play guitar in a contest?

Shorofsky:
Oh I wouldn't call it a contest exactly.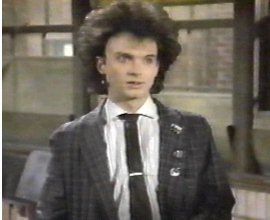 Ian:
I appreciate your confidence in me, Sir.
But I don't think so.

Shorofsky:
It would be a great honor.

Ian:
Not for me. I don't consider myself
a classical music

May I go?

Shorofsky:
Of course.


---
School Rehearsal room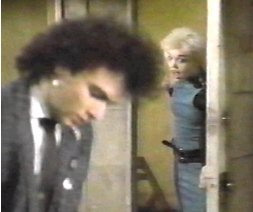 Reggie enters


Reggie:
I liked it. I thought it was great.

Ian:
Yeah. Tell that to Shorofsky.

Reggie:
I did. He said he thought it could be better.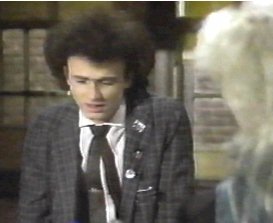 Ian:
His wisdom bores me you know?

Reggie:
He really expects a lot from you.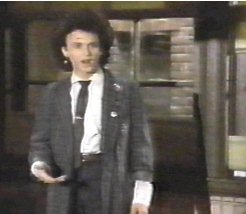 Ian:
Too much. I'm tired Reg.
I just finished this essay on Keats
and now I've got to turn around and
do one on Browning.
And now I've got to redo this song for Shorofsky.

Reggie:
Springtime everyone feels overworked.

Ian:
What's to with spring? You know in London
I cared about what I was doing all the time.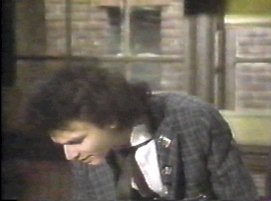 Reggie:
Sounds to me like you are homesick.

Ian:
Here, listen to this.

He pushes play on a tape recorder.
Plays part of a rock song and then pushes stop.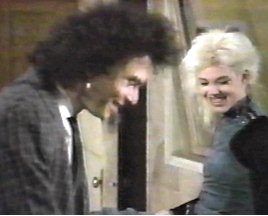 Reggie:
It's great!

Ian:
Yeah.

Reggie:
Who is it?

Ian:
That Reginald -is the Driven.


Reggie:
Your old band?

Ian:
That's right.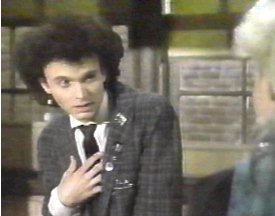 Reggie:
The one with Joanna - the most beautiful,
sexiest most musically interesting woman ever?

Ian:
Did I say that?

Reggie:
At least a couple dozen times.
It's really good.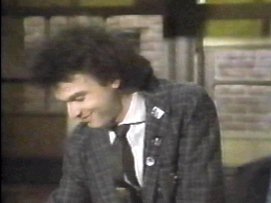 Ian:
Oh yeah, they might be coming to
NY if they can get a couple of gigs.

Reggie:
I guess that's good news - huh?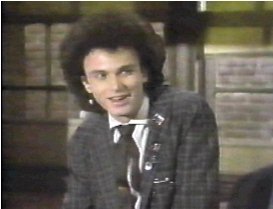 Ian:
Bloody fantastic!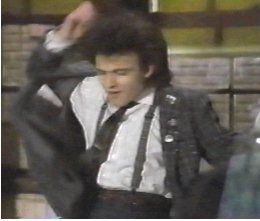 He turns the music back on.


Next


---
page 1  	page 2	 page 3	  page 4	 page 5	  page 6	page 7    page 8

back to Fame main
---
Send any comments about this page and contributions please
to email - MicheeZ@aol.com